North Korea Says Japan Plans to Take Over Asia as Trump Invites Abe for Talks in U.S.
The White House announced Monday that Japanese Prime Minister Shinzo Abe will be traveling to Florida later this month to meet with President Donald Trump, who has agreed to become the first sitting U.S. president to meet a North Korean supreme leader in an effort to settle nuclear tensions in the region.
In what would be Trump and Abe's third meeting, a White House press secretary statement said the two men—viewed as close political allies—would "reaffirm the United States-Japan alliance as a cornerstone of peace, stability, and prosperity in the Indo-Pacific region" at Trump's Mar-a-Lago resort in Florida on April 17 an 18. The U.S. and Japan have shared anxieties about North Korea's growing arsenal of nuclear and ballistic weapons and, even as Trump accepted a landmark invitation to hold direct talks with North Korean supreme leader Kim Jong Un, both Washington and Tokyo have emphasized keeping a hardline stance against their mutual foe.
Related: Why Did Kim Jong Un go to China? This is North Korea's plan to 'divide and conquer' U.S. and its top rival in Asia
"The two leaders will discuss the international campaign to maintain maximum pressure on North Korea in advance of President Trump's planned meeting with North Korean leader Kim Jong Un," the statement said.
"President Trump and Prime Minister Abe will explore ways to expand fair and reciprocal trade and investment ties between the United States and Japan, two of the world's wealthiest and most innovative economies," it added.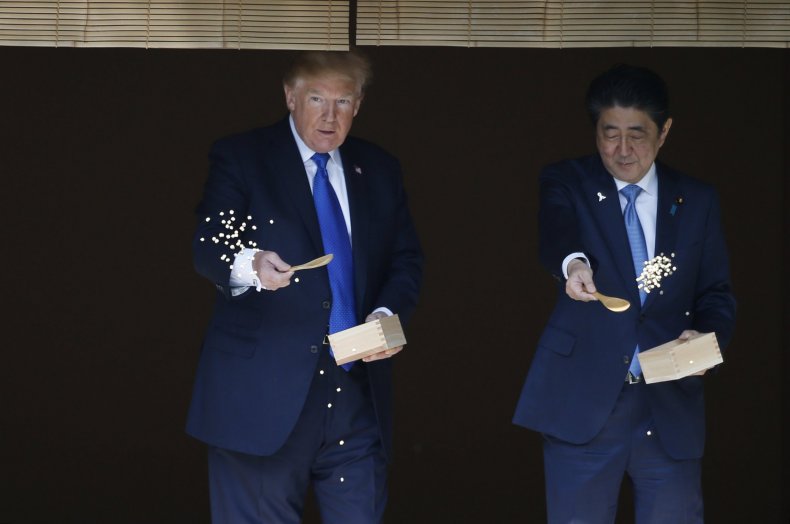 North Korea's feud with Japan predates its enmity toward the U.S. and the division of the Korean Peninsula, which was occupied by the Japanese Empire in 1910. During World War II, Japan reportedly subjected Korean men to forced labor and Korean women to sexual slavery before losing the territory to U.S. and Soviet forces in August 1945. Using a National Geographic magazine, two U.S. personnel then set the border of what would become U.S.-backed South Korea and Soviet-backed North Korea along the 38th parallel.
Five years later and after two opposing satellite governments had been established in, the neighbors went to war from 1950 to 1953. U.S. involvement against the joint communist forces of North Korea and China set the stage for North Korea's open dislike for the successive administrations in Washington in the decades since. In North Korea, there have only been three supreme leaders, the youngest and most recent of whom is Kim Jong Un. South Korean officials announced last month that Trump, the oldest U.S. president, would meet Kim, a decision that raised major concerns as well as hopes in the region.
In an article published Monday by the official Korean Central News Agency, an individual identified spokesman for the Association of Korean Victims of Forcible Drafting and Their Bereaved Families accused Japan of attempting to revive its imperial ambitions across East Asia on the 80th anniversary of the signing of the "National Mobilization Law" which militarized the Japanese economy and displaced scores of Korean workers.
"The Japanese imperialists took the Korean people to battlefields for war of aggression, forced labor and disgraceful sex slavery and inflicted pain and death upon them," the spokesman said. "These atrocities against mankind can never be pardoned as they are the hideous human rights abuses unprecedented in history."
"Nevertheless, the Japanese authorities and right-wing reactionaries force the history textbook full of embellishment and falsity to be used for education, claiming that there was no the forcible drafting of Koreans and it was a 'legal' in those days," he added. "Worse still, they are taking the lead in crying out for the sanctions and pressure upon the DPRK [Democratic People's Republic of Korea] in the international arena, not content with slandering the DPRK, the biggest victim, and are laying bare an attempt for reinvasion of the Korean peninsula while positively joining in the reckless U.S. military exercises against the DPRK."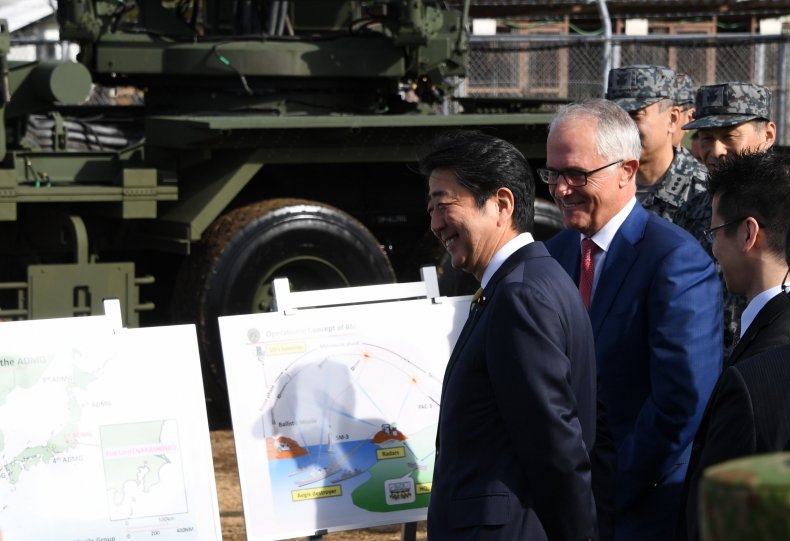 In response to Kim's increasingly advanced stockpile of both conventional and nuclear weapons as well as China's own growing military might, Japan has sought more offensive capabilities for its traditionally pacifist armed forces. Japan has also criticized North Korea over the alleged abduction of Japanese citizens and recent missile tests that flew over Japan and landed in nearby waters.
On Saturday, Japanese Foreign Minister Taro Kono claimed that North Korea was "working hard to get ready for the next nuclear test" during a lecture in the city of Kochi, citing satellite imagery. An analysis published Monday by the 38 North project of the U.S.-Korea Institute at Johns Hopkins University's School of Advanced International Studies disputed this.
In the report, the researchers said satellite imagery actually showed a recent, significant slowdown of work at the Punggye-ri nuclear test site in northeastern North Korea. In the previous report of imagery at the site last week, the authors said the lack of major activity at Punggye-ri could mean Kim is serious about negotiating to denuclearize the weapons of mass destruction have earned him intense international sanctions.