North Korea Says Kim Jong Un's New Operation Will 'Strike the World with Wonder,' Praises the 'Noble Glitters' in His Eyes
Gushing with an air of pomp and majesty, new propaganda pictures of Kim Jong Un have been released, potentially signaling a major policy announcement from the North Korean leader.
Riding through snowy mountains to the summit of Mount Paektu—a sacred site for North Koreans—Kim can be seen galloping on white horseback with the winter wind blowing through his hair.
The ride to the top of Mount Paektu is a highly symbolic act in North Korean history, and although it is unclear what the consequences will be, the journey is usually followed by a major show of strength.
"His march on horseback in Mount Paektu is a great event of weighty importance in the history of the Korean revolution," the state news agency KCNA said in its statement accompanying the photos.
"Having witnessed the great moments of his thinking atop Mount Paektu, all the officials accompanying him were convinced with overflowing emotion and joy that there will be a great operation to strike the world with wonder again and make a step forward in the Korean revolution."
The statement also referenced how the "noble glitters" in Kim's eyes, while praising his heroism for "raising our country's mighty power and powerful status to the center of the world."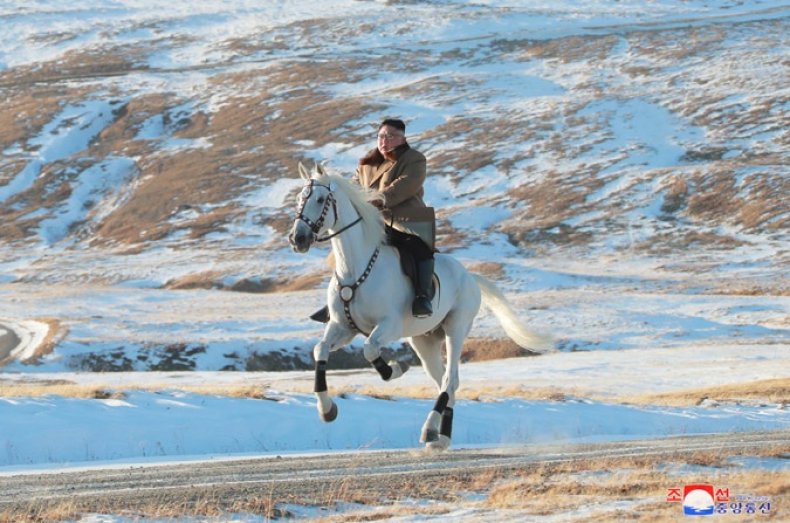 Previous visits to Mount Paektu were paired with North Korea's largest intercontinental ballistic missile launch in 2017, but also more peaceful measures such as opening the door to discussion with South Korea, as well as launching a series of moves that led to his first ever meeting with U.S. President Donald Trump.
Relations with Trump have since cooled, however, and new tensions have arisen following North Korean missile tests.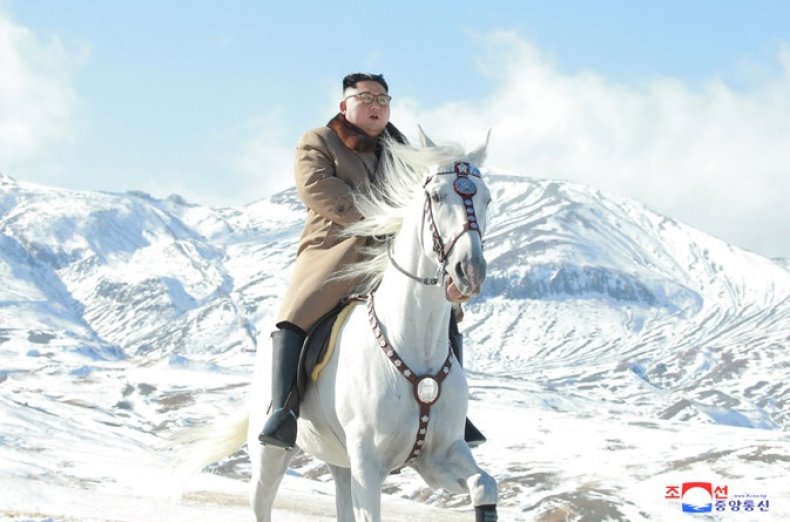 Some analysts believe that the most recent expedition to Mount Paektu signals North Korea's renewed intentions to stand up to international sanctions over its nuclear weapons and ballistic missile programs.
"This is a statement, symbolic of defiance," Joshua Pollack, a North Korea expert at the Middlebury Institute of International Studies in California, told Reuters.
"The pursuit of sanctions relief is over. Nothing is made explicit here, but it starts to set new expectations about the coming course of policy for 2020."
Others claimed that the move revolved more about the economy, and suspected that North Korea may even be soon launching a space expedition. Another analyst told Reuters that this would enable the country to show its economic and technological power in a less provocative way than by testing missiles.