North Korea has accused the U.S. and South Korea of sabotaging a historic peace effort by pursuing recent military drills and called on its two longtime foes to commit to the dialogue.
As President Donald Trump prepared to meet with South Korean President Moon Jae-in at the White House on Tuesday, the North Korean Cabinet's official Minju Joson newspaper published a commentary attacking the two leader's close military relationship, which North Korea views as a threat to its existence. The article argued it was "a foolish daydream for the U.S. to get something by pressuring" North Korea and that South Koreans hyping up propaganda against the North was a "crime that can never be pardoned by history and the nation."
"If the U.S. and the south Korean authorities persist in the confrontation policy and war moves against the DPRK [Democratic People's Republic of Korea], oblivious of this fact, they will be held wholly accountable for all the ensuing consequences," the commentary read, according to the official Korean Central News Agency.
"Dialogue and saber rattling can never go together," it added.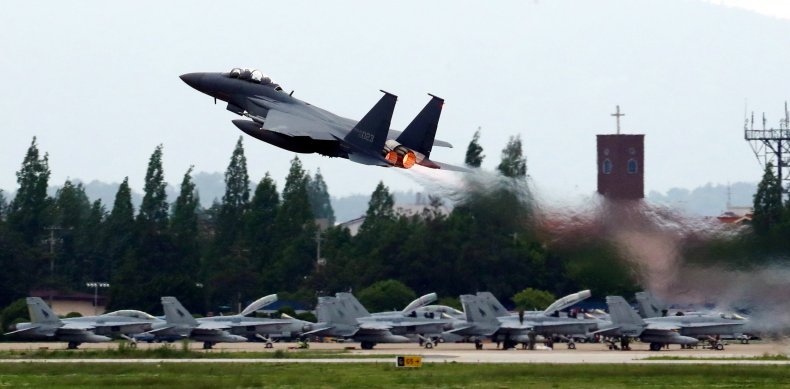 Last week, North Korea announced it would suspend rare inter-Korean peace talks and potentially cancel an unprecedented meeting between North Korean supreme leader Kim Jong Un and Trump after the U.S. and South Korea carried out annual "Max Thunder" air drills. North Korea has described these exercises, which employed as about 100 aircraft from both countries, as practice for an invasion.
The U.S. has since taken steps to preserve the summit, which now has its own official coin featuring likenesses of Trump and Kim. North Korea has especially protested the presence of nuclear-capable U.S. B-52 bombers and reports emerged Friday that the Pentagon agreed to cut the iconic warplane's appearance in response to the potential concerns it would raise. The U.S. also reportedly withheld all nuclear-powered and nuclear-capable assets from other, larger joint drills in April.
Related: New U.S. Coin Features North Korea's 'Supreme Leader' Kim Jong Un and President Donald Trump
After a top North Korean diplomat rejected National Security Adviser John Bolton's earlier suggestion that Kim follow a nuclear disarmament approach similar to that of late Libyan leader Muammar el-Qaddafi's in 2003, Trump publicly disavowed the strategy. Qaddafi was overthrown and killed in a 2011 rebellion sponsored by the U.S.-led NATO Western military alliance, and North Korea has used Libya and Iraq as examples of countries that gave up weapons of mass destruction only to be attacked by the West.
North Korea has proven its commitment to landmark summit as well. Last month, Kim announced that he would freeze all nuclear testing and longer-range missile launches and dismantle the Punggye-ri Nuclear Test Site. Since then, satellite imagery has shown progress in deconstructing the site, where Kim has invited foreign media to attend its final destruction. Kim also made history by crossing the border last month to meet Moon on South Korean soil.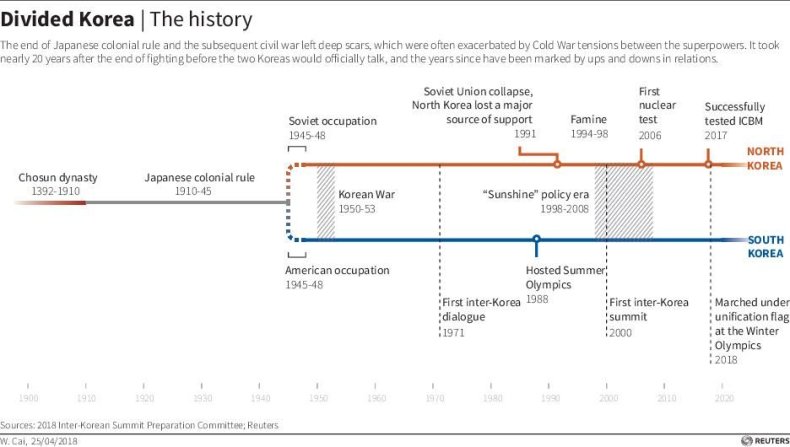 During his U.S. visit, Moon is widely expected to coordinate with Trump in hopes of keeping the U.S.-North Korea summit on track. The meeting is scheduled for June 12 in Singapore and would be the first ever face-to-face talks between a sitting U.S. president and North Korean leader.
Vice President Mike Pence told Fox News Radio on Tuesday that the White House was still behind the talks, but emphasized that the Trump administration had made no concessions as of yet. Chung Eui-yong, head of the South Korean president's National Security Office, said "we believe there is a 99.9 percent chance the North Korea-U.S. summit will be held as scheduled," according to the official Yonhap News Agency. "But we're just preparing for many different possibilities."