North Korea Says U.S. Must Stop Defending Israel, Which is 'Destroying' Middle East
North Korea has condemned the U.S. and its alliance with Israel, which continued to experience deadly clashes between security forces and Palestinian protestors.
On Friday, the official Korean Central News Agency called the U.S. out for repeatedly defending Israel from criticism at the United Nations Human Rights Council, which U.S. Ambassador to the U.N. Nikki Haley once called "a haven for dictators" and has threatened to pull the U.S. out of. Palestinians have threatened to lodge a complaint with the international body over rising casualties as Israeli forces reportedly opened fire on Palestinian demonstrators near the Gaza border, where dozens have been killed and thousands injured since violent protests erupted over Israel's historic and ongoing seizure of land.
"Israel's wild act of destroying Mid-east peace and mercilessly killing Palestinians is a hideous crime that deserves denunciations thousands of times," the state-run agency said of a commentary by North Korean Cabinet paper Minju Joson.
"If the U.S. is interested in protecting human rights, it should keep pace with the efforts of the international community to denounce and check Israel's human rights abuses," Minju Joson wrote. "But, the U.S. chimed in with Israel in the eyes of the international community, fully disclosing that it is applying double-dealing standards in human rights and politicizing it."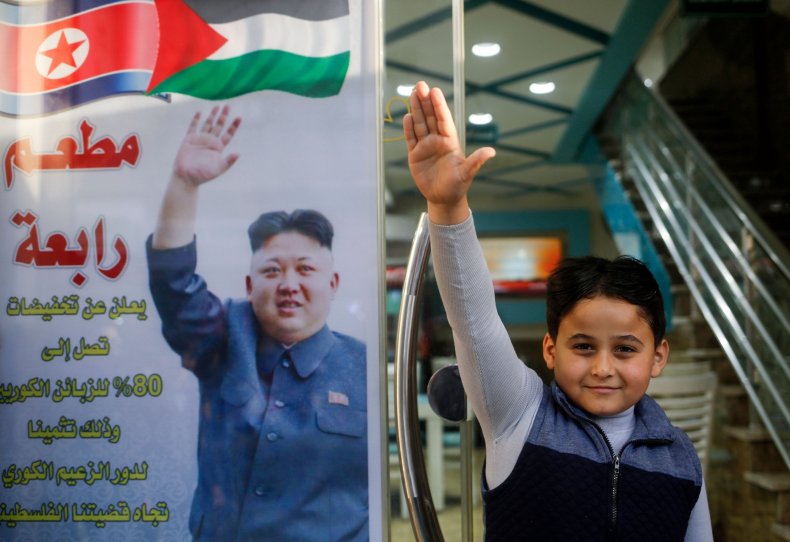 The rhetoric comes at a time of relative calm in the usually tense relations between Washington and Pyongyang, which the U.N. has also censured for reports of human rights abuses. After a year of sparring with President Donald Trump, North Korean supreme leader Kim Jong Un reached out to U.S.-backed South Korea in January, in an effort to end the decades-long conflict between them. The U.S. was hesitant in endorsing the talks, but Trump has since accepted a historic invite to meet Kim face-to-face, making him the first sitting president to meet a North Korean leader.
Related: Gaza Border Clashes: More Protesters Reported Dead As Palestinians and Israeli Soldiers Face Off
As the anticipated late May or early June deadline for the meeting approaches, major rifts still exist between the two. The U.S.'s decision to gather the U.K. and France and attack suspected chemical weapon facilities belong to the Syrian government may have resonated with North Korea, another target of U.S. military threats and an ally of Syrian President Bashar al-Assad.
Japanese Defense Minister Itsunori Onodera said the U.S.-led cruise missile strikes were "an action that was taken against weapons of mass destruction, and I think this gave a certain message to North Korea as well," according to the Agence France-Presse.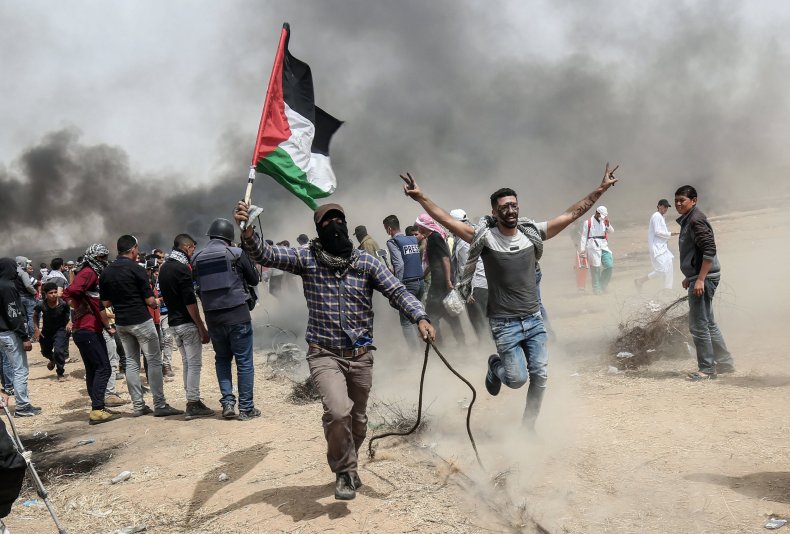 North Korea has defied increasingly heavy international sanctions to build a nuclear weapons program that the country argues is necessary to defend from potential invasion. Kim and his predecessors have been deeply critical of U.S. interventions and invasions across the Middle East and have deployed personnel to assist Arab states in their wars with Israeli in the 1960s and 1970s. It has also helped to fund left-wing Palestinian militias and has supported an independent Palestinian state.
North Korea called the U.S. a "cancer" and recommended it lose its U.N. Security Council veto privilege after Trump decided to recognize the disputed city of Jerusalem as the capital of Israel, defying Palestinian counterclaims in December.