North Korea Is Scaring Off Visitors To The Winter Olympic In Pyeongchang, South Korea
Kim Jong Un has cast a shadow over the coming Winter Olympics in South Korea, sending ticket sales plummeting in fear of the rogue dictator's missiles.
Organizers say that ticket sales are 41 percent lower than expectations with just 79 days to go before the February 9 opening ceremonies in Pyeongchang, USA Today reported. Sales in South Korea are even lower than those by international tourists.
"The interest level is very low for this Olympics," Anbritt Stengele, founder of Sports Traveler, a Chicago-based travel agency, told USA Today, adding that interest in the Pyeongchang Games is lower than ever. "We had Sochi (Russia) in 2014, and that interest level was lower than Vancouver (in 2010). But this one is even lower than Sochi. I would just classify it as extremely light interest. Sales have been stagnant."
Stengele and other travel agents cite fear and high global tensions as the cause for the ticket shortfall. Over the past few months, President Donald Trump and North Korean leader Kim Jong Un have exchanged pointed barbs and have threatened to attack each other. Kim has a massive military and has been testing nuclear weapons, so the possibility of a strike during the Winter Olympics is looming.
It's not only ticket buyers who are worried.
"If the situation worsens and the security of our athletes is no longer guaranteed, we will not go to South Korea," Karl Stoss, head of Austria's national Olympic committee, said in September when Kim and Trump rattled sabers.
It probably doesn't help that many of the venues are roughly 60 miles away from the North Korean border.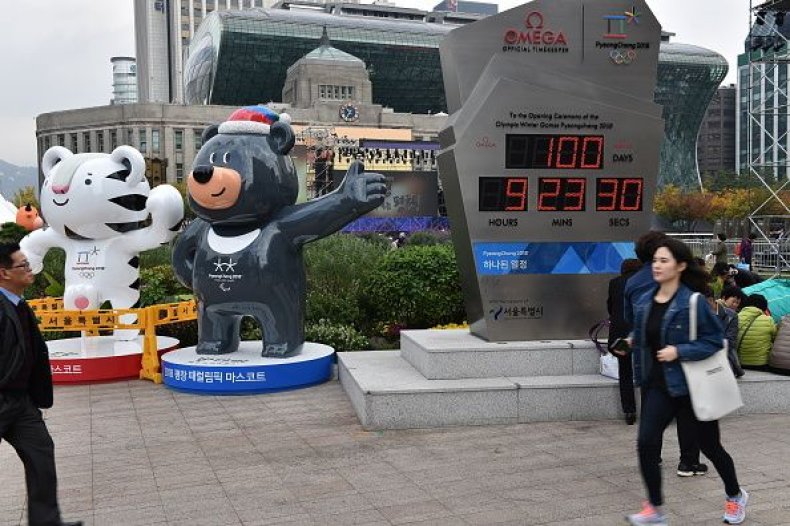 International tourism in South Korea has generally not been doing well, with 24 percent of arrivals down in the first nine months this year, according to the Korean Tourism Organization. The largest drop in visitors came from China, which is angry over the deployment of a U.S. anti-missile defense system last May.
Despite the threats, organizers remain confident on hitting their targets and are counting on building excitement as the Games approach. Since the Olympic Torch began its relay around the country the beginning of this month, advertising and public events have increased significantly. Korean pop concerts and celebrity appearances are also being held to promote the Games, as well as video ads that can be seen on Seoul subway cars.
"Koreans are known to be last-minute buyers, so we expect to see an increase in sales as we mark several milestones," said Nancy Park, a spokeswoman for the Pyeongchang Games Organizing Committee. "We believe that excitement for the Games will continue to get stronger."