North Korea Sets Up First Military Parade of 2018 and New Weapons Are Likely to Be on Show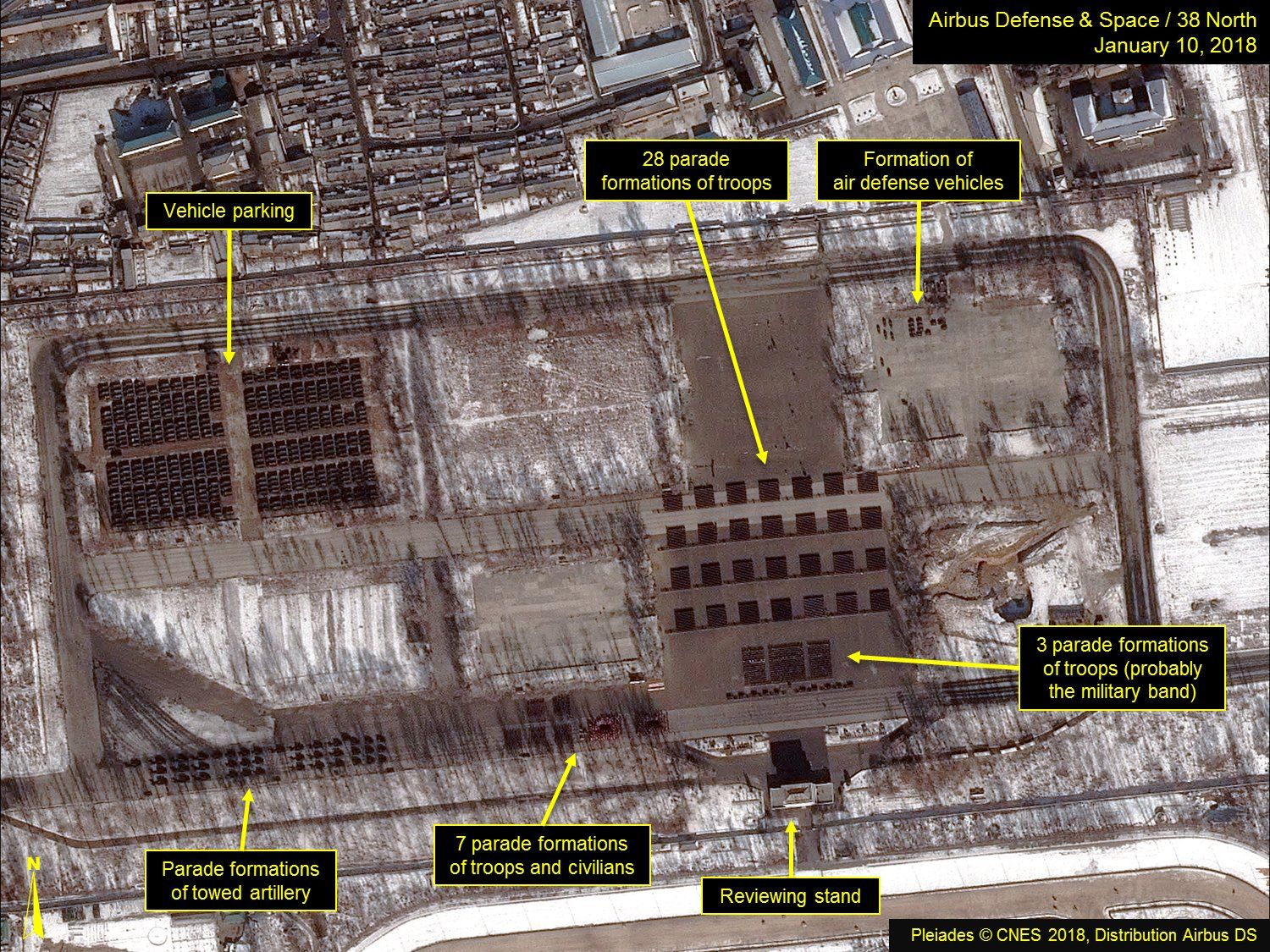 North Korea is in the final stages of preparing for a massive military parade to be held on the 70th anniversary of the founding of the country's armed forces.
In an analysis Wednesday from the North Korea monitoring project 38 North, defense and intelligence affairs expert Joseph Bermudez said satellite imagery showed a months-long process of preparations for the February 8 event. The parade is considered particularly important because it will follow a year of historic military developments and comes amid sensitive negotiations with rival South Korea.
Related: U.S. spy ship captured by North Korea almost caused nuclear war and is still there 50 years later
"These military parades are of great interest to outsiders, as North Korea has frequently used them to showcase new military equipment and its latest weapons systems. Because of their high profile nature, North Korean troops train and practice intricate formations for months in advance to ensure flawless performances," Bermudez wrote in his report.
"If the North goes ahead with a military parade on February 8 as announced, coinciding with the opening of the Pyeongchang Olympics, it will likely warrant much criticism from skeptics of inter-Korean dialogue. However, for domestic audiences, it would cap off a year of dramatic progress in North Korea's nuclear and ballistic missile programs, as well as more general military developments," he added.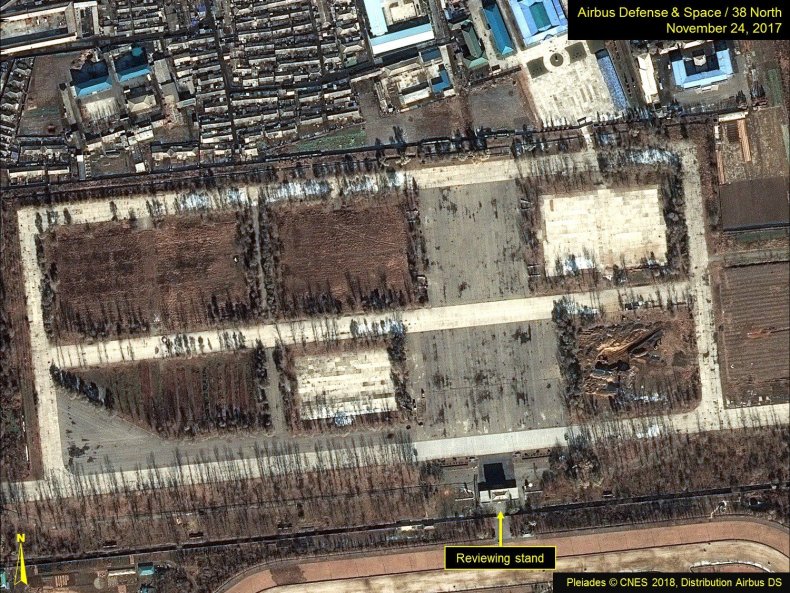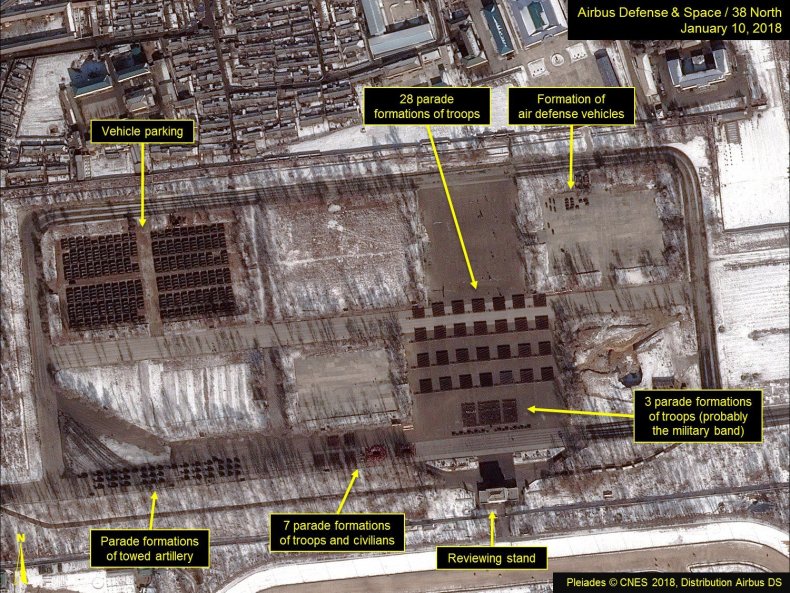 Bermudez's findings were based on observation of developments at the Mirim Parade Training Facility in eastern Pyongyang. The site once served as an airbase, but became inactive as North Korea's economy suffered a rapid downturn in the 1990s due to loss of Soviet support and a devastating famine. It now serves as an assembly and training area complete with a replica of Kim Il Sung Square, named after current leader Kim Jong Un's grandfather, who took the helm of North Korea with communist backing in 1948.
In November, a number of buses and other vehicles were observed at the April 25 Hotel in the eastern stretch of the training grounds. These were thought to be connected to officials meeting to plan parade rehearsals, which would take place over the course of the next two months. As December passed, activity died down near the hotel and picked up elsewhere, as formations of troops were seen congregating in the central training area.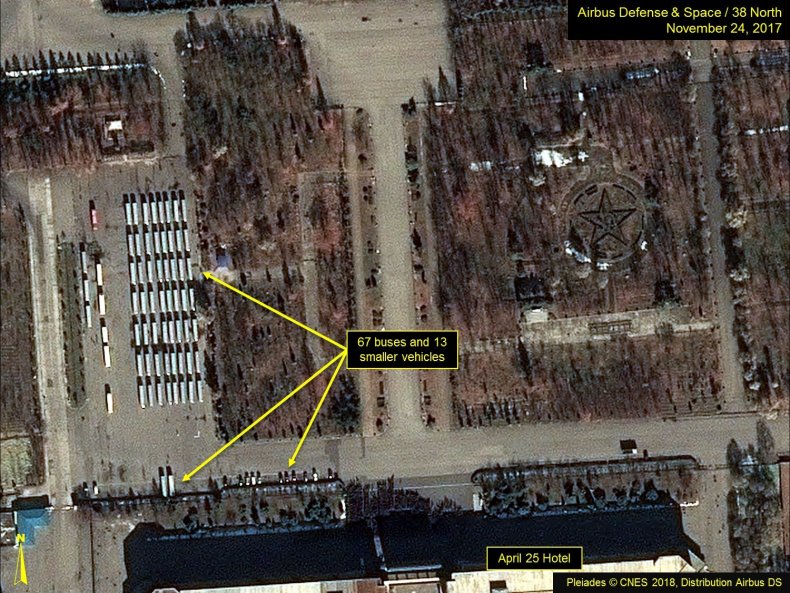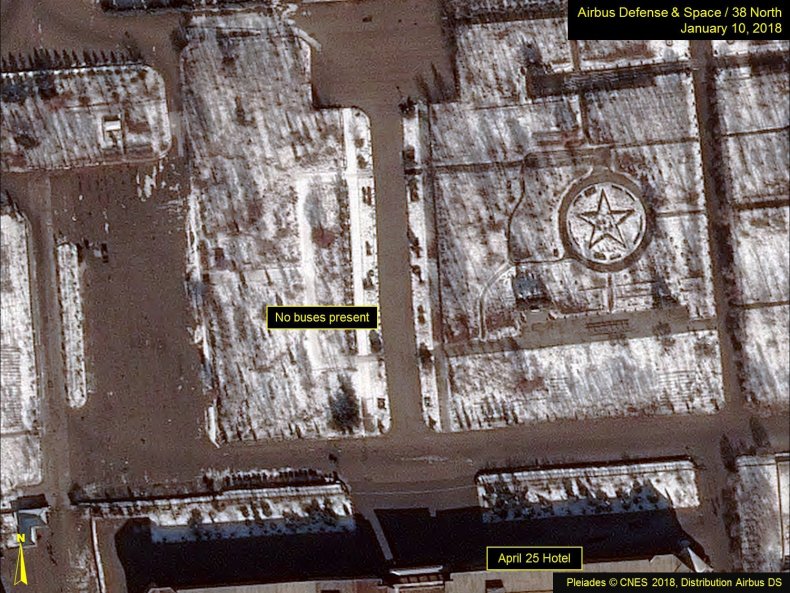 Next month's parade would be the second since President Donald Trump took office last year, and the first since Kim Jong Un launched intercontinental ballistic missiles (ICBMs) and a hydrogen bomb test more powerful than all five previous North Korean nuclear explosions combined. Trump and Kim have engaged in a year-long war of words that only recently has simmered down due to ongoing inter-Korean peace talks aimed at ending decades of hostility between the neighbors, which technically remain at war since a three-year conflict in the early 1950s.
The military parade is set to be held on the eve of the Pyeongchang Winter Olympics being held in South Korea. Discussions over joint participation in the games brought the two Koreas to the table at the truce village in Panmunjom, situated on the world's most heavily fortified border. Both countries have agreed to march under one flag for the sporting event, but significant tensions have remained, especially with the U.S. asserting unrelenting "maximum pressure" on Kim and his government.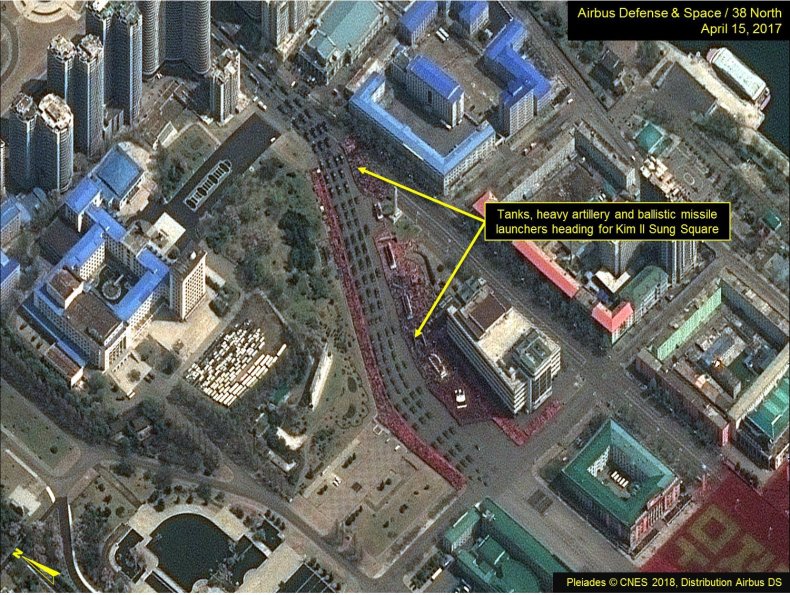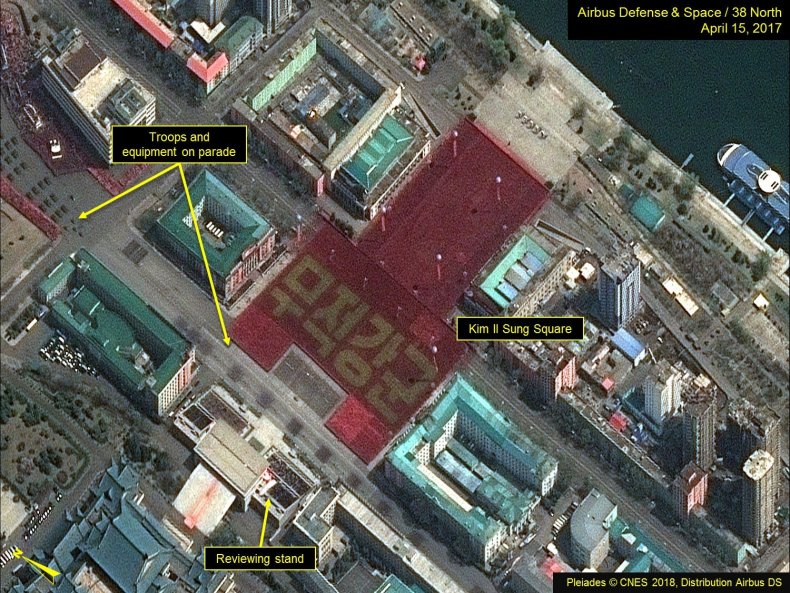 The Mirim Parade Training Facility hosted huge parades marking the 70th anniversary of the ruling Korean Workers' Party, on October 10, 2015, and the 105th birthday of Kim Il Sung, on April 15, 2017, a public holiday known as the Day of the Sun. Next month's parade would be the first time that North Korea's Military Foundation Day would be celebrated on February 8 since 1977, when Kim Il Sung switched the date to April 25, commemorating the earlier establishment of his guerrilla army that fought the occupying Japanese Empire prior to and during World War II.
In a rare revision of Kim Il Sung, who young Kim Jong Un has largely taken after, the Political Bureau of the Central Committee of the Korean Workers' Party switched back the date, official bureau organ Rodong Sinmun reported Tuesday. The newspaper said April 25 would still "be marked as the founding anniversary of the Korean People's Revolutionary Army," and February 8 would now be known as "the Day of Army Founding."