What Do People Eat in North Korea? A Lot of Corn, Pizza and 'Man-Made Meat'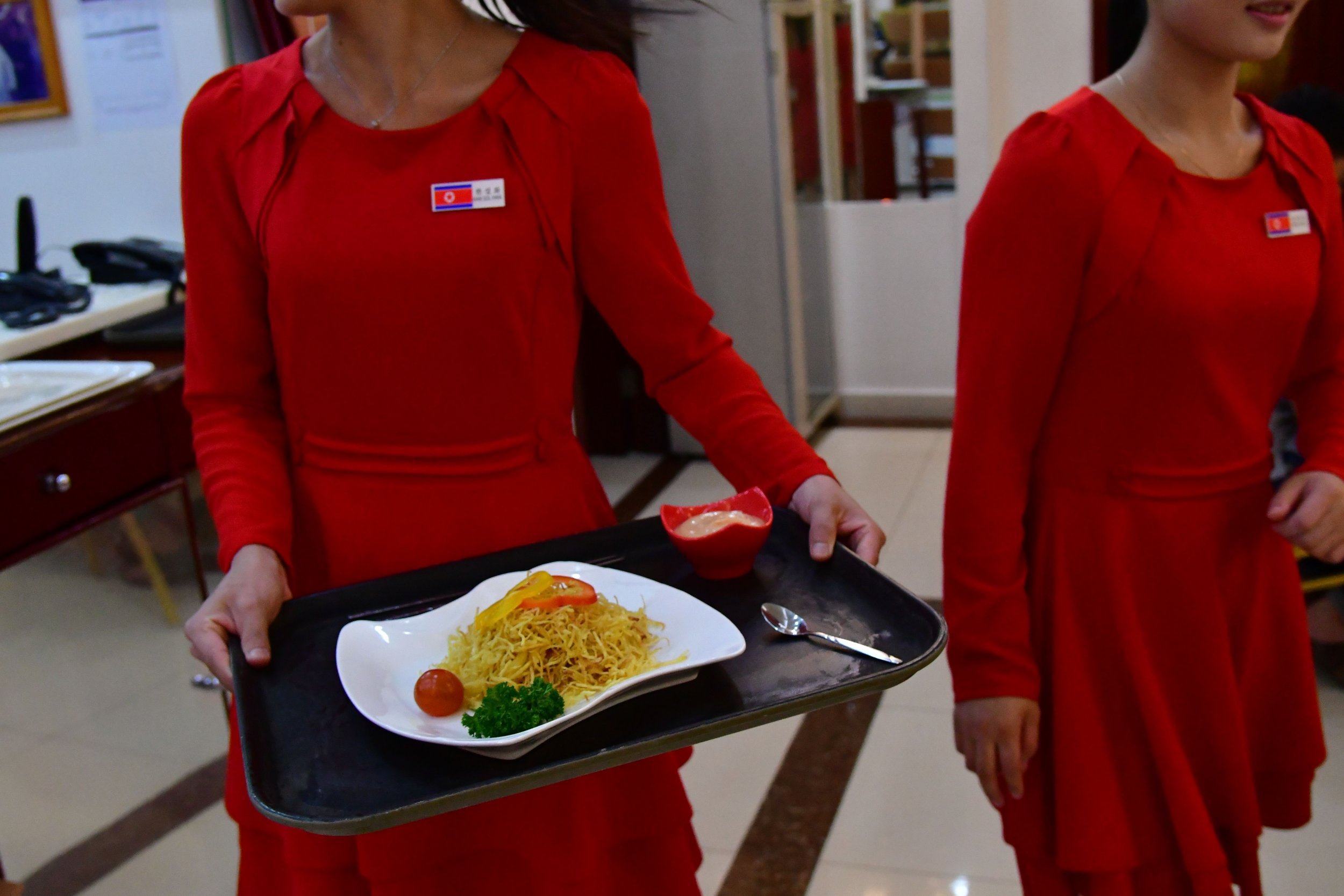 Kim Jong Un doesn't want you to know it, but North Koreans are hungry—and desperate.
An estimated 4.4 million people in the reclusive nation are in a state of "crisis, emergency and famine," meaning they have what the United Nations calls "food consumption gaps with high or above usual acute malnutrition." North Korea has a public distribution system for food, but it's insufficient, leaving much of the impoverished population to rely on street-food stalls to supplement their diets, according to a Reuters report out Friday.
At these markets, people can access injogogi, a spicy soy bean-rice combination that translates to "man-made meat," and seokdujeon, little cornmeal cakes. Sometimes they can get dububab, a treat made from rice and chili sauce packed inside tofu. Wealthy people can order pepperoni pizza.
According to DailyNK, the markets are "an integral and irreversible means of survival" in North Korea, especially given growing fears that the republic could soon be facing a famine like the one that killed more than 2 million people in the '90s. But the Reuters report is just a peek into what life is like in North Korea.
If you're still curious, here's a quick look at what else we know North Koreans eat:
Corn
Defector Charles Ryu told New York Magazinethat he went to a political labor camp where he was served 50 corn kernels three times a day, which left him "almost dead from malnutrition." Another defector interviewed for the 2008 book Escaping North Korea: Defiance and Hope in the World's Most Repressive Country said that "if you can eat corn gruel for 365 days a year, your family is well-off."
Dog meat
Tour operator Simon Cockerell told Munchies in 2016 that North Koreans have what they call "sweet meat" a few times a year—if they can afford it.
"Most of the time what they offer to tourists is dog soup. It tends to be spicy and not have that much dog in it, and there are a few restaurants in Pyongyang that specialize in dog meat: dog ribs, dog steak," he added.
Cold noodles
Food writer Fuchsia Dunlop penned a Financial Times piece earlier this year about eating cold buckwheat noodles at a restaurant in Pyongyang. She said the dish was "utterly lovely and unlike anything I'd tasted." It contained slices of kimchi, beef, chicken, cucumbers and Asian pear.
Tree bark
Mina Yoon, a North Korea defector who left in 2010, said she and her family would eat pine bark cake—a dessert made from taking an inner layer of bark and creating a powder from it. Yoon wrote in NK News that "it actually tasted quite decent" but made her brother ill.
Koryo burgers
The state-owned Air Koryo serves a cold sandwich on board its flights that has developed a bad reputation. The so-called Koryo burger includes a stale bun, a slice of cheese, lettuce or cabbage, a strange dark sauce and a mystery meat patty.
"The meat was inoffensively dull and, true to the intrigue that surrounds it, even tougher to identify than it was to chew," Munchies reporter Jamie Fullerton wrote last year. "I guessed that it just got over the 'chicken' line. Just."
Cheese
Kim is famous for his love of cheese—specifically, the Swiss cheese Emmental, according to a the Mirror. In 2014, rumor has it the supreme leader of North Korea ate so much cheese that he actually got sick.