North Korea Summit: Jimmy Carter Says Deal Might Make Trump Nobel Prize–Worthy
Former President Jimmy Carter says he believes President Donald Trump has a legitimate case to be awarded the Nobel Peace Prize if he brokers a denuclearization deal with North Korea. Carter won the award in 2002.
"If President Trump is successful in getting a peace treaty that's acceptable to both sides with North Korea, I think he certainly ought to be considered for the Nobel Peace Prize," Carter said on Politico Magazine's Off Message podcast. "I think it would be a worthy and a momentous accomplishment that no previous president has been able to realize."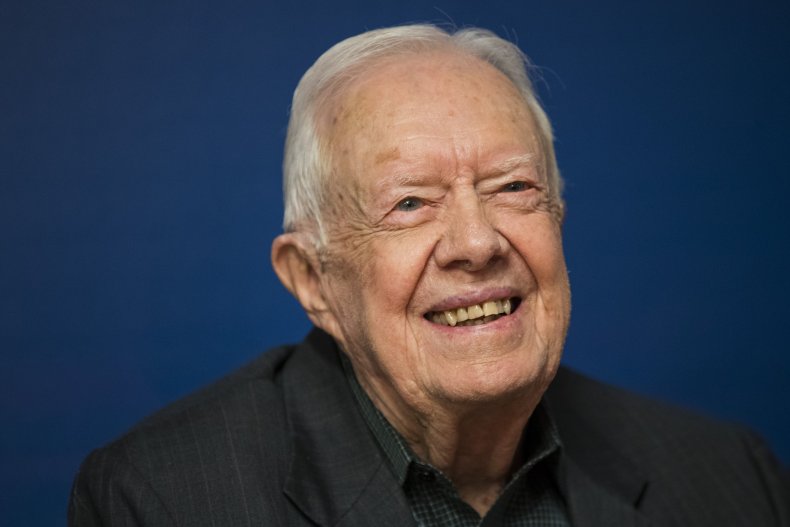 Trump is set to meet with North Korean leader Kim Jong Un on June 12 in Singapore to discuss possible denuclearization. North Korea, typically a country of blustery rhetoric, has recently had a détente with the U.S., its long-standing nemesis.
While this icy relationship has thawed, some doubt was cast over the talks last week when North Korea pulled out of a meeting with South Korea over joint military exercises. The North threatened to cancel the talks with the U.S. again on Tuesday, as its state media blasted the U.S. and South Korea.
North Korea has been the recipient of punitive international economic sanctions due to its burgeoning nuclear weapon and long-range ballistic missile programs. Last year, North Korea tested its sixth and largest nuclear weapon and an intercontinental ballistic missile theoretically capable of striking anywhere in the U.S.
Carter told Politico that he believes the sanctions had hurt the North Korea people and not their leaders.
"The North Korean people ought to be treated with respect, and I think that the embargo that we've enforced on them has basically hurt the people who are already suffering under a brutal dictatorship and has not hurt the leaders of North Korea very much," Carter said.
Trump himself has mused about winning a Nobel Peace Prize. Earlier this month, he said that "everyone thinks so, but I would never say it" when asked if his diplomacy with North Korea warranted the honor.
Other presidents who won the award are Theodore Roosevelt, Woodrow Wilson and Barack Obama.