North Korea, Syria Vote Against U.N. Resolution Condemning Russian Invasion
A United Nations resolution condemning Russia's invasion of Ukraine and calling for the immediate withdrawal of troops passed overwhelmingly Tuesday, with North Korea and Syria among the five nations that opposed the measure.
The countries were joined by Belarus, Eritrea and Russia itself in opposition to the measure that passed with 141 countries voting in favor and 34 that abstained from the vote, according to a photo of the voting results tweeted by Ukrainian President Volodymyr Zelensky.
The measure had previously been vetoed out of the U.N. Security Council by Russia, which led Ukrainian representatives to refer it to the U.N. General Assembly.
"I praise the approval by the #UN GA with an unprecedented majority of votes of the resolution with a strong demand to Russia to immediately stop the treacherous attack on [Ukraine]," Zelensky tweeted. "I'm grateful to everyone & every state that voted in favor. You have chosen the right side of history."
"Destructive results of the vote in [the U.N.] for the aggressor convincingly show that a global anti-Putin coalition has been formed and is functioning," Zelensky said in a second tweet. "The world is with us. The truth is on our side. Victory will be ours [Ukraine]!"
Other nations that have aligned with Russia in the past, including Cuba and China, abstained from the vote. The vote is only the 11th time an emergency session of the General Assembly has been called, and the first time in 40 years the Security Council referred a crisis to the Assembly, according to The Guardian.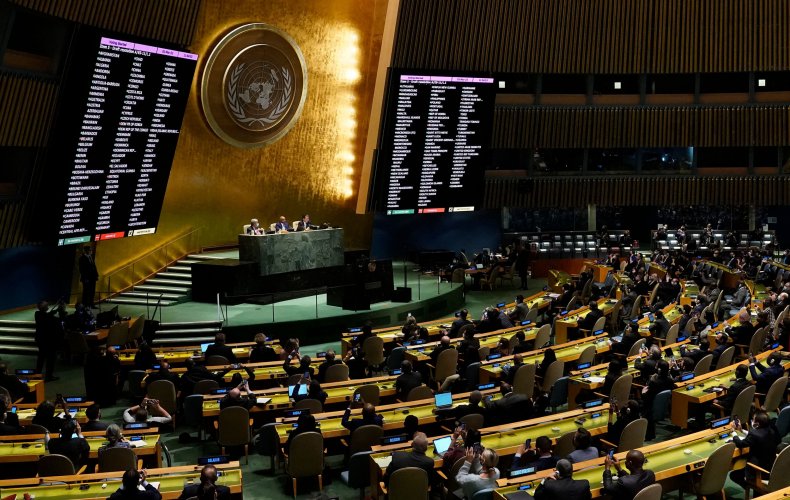 The resolution condemns the military force used by Russia, as well as Russia's decision to "increase the readiness of nuclear forces." It also demands that the use of force be stopped and Russian military forces be withdrawn from Ukraine.
Linda Thomas-Greenfield, the U.S. ambassador to the United Nations, also spoke before the General Assembly Wednesday and condemned the reported use of weaponry like thermobaric weapons known as "vacuum bombs" and cluster bombs by Russian forces.
"We have seen videos of Russian forces moving exceptionally lethal weaponry into Ukraine which has no place on the battlefield," Thomas-Greenfield said.
U.N. Secretary-General Antonio Guterres also told reporters Wednesday that the resolution is a clear message from the world's desire to "end the tremendous human suffering in Ukraine."
"The message of the General Assembly is loud and clear," Guterres said. "End hostilities in Ukraine—now. Silence the guns—now. Open the door to dialogue and diplomacy—now. The territorial integrity and sovereignty of Ukraine must be respected in line with the U.N. Charter."
Update 03/02/22, 1:35 p.m. ET: This article has been updated with additional information.