North Korea Is Still an 'Extraordinary Threat' to the U.S. After Donald Trump Said He and Kim Jong Un 'Fell in Love,' Pentagon Report Claims
Months after President Donald Trump announced that he and the North Korean leader Kim Jong Un had fallen in love, a report from the Pentagon revealed that North Korea's nuclear weapons program still poses an "extraordinary threat" to the United States.
The report was released just one day before a top North Korean official would arrive in Washington to meet with Secretary of State Mike Pompeo.
"While a possible new avenue to peace now exists with North Korea, it continues to pose an extraordinary threat and the United States must remain vigilant. In the past, North Korea frequently issued explicit nuclear missile threats against the United States and allies, all the while working aggressively to field the capability to strike the U.S. homeland with nuclear-armed ballistic missiles," the 2019 Missile Defense Review report released Thursday read.
Experts argued that President Trump's diplomacy with North Korea, while symbolically significant, has done little to obtain serious concessions from the rogue kingdom regarding its nuclear weapons and ballistic missile programs. On Wednesday, Pompeo noted that North Korea had taken no "concrete steps" to dismantle its nuclear weapons program.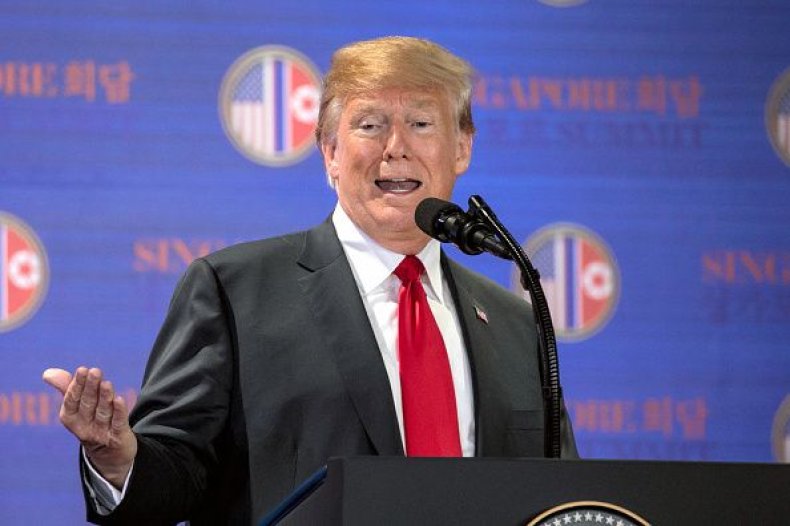 Trump, however, has touted his high-level summit with Kim in Singapore last June as a major success and signaled that he trusts the North Korean leader because of their good rapport.
During a rally in late September, Trump claimed that he and Kim "fell in love" because the North Korean leader wrote the President nice letters.
"I was really being tough and so was he. And we would go back and forth. And then we fell in love, ok? No, really. He wrote me beautiful letters. And they're great letters. And then we fell in love," he said.
Nevertheless, the diplomatic process appears to be largely stalled, and researchers have determined that North Korea has up to 20 undeclared operating missile bases. The 2019 Missile Defense Review, which Trump presented in a speech at the Pentagon, takes more of a bellicose line toward North Korea.
"While acknowledging that a path to peace with North Korea may theoretically be possible, the review endorses a defense and defeat dominant posture toward rogue states," notes a review of the document from the Center for Strategic and International Studies, a think tank that has done extensive investigating of North Korea's weapons program.
Kim Yong Chol, a high-level politician in North Korea, is meeting on Friday with Secretary Pompeo in Washington. He will reportedly meet with Trump if the talks with Pompeo goes well.