North Korea Calls Donald Trump a 'Heedless and Erratic Old Man': 'We Have Nothing More To Lose'
Senior North Korea official Kim Yong Chol took a jab at President Donald Trump after the president wrote on Twitter that North Korea would opt to denuclearize because the cost of not doing so was too high.
"As [Trump] is such a heedless and erratic old man, the time when we cannot but call him a 'dotard' again may come," Kim Yong Chol said in a statement to the Associated Press Monday.
As president, Trump has pushed for North Korean denuclearization, and after talks stalled, Trump told reporters at the NATO summit in London last week that the United States would use military force against North Korea if necessary, drawing fire from Kim Jong Un's administration.
Trump also referred to Kim Jong Un as "rocket man" during his NATO comments, a nickname that the president coined in 2017. North Korean 1st Vice Foreign Minister Choe Son Hu said in a statement last week that if Trump continues to insult Kim Jong Un they will "diagnose that the dotard started to be senile again."
"It would be a very dangerous challenge if it was a deliberate reappearance of expressions reminiscent of two years ago when the war of words went back and forth across the ocean," she said, referring to the repeated verbal jabs the two leaders took at each other in 2017.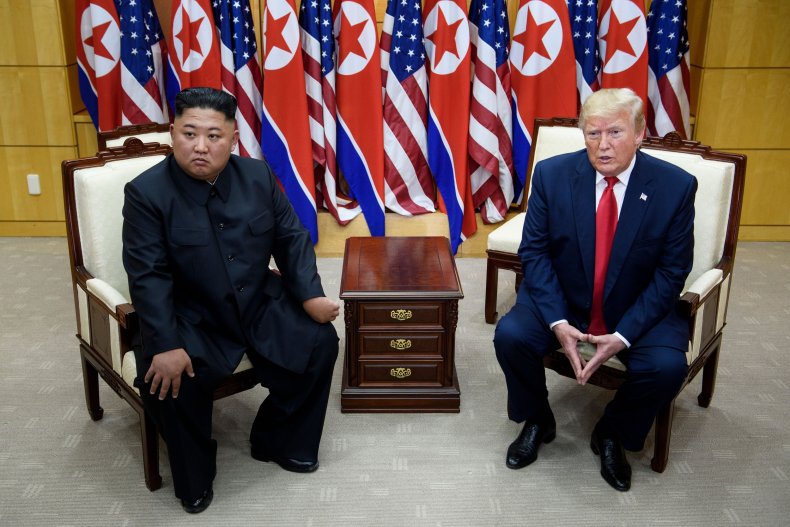 Kim Jong Un announced in April that the two countries had until the end of the year to resume progress in their negotiations or he would seek a "new path." With the deadline looming, Trump wrote Sunday on Twitter that Kim Jong Un was "too smart" and had "far too much to lose" to act in a hostile way. Trump added that the North Korean leader didn't want to void their "special relationship" and called for them to denuclearize.
While Trump claimed North Korea had "too much to lose," Kim Yong Chol told the AP that North Korea has "nothing more to lose."
"Though the U.S. may take away anything more from us, it can never remove the strong sense of self-respect, might and resentment against the U.S. from us," the North Korean official said.
Newsweek reached out to the White House but did not receive a response in time for publication.
In exchange for getting rid of the country's nuclear arsenal, North Korea would receive relief from sanctions that hurt its economy. At the heart of the talks stalling, according to Reuters, is reaching an agreement over what North Korea has to give up and the conditions of the sanctions that would be lifted.
Trump has championed his talks with North Korea as victories for his presidency. North Korea said in recent weeks that it would halt meetings unless the president was willing to offer something substantial in return, according to AP.