North Korea Says it Won't 'Give Up Nukes,' Threatens to Abandon Trump-Kim Meeting
North Korea's government warned Wednesday that it would cancel a planned meeting between its leader Kim Jong Un and United States president Donald Trump if the U.S. forced it to give up its nuclear weapons.
"We will not be interested in talks anymore if [they] only try to push us unilaterally into a corner and force us to give up nukes," Vice Foreign Minister Kim Kye Gwan said in a statement. "It would be inevitable to reconsider whether to respond to the upcoming summit with the U.S."
The statement came just hours after North Korea said it was suspending talks with South Korea, citing ongoing joint military drills on the Korean peninsula by the U.S. and South Korea. In response to the move, White House Press Secretary Sarah Sanders said that the administration "will look at what North Korea has said independently, and continue to coordinate closely with our allies."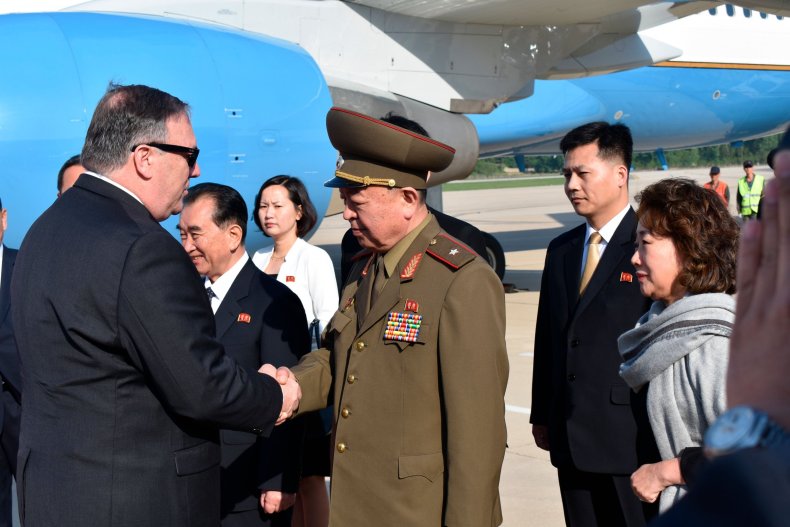 But North Korea lashed out with even greater force overnight, taking particular aim at Trump's new national security adviser John Bolton.
"High-ranking officials of the White House and the Department of State, including Bolton, White House national security adviser, are letting loose assertions of so-called Libya mode of nuclear abandonment," Kim Kye Gwan said.
The statement added: "The world knows too well that our country is neither Libya nor Iraq, which have met a miserable fate."
The comments come after Secretary of State Mike Pompeo took two trips to North Korea, meeting with Kim Jong Un. Trump has talked up the success of negotiation with North Korea, inviting talk that he could garner the Nobel Peace Prize as a result of the planned summit, which has been scheduled for June 12 in Singapore.
But the country's vice foreign minister said Wednesday that Trump's ambitions could yet fall flat.
"If President Trump follows in the footsteps of his predecessors he will be recorded as a more tragic and unsuccessful president than his predecessors, far from his initial ambition to achieve unprecedented success," he said.