North Korea Blasts Top Trump Administration Official As President Praises Kim Jong Un As a 'Very Smart Man'
North Korea lashed out at President Donald Trump's National Security Adviser John Bolton in a Monday statement, as Trump praised the East Asian nation's dictator Kim Jong Un as a "very smart man."
A spokesperson for North Korea's foreign ministry blasted Bolton for saying that there was "no doubt" that recent missile tests by Pyongyang had violated United Nations Security Council resolutions. The North Korean spokesperson said the "claim" by Bolton was "indeed much more than ignorant."
"It is not at all strange that perverse words always come out from the mouth of a structurally defective guy," the spokesperson said, Reuters reported. The North Korean official also referred to Bolton as more of a "security-destroying adviser" than a security adviser.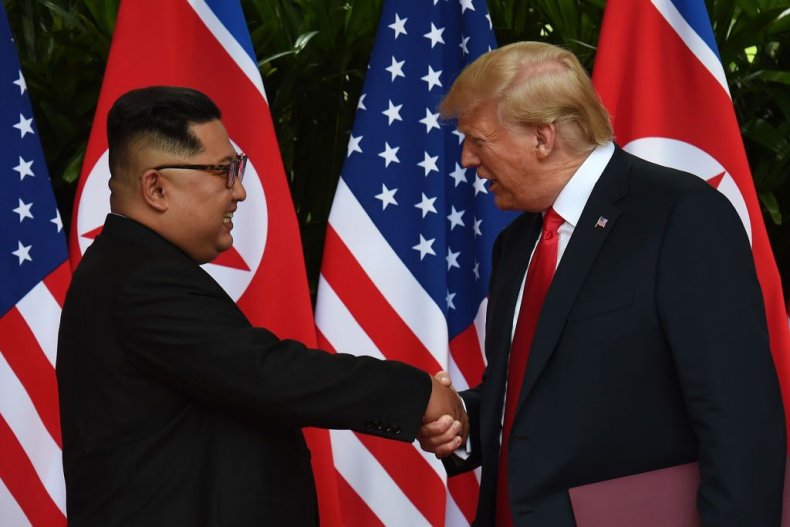 Meanwhile, Trump appeared to contradict his top adviser during a news conference in Japan on Monday, saying he was not bothered by recent North Korean missile tests and heaping praise on Kim.
"All I know is that there have been no nuclear tests. There have been no ballistic missiles going out. There have been no long-range missiles going out. And I think that someday we'll have a deal," Trump said. The president also said he was in "no rush" to sign such an agreement and that Kim was a "very smart man."
Trump has continued to speak positively of North Korea's strongman leader despite an apparent breakdown in talks regarding denuclearization. Earlier this month, Pyongyang conducted two separate ballistic weapons tests, which were the first since Trump met face-to-face with Kim for a historic summit last summer. Despite top administration officials, such as Bolton and Secretary of State Mike Pompeo, speaking in a critical tone toward North Korea, Trump has continued to express optimism about his relationship with Kim and the possibility of denuclearization.
After North Korean media harshly criticized Trump's political rival Democratic presidential hopeful Joe Biden last week, the president suggested the remarks were a positive signal.
"I have confidence that Chairman Kim will keep his promise to me, & also smiled when he called Swampman Joe Biden a low IQ individual, & worse," Trump said in a Sunday morning tweet in Japan. "Perhaps that's sending me a signal?"
When questioned about the tweet, White House Press Secretary Sarah Huckabee Sanders told NBC News' Meet the Press that Kim and Trump "agree in their assessment of former Vice President Joe Biden."
Trump doubled-down on his agreement with Kim in regards to Biden on Monday. "Kim Jong Un made a statement that Joe Biden is a low IQ individual. He probably is based on his record, I think I agree with him on that," the president said.