North Korea Says U.S. Trying to Overthrow Kim Jong Un by Attacking His Sports Legacy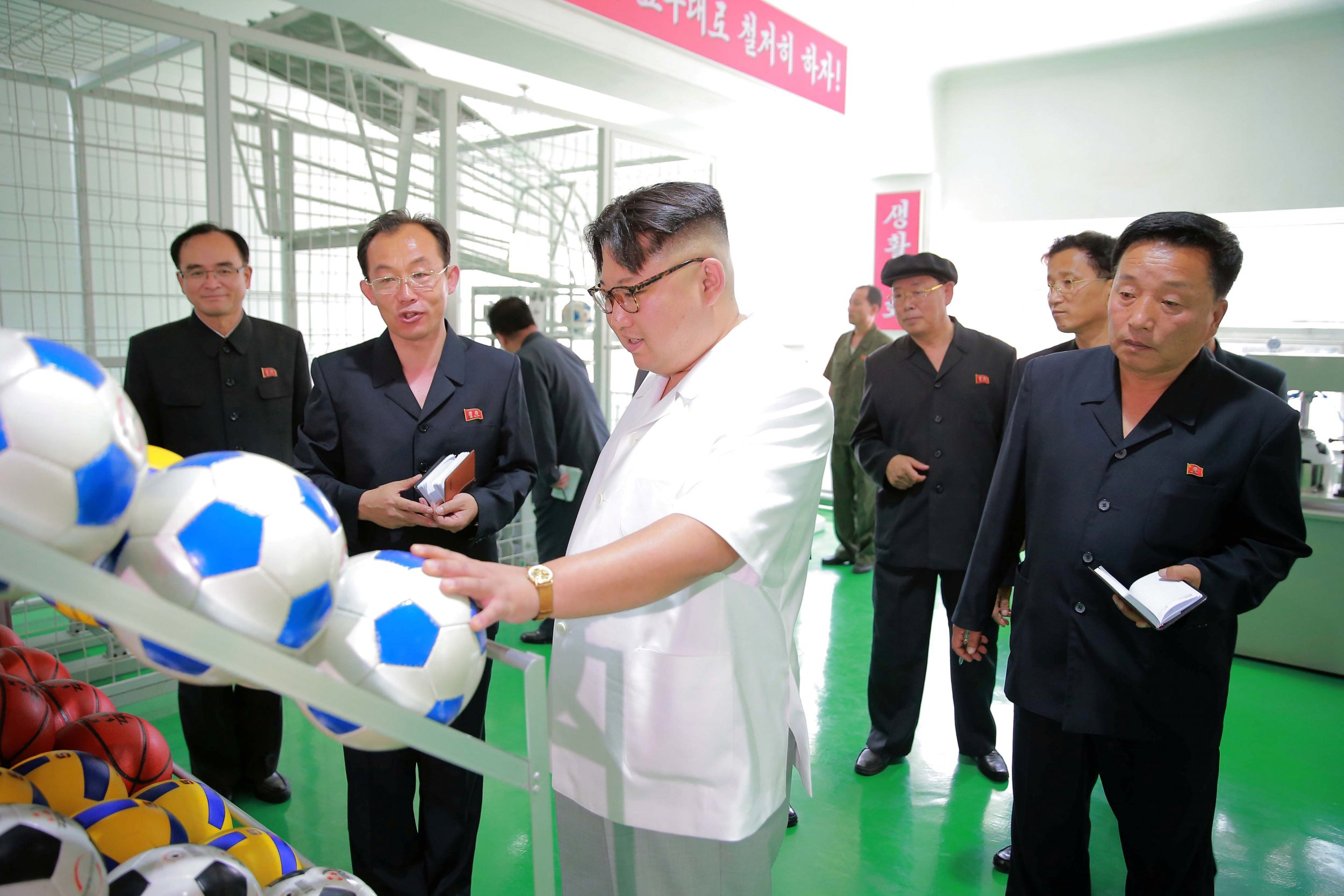 North Korea claims to have identified the latest U.S. plot to bring down its self-proclaimed socialist paradise—a vicious assault on the reclusive, militarized state's supreme sports legacy.
Following a fresh round of harsh U.S. sanctions against North Korea and its nuclear weapons program, Pyongyang's official Korean Central News Agency (KCNA) carried a statement attributed to the National Sports Guidance Committee in which the government body accused Washington of "stretching its tentacles deep into the area of sports" in an effort to undermine the country's culture and ideology. The committee argued that the U.S. should leave sports out of politics, and condemned its decision to reportedly include sports equipment in the latest trade restrictions imposed on North Korea.
Related: U.S. tried to kill North Korea's Kim Jong Un in May, according to North Korea
"Sports activities that promote friendship among peoples of the world and development of human civilization should not be abused in any case for sinister political purposes," a spokesperson for the National Sports Guidance Committee said in the statement.
"However, the heinous sanctions targeting the sports area of the DPRK, which the U.S. pursues by instigating its vassal forces, are an act that destroys modern civilization while seeking to overthrow the DPRK's ideology and system and completely shut out our people from enjoying proper cultural life," it added, using an abbreviation for the country's official title, the Democratic People's Republic of Korea.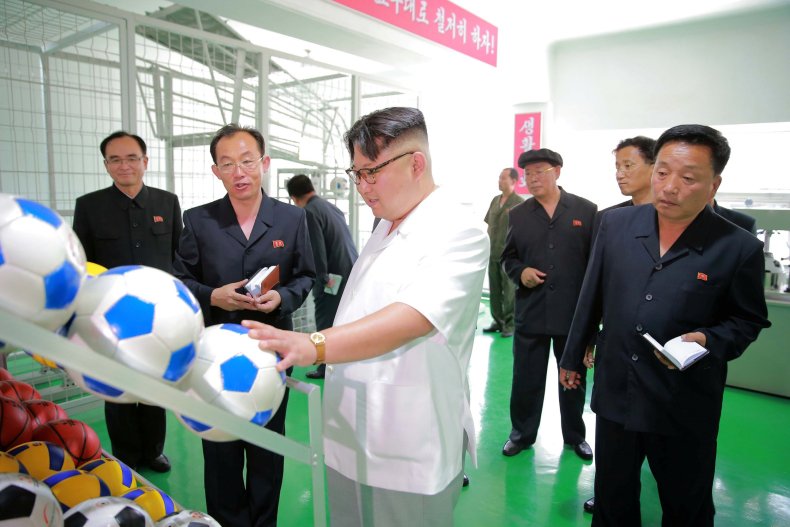 The committee blamed U.S. pressure for recent delays that forced a North Korea-Thailand soccer game slated to be held in North Korea to move to Thailand. It also blamed U.S. interference for the International Judo Federation's decision in April to move the 2017 World Junior Judo Championship to Croatia from North Korea and the International Weightlifting Federation's decision earlier this month to relocate the 2018 IWF Junior World Championships to Uzbekistan from North Korea.
The state-run sports body also blasted the U.S.-led campaign to isolate North Korea over its nuclear and ballistic missile program after Australia refused to allow North Korea's under-19 soccer team into the country for an Asian Football Confederation championship qualifying match scheduled for next month, citing Pyongyang's weapons of mass destruction. North Korea argues its development of a nuclear and ballistic stockpile is necessary to prevent an invasion, but the U.S. and many other nations refute this stance.
In addition to boosting its military prowess, North Korea has invested a sizable amount of its limited resources in its national sports teams, including the construction of the world's largest stadium, Rungrado 1st of May Stadium, in 1989. International sports competitions offer North Korea a chance to show off its athletic achievements on a global stage and mark a rare form of interaction between the notoriously secretive state and the outside world.
North Korea's young leader, Kim Jong Un, is believed to have a particular affinity for basketball. The millennial supreme leader's love for the sport first made headlines in February 2013, when he unexpectedly met with former NBA star Dennis Rodman and the Harlem Globetrotters during a trip arranged by Vice News. Rodman, who called Kim a "friend for life," has since made additional trips to North Korea in order to both promote peace and improve the country's basketball team.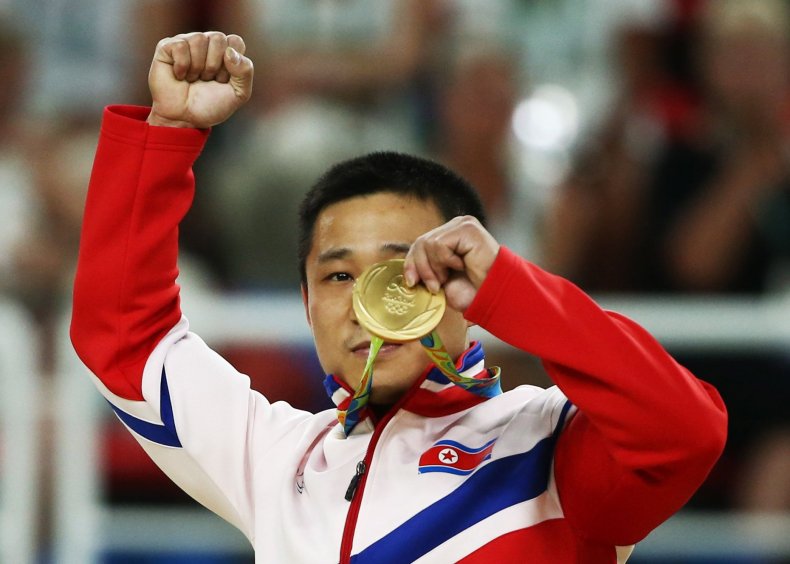 While South Korean media alleged its northern rival published educational materials claiming Kim learned to drive at the age of 9 and was winning yacht races when he was 9, according to The Telegraph, even these feats would pale in comparison to his father's supposed sports legacy.
Kim Jong Il, who himself inherited the position from his father in 1994 and led until his death in 2011, was said by state-run media to have bowled a perfect 300 during his first game at Pyongyang Lanes and to have sunk five holes-in-one and to have finished 38 under par during his first crack at golf at the 7,700-yard Pyongyang Golf Course, according to The New York Times. Some reports put the number as high as 11 holes-in-one, which would make the late North Korean leader the greatest golfer in history.
Kim Jong Il shared his son's interest in basketball and famously received a ball signed by NBA icon Michael Jordan during a visit from then-Secretary of State Madeleine Albright in 2000.