North Korea Uses 'Squid Game' to Bash the South: 'Their Humanity Is Being Wiped Out'
A state-run North Korean media site used the recent Netflix smash hit, Squid Game, to slam South Korean society as "immoral" and "beastly."
In a post from Tuesday, propaganda site Arirang Meari presented unattributed quotes from South Korean television critics that described Squid Game as showing an "unequal society where moneyless people are treated like chess pieces for the rich," according to a report from Reuters.
"It is said that it makes people realize the sad reality of the beastly South Korean society in which human beings are driven into extreme competition and their humanity is being wiped out," the post read.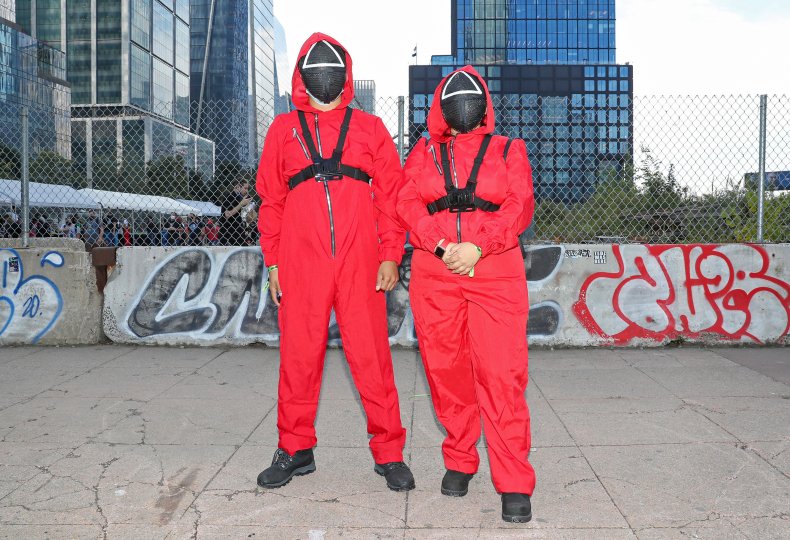 Released worldwide on September 17, Squid Game follows a secret series of games in which 456 cash-strapped people compete for 45.6 billion South Korean won, or around $38 million. The challenges take the form of various children's games with deadly consequences.
Less than a month since its release, the South Korean production has become an unprecedented worldwide phenomenon, on track to surpass Bridgerton Season 1 as the most-watched original series on Netflix. The series was originally conceived in 2008 by creator Hwang Dong-hyuk, who wrote and directed all nine episodes.
While few would likely hail North Korean society as a superior alternative, most critics and viewers would agree with the assessment that Squid Game is explicitly a criticism of class disparity in capitalist societies like South Korea. It shares such themes with another recent global hit from South Korea, Parasite, the 2019 Bong Joon-ho film that went on to win Best Picture at the 2020 Academy Awards.
Newsweek has reached out to Netflix for a comment on this story.
The North Korean government and media frequently criticize the culture and society of South Korea in an effort to make its own autocratic society look just by comparison. Often, they latch onto criticisms legitimate criticisms that even some in the South might agree with.
As Reuters highlighted, the regime in March called out the K-Pop industry for treating its internationally beloved and successful stars like "slaves." The alleged exploitation and mistreatment of K-Pop performers is a common idea raised by critics of the industry.
Despite seeming to praise the message of works like Squid Game, the North Korean government takes extensive measures to curb the influence of South Korean culture on its citizens. Anyone that is seen to act in a manner similar to those in the South or caught consuming media produced there can face harsh fines or prison time. Leader Kim Jong-un has also spoken about improving the country's own media output in an effort to curb his citizen's need for entertainment from elsewhere.
The average North Korean salary in 2019 added up to only around 4 percent of the average South Korean salary, according to NK News.