North Korea Vows to Wage War as U.S. Warns of Missile Strike as Early as 2018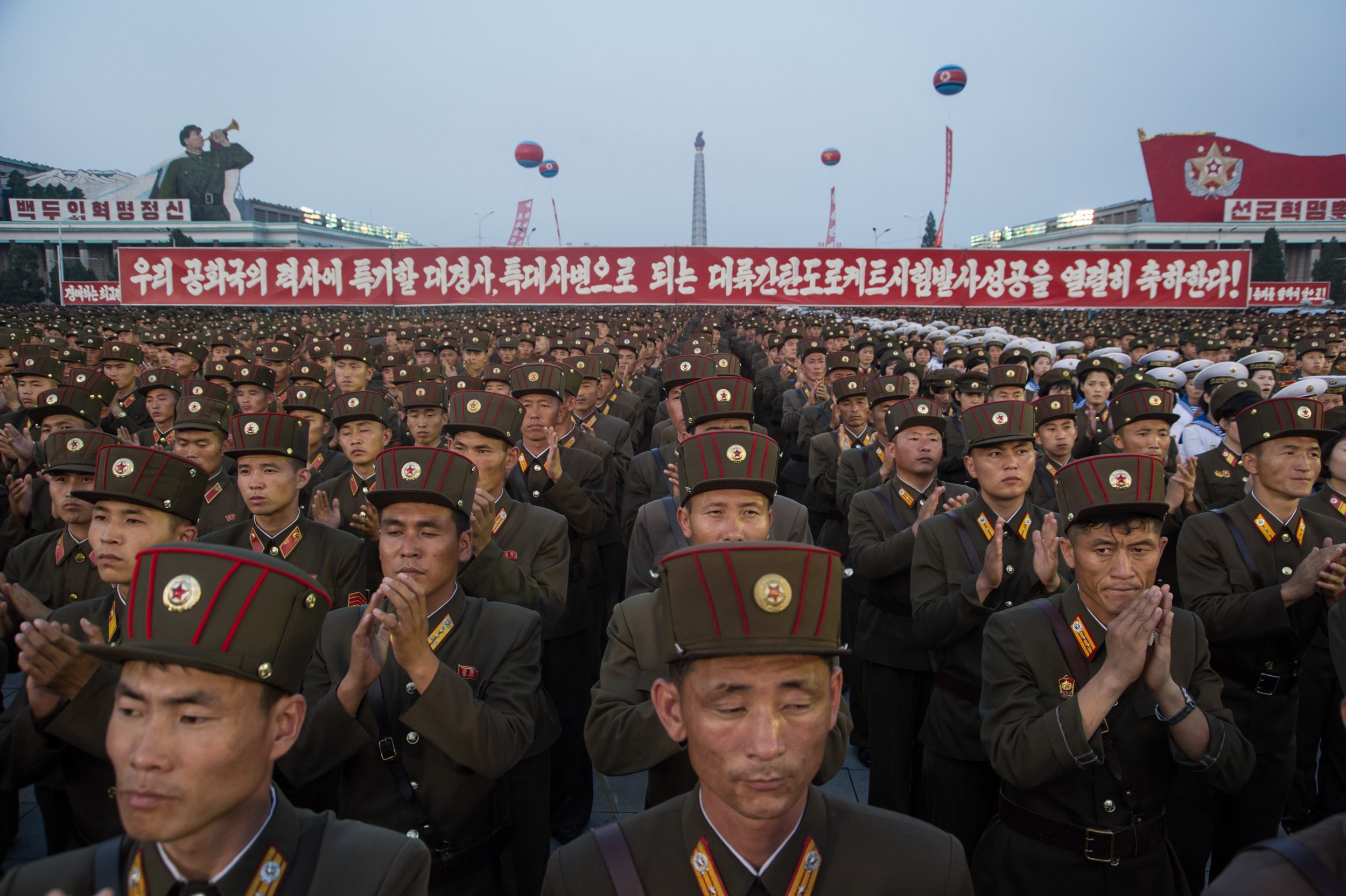 The Korean People's Army (KPA) of North Korea gathered in Pyongyang for an oath-taking ceremony Tuesday, pledging their readiness to fight and win any battle to protect their homeland.
The ceremony saw the presence of officers and cadets of the Army, the Navy and the Air and Anti-Air Force, the state news agency KCNA reported in English.
Ahead of the 64th anniversary of the Korean War armistice, the army's vice-marshal Hwang Pyong-so remembered "the decisive victory in the sacred war against the U.S.," claiming North Korea has since become "a political and military power and a full-fledged nuclear weapons state" and even a "space power."
North Korea only succeeded in launching two satellites in 2015 and 2016, after a string of failures.
Pyong then called for "waging more dynamic struggle to add shine to the history of great victory in the war generation after generation and bring July 27 of final victory as early as possible," according to the state media report.
North Korea stepped up its combative rhetoric Monday, when a Foreign Ministry spokesman threatened a "merciless blow at the heart of the U.S. with our powerful nuclear hammer" in response to remarks made by CIA Director Mike Pompeo on North Korean ruler Kim Jong Un.
The pariah state has developed its nuclear development program to the point of test launching on July 4 what U.S. experts believed to be an intercontinental ballistic missile (ICBM) with the potential of reaching Alaska.
According to a new assessment by the Pentagon's Defense intelligence Agency (DIA) seen by The Washington Post, U.S. officials now believe North Korea could launch "a reliable, nuclear-capable ICBM" already at some point next year, rather than the 2020 deadline they had previously estimated.
U.S. officials also expect a new test launch from Pyongyang this week, CNN reported, having detected trucks carrying missile-launching equipment arriving in Kusong, the site of previous test launches.
On Sunday, the chairman of the Joint Chiefs of Staff General Joe Dunford said North Korea is capable of launching a "limited" attack but that the U.S., Japan and South Korea have the military capacity to defend themselves.
According to a notice from the U.S. Coast Guard, a rocket test launch is scheduled on July 29 from Kodiak, Alaska, the site from which the U.S. Terminal High Altitude Area Defense (THAAD) missile system was successfully tested earlier this month.