North Korea War a 'High Possibility,' South Korea's New President Says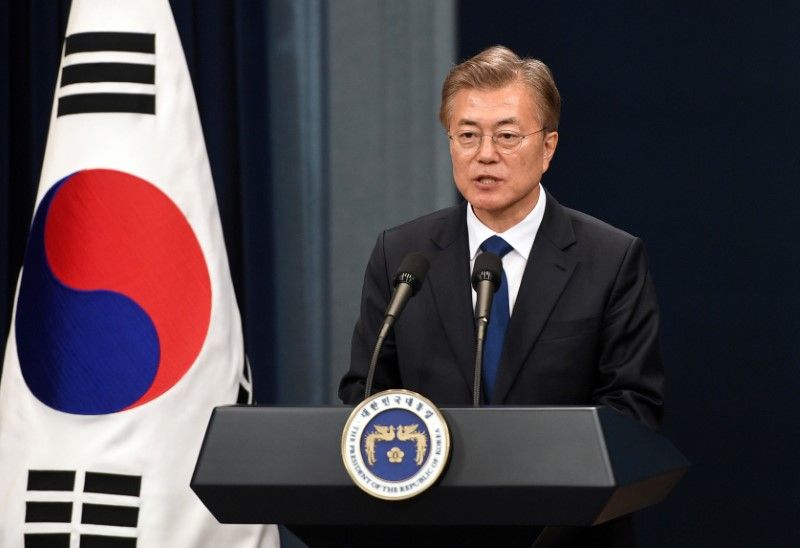 There is a "high possibility" of a military conflict with North Korea, South Korea's recently elected president, Moon Jae In, said Wednesday. The comments come just days after North Korea tested its latest missile, which was described by experts as its most successful so far, and one that the North said was capable of carrying a large nuclear warhead.
Related: North Korea missile program advancing faster than expected, South's defense minister says
Moon, a liberal who was elected last week after a decade of conservative leadership, has taken a relatively diplomatic tone with North Korea, with whom the South remains technically at war following the armistice signed to end the 1950-1953 conflict. But he did not shy away from the potential consequences of the continued escalation of rhetoric and testing emanating from North Korea.
"The reality is that there is a high possibility of a military conflict at the NLL [Northern Limit Line] and military demarcation line," he said, according to Reuters.
Moon added that South Korea was ready and able to retaliate should the North, which he said appeared to be rapidly advancing its missile and nuclear capabilities, strike first.
Only hours earlier, South Korea's unification ministry stressed the importance of restarting dialogue with the North.
"Our most basic stance is that communication lines between South and North Korea should open," ministry spokesman Lee Duk Haeng said at a media briefing. "The unification ministry has considered options on this internally but nothing has been decided yet."
During his campaign to replace President Park Guen Hye, who was impeached, Moon called for restarting political and economic cooperation with the North. Dialogue between the neighboring countries was ended in February 2016 following a North nuclear test.
At the time, South Korea also suspended operations at the jointly run Kaesong Industrial Complex, in which South Korean companies operated in North Korean territory. Moon has called for the industrial park to reopen.
Moon has criticized the United States's local deployment of a Terminal High Altitude Area Defense (THAAD) anti-missile system, which passed its first major test when detecting the North's latest missile launch. Moon has called for a realignment of the relationship with Washington, in an effort to set it on a more equal footing, and it was announced Tuesday that he will visit the White House next month for a summit with President Donald Trump.
Trump last month warned of the possibility of a "major, major conflict" with North Korea, which has pledged to carry out a sixth nuclear test in defiance of U.S. warnings and United Nations resolutions.