North Korea Reveals What It Used In Latest Missile Test As U.S. and South Korea Begin Military Drills
North Korea has revealed the weapons system tested in its latest missile launch just days before the United States and South Korea kicked off military exercises in defiance of warnings from their longtime rival with whom they sought peace.
The official Korean Central News Agency published a report over the weekend on Friday's missile test, the third launch in just over a week, saying North Korean supreme leader Kim Jong Un "guided again the test-fire of newly-developed large-caliber multiple launch guided rocket system" — a phrase also used to describe the system used in a previous test on Wednesday. This test concerned "altitude control flight performance, track control capability and rate of hits."
Kim "expressed great satisfaction over the result of the test-fire," crediting those involved for following the self-reliant socialist Juche ideology of the ruling Korean Workers' Party. Only a single image was published, showing Kim smiling among officials in a command center to similar to that featured in media released after Wednesday's events.
Following that test, in which images of the multiple launch rocket system were censored, Kim said the weapon was "very great and it would be an inescapable distress to the forces becoming a fat target of the weapon." Less than a week before that, Kim said after the test of what appeared to be a mobile short-range ballistic missile system that was "a solemn warning" to South Korea over its decision to hold military exercises.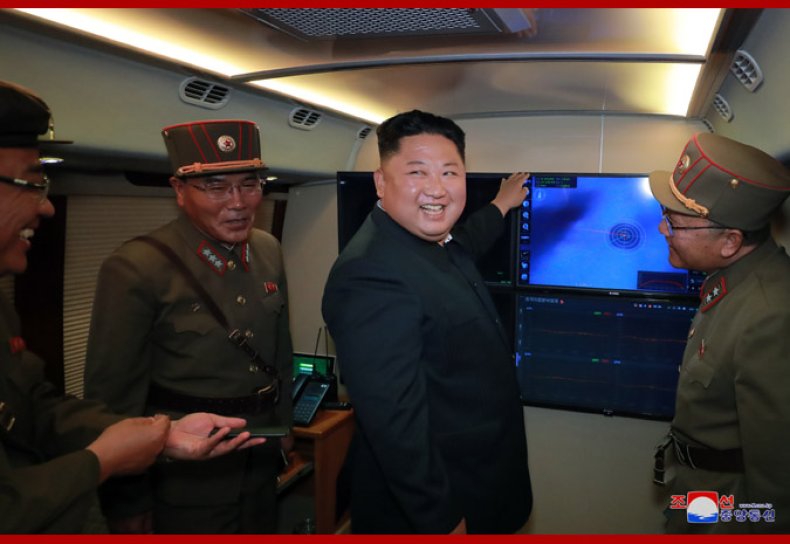 The North Korean Foreign Ministry also published two back-to-back statements last month about a week ahead of the first missile test criticizing the U.S. and South Korea for planning to move forward with their "Alliance 19-2" drills in spite of attempts to restart denuclearization talks. North Korea has long viewed U.S.-South Korea military moves as a threat to its own national security.
In spite of these warnings and three missile tests, a South Korean Defense Ministry spokesperson told reporters Monday that "preparations are underway for a combined exercise," according to the Yonhap News Agency. Citing unnamed sources, the South Korean outlet also reported Monday that Washington and Seoul have begun "crisis management staff training" ahead of the planned command post exercise to be jointly conducted by the two.
The sources also reportedly indicated that the maneuvers were set to replace the annual Key Resolve and Foal Eagle joint drills often held in spring. The two countries have suspended the exercises amid unprecedented levels of diplomacy with North Korea and the "Alliance 19-2" name may be dropped from the yet unannounced drills to further avoid provoking Pyongyang.
The U.S. backed South Korea against North Korea and a Sino-Soviet alliance in a 1950s conflict that ended with an armistice, but has technically never been resolved. Since early last year, however, peace talks initiated by Kim have seen him meet President Donald Trump and South Korean President Moon Jae-in on multiple occasions.
Ahead of these meetings, Kim announced an unofficial pause on the testing of nuclear weapons and intercontinental ballistic missiles and has so far maintained this moratorium, though he resumed short-range weapons launches with a series of two tests in May. These ballistic missile tests, along with the first conducted last month, utilized a system that resembled Russia's advanced, nuclear-capable Iskander.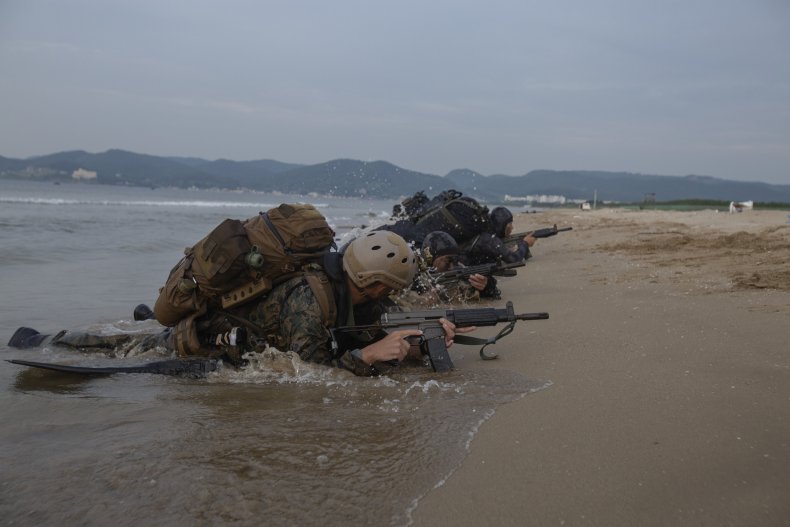 Following last month's launches and just ahead of the third on Thursday, France, Germany and the United Kingdom released a joint statement condemning them for violating a United Nation Security Council resolution banning North Korea's use of ballistic technology in such tests. Trump acknowledged a potential breach of U.N. law, but said Friday that the tests were "not a violation of our signed Singapore agreement, nor was there discussion of short-range missiles when we shook hands."
"Chairman Kim does not want to disappoint me with a violation of trust, there is far too much for North Korea to gain - the potential as a Country, under Kim Jong Un's leadership, is unlimited. Also, there is far too much to lose," Trump tweeted, arguing that Kim "has a great and beautiful vision for his country, and only the United States, with me as President, can make that vision come true. He will do the right thing because he is far too smart not to, and he does not want to disappoint his friend, President Trump!"
The North Korean Foreign Ministry also released a statement Friday, dismissing the European charges as "an insult, disregard and grave provocation" against the country as it has "never recognized" such resolutions targeting it.
The first of the recent trio of missile tests also occurred while White House national security adviser John Bolton was in South Korea and the latter two as Secretary of State Mike Pompeo was in Thailand, where he expressed regret over there being no plans to meet with a North Korean delegation. Both men, along with newly-appointed Defense Secretary Mark Esper have since reaffirmed the administration's commitment to North Korea's total denuclearization and the enforcement of sanctions and U.N. resolutions.