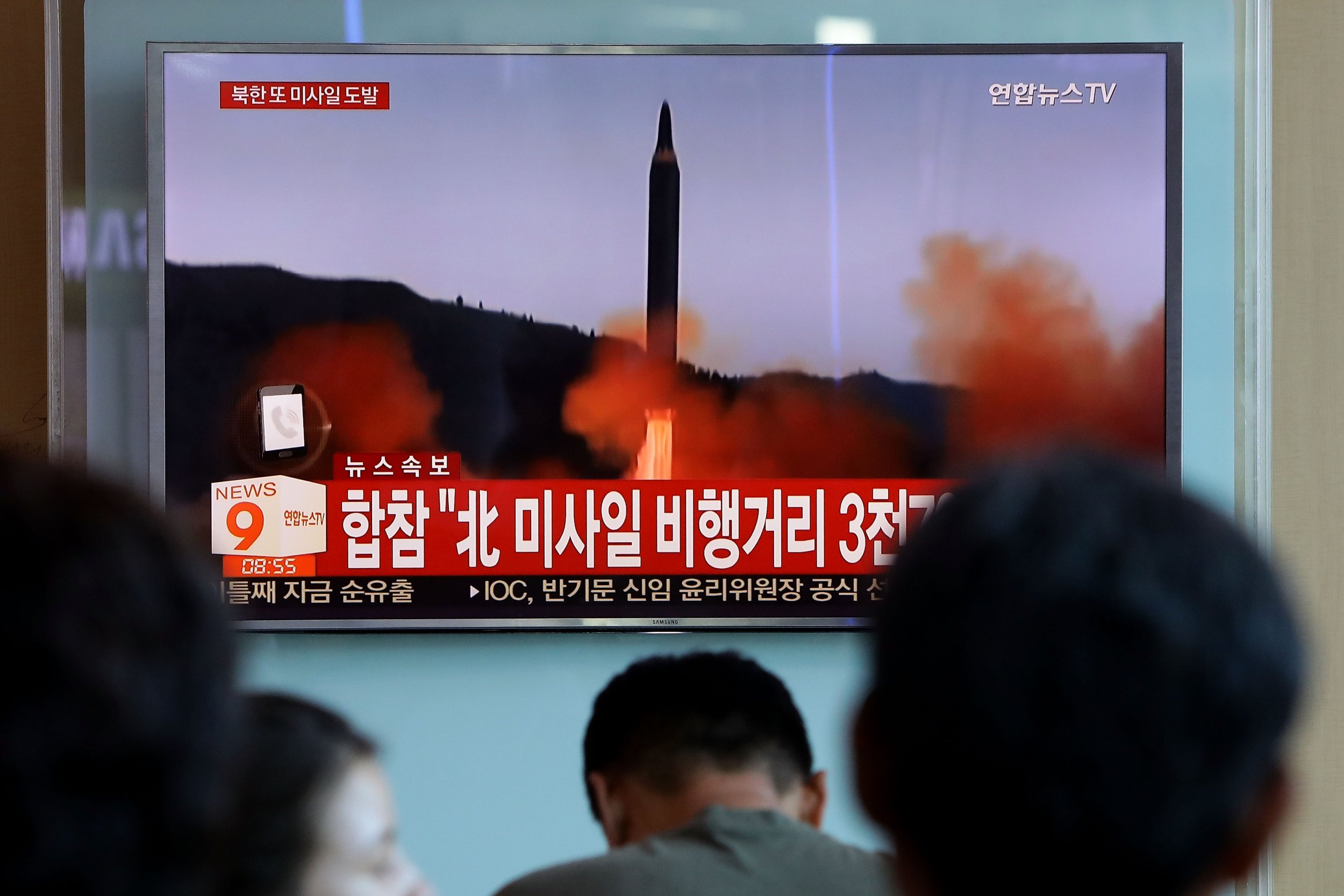 Acting Secretary of Defense Patrick Shanahan has refused to deny Russian involvement in North Korea's weapons development programs, following recent weapons tests.
Speaking with Fox News, Shanahan covered a wide range of key foreign policy issues but was notably guarded when it came to North Korea's reputed cooperation with Russia.
Fox News host Brian Kilmeade asked Shanahan—nominated last week as permanent secretary of defense to replace James Mattis—whether it was a coincidence that North Korean rockets were similar to Russian rockets, and whether it was significant that Pyongyang's latest weapons test came soon after Kim Jong Un met Russian President Vladimir Putin.
"I'll leave that for you to decide," Shanahan responded, failing to confirm or deny any Russian involvement in North Korea's weapons programs, which have been a major obstacle to ongoing diplomatic efforts on the peninsula.
North Korea tested long-range multiple rocket launchers and tactical guided weapons last week, according to the state-run Korean Central News Agency. The South Korean Defense Ministry said the test involved 240 mm and 300 mm multiple rocket launchers, as well as a new model of a tactical guide weapon. The range of the weapons tested was estimated at 43 to 149 miles, CNN noted.
The rockets bore a striking similarity to the advanced Russian Iskander missiles—a short-range system with a range of more than 150 miles—NPR explained. The test showed that North Korea was still developing new weapons, despite ongoing peace talks with the U.S. and South Korea.
"There are Russian technology fingerprints all over it," Marcus Schiller, a leading expert on North Korean missiles, told The Associated Press. He explained that the test did not necessarily mean that North Korea was buying entire weapons systems directly from Russia, as Pyongyang could have ordered some parts from Russia and made certain components domestically.
Harry Kazianis, the director of Korean studies at the Center for the National Interest, told Newsweek he "would highly doubt Russia would officially help North Korea with any of its missile, nuclear or other weapons of mass destruction programs for fear it would be hit with even more devastating sanctions—something Moscow can ill afford."
"However, we can't ever discount the possibility that ex-Russian engineers or even Russian-based companies are helping Pyongyang with their missile technology and breaking U.N. Security Council resolutions," Kazianis added. "We should remember that many of these firms and scientists are struggling for basic economic survival thanks to leaner Russian defense budgets, so it is not crazy to assume that they might look to illegal means to supplement their incomes.
"In fact, there is precedent for this. Back in the early 1990s when the Soviet Union collapsed, ex-Soviet scientists went to North Korea in droves to help the regime beef up their missile capabilities for cash. This might explain why so many of North Korea's missiles look and operate just like the last patch of technological innovations from the USSR."
The tests came amid a negotiation stalemate between Washington and Pyongyang. For all President Donald Trump's boasts of a close relationship and diplomatic success with Kim, little of significance has been achieved since relations between the two nations unexpectedly began to thaw in 2018.
Progress on denuclearization of the Korean Peninsula and sanctions relief for the North has stalled since the failure of a summit between Trump and Kim in Hanoi in February. Nonetheless, Shanahan told Kilmeade that the White House's North Korea strategy "hasn't changed—it's a diplomatic one.
"But it's about full denuclearization," he added. "My job is to make sure that we're prepared in the event diplomacy fails. That's my focus with the military. There's no change to our force posture, our force preparation and our readiness."
The president downplayed the weapons test. "I believe that Kim Jong Un fully realizes the great economic potential of North Korea, & will do nothing to interfere or end it," he tweeted.
This article has been updated to include comments from Harry Kazianis.