Is North Korea Willing to Abandon Nuclear Weapons? Photos Show Kim Jong Un Is Telling the Truth
North Korea has pledged to dismantle its only known nuclear testing site, and new satellite imagery has emerged showing compelling evidence that the country has already begun deconstructing the facility.
As North Korea pursues a rare diplomatic approach toward South Korea and the U.S., the official Korean Central News Agency announced Saturday that the Punggye-ri Nuclear Test Site would be taken apart between May 23 and 25 at an event to which journalists from around the world have been invited. The landmark occasion would take place just weeks before President Donald Trump and North Korean supreme leader Kim Jong Un were set to meet in a historic summit next month in Singapore.
Many observers and officials have been deeply skeptical about North Korea's commitment to denuclearize; the country has long argued that such weapons of mass destruction were vital to its own survival. On Monday, however, top North Korea monitoring blog 38 North published what leading researchers have called "the first definitive evidence that dismantlement of the test site was already well underway."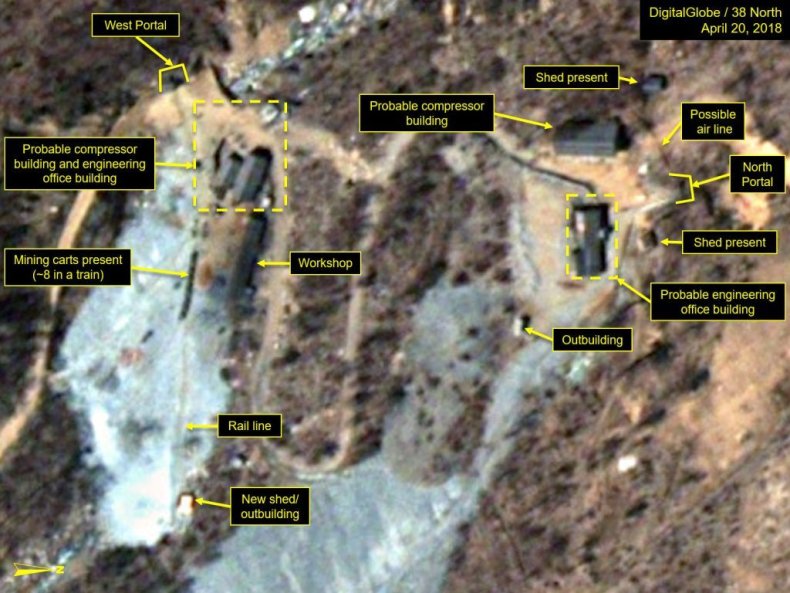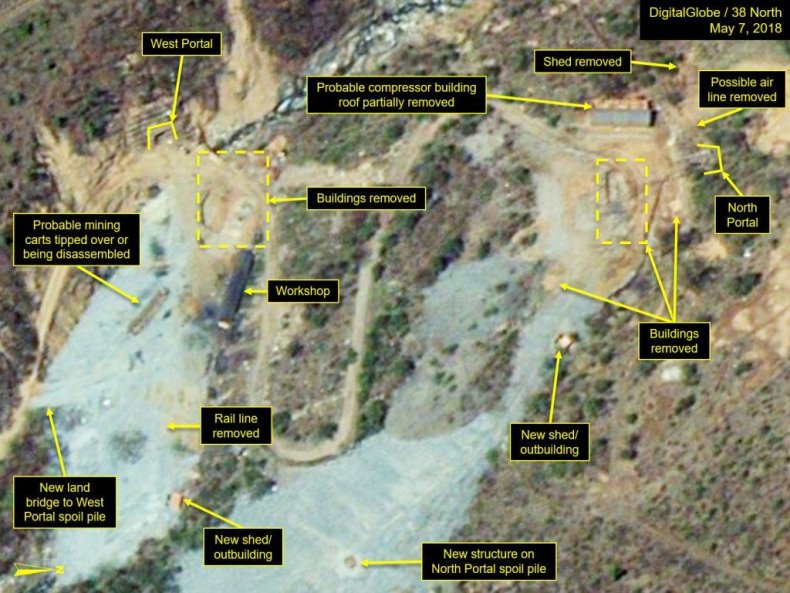 The Punggye-ri Nuclear Test Site is located in a remote stretch of Kilju County in North Korea's North Hamgyong Province and hosts three tunnels, known as the North, West and South Portals. Between April 20 and May 7 of this year, satellites show that buildings and structures have been removed, and other unusual activity at the highly-restricted site.
Since 2006, North Korea has tested six nuclear weapons. The five latest and most powerful tests have occurred at the North Portal. Monday's report showed the site has witnessed the removal of what its authors Frank V. Pabian, Joseph S. Bermudez Jr. and Jack Liu described as "probable engineering office building and a possible instrumentation shed...along with at least two smaller buildings or sheds." Two possible airlines may have also been taken away, while a small structure has been erected, potentially to film the upcoming final closure of the tunnels.
Related: Will North Korea give up nuclear weapons? Kim Jong Un knows U.S. invades countries that do
The analysts had previously observed that digging at the West Portal had likely stopped in late March and the presence of mining carts outside the entrance in April corroborated this. Since then, this month's imagery "shows that two key buildings (one likely an engineering office building, the other a compressor building) near the portal has been razed along with a shed that might have housed instrumentation equipment and one small outbuilding." Rows of mining carts also appeared to have been overturned and their tracks have disappeared.
At the South Portal, which has also never been used for nuclear testing, "the probable engineering office building for this area and a portion of the probable compressor building have recently been removed, along with a few other sheds and small buildings." At least one building and shed were absent from the main administrative center and a blue-roofed building of unknown use was also taken down at the command center.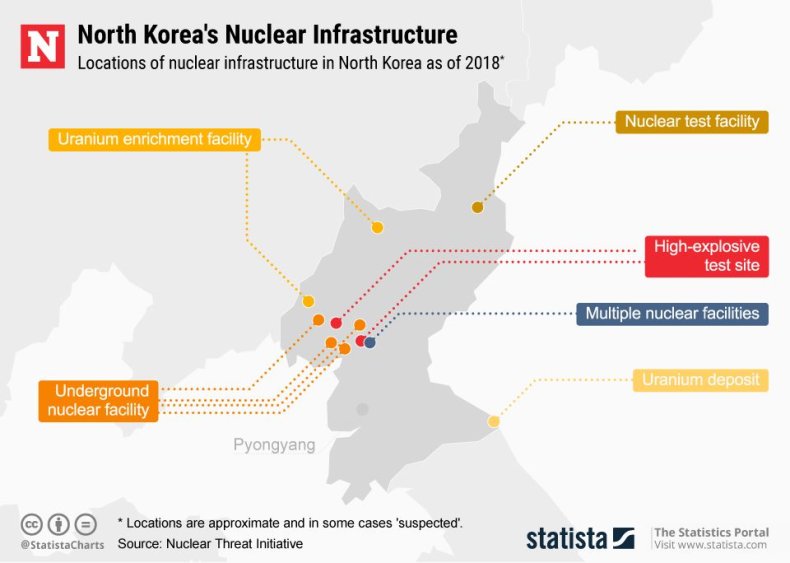 Source: Statista.com
North Korea's first nuclear test was conducted in the now-abandoned "East Portal" and since then, the nation has significantly advanced its nuclear weapons and ballistic missile program, especially under the youngest Kim's leadership, which began in 2011. Last year, Kim launched the country's first intercontinental ballistic missiles and conducted its most recent nuclear test—a hydrogen bomb explosion more powerful than all five previous tests combined.
Despite the escalating tensions between Kim and Trump that defined their relationship in 2017, the two leaders have apparently embraced an opportunity for peace this year as Kim invited Trump for the first-ever meeting between a sitting U.S. president and North Korean ruler and then embarked on trips to meet Chinese President Xi Jinping and South Korean President Moon Jae-in. Kim has met twice with Secretary of State Mike Pompeo, who has expressed his hope that the countries could "work together" to put to rest decades of hostility that began in the earliest days of the Cold War and have persisted through numerous failed attempts at peace.