North Korea Won't Resume Nuclear Talks With Trump Admin, Warns Their Policy Will Not Change
North Korea's Vice Foreign Minister Choe Son Hui on Saturday indicated that the country will not resume denuclearization negotiations with the Trump Administration and warned that their nuclear policy is unlikely to change.
In a statement shared on the North Korean Ministry of Foreign Affairs' website, Hui wrote that the North Korean government doesn't "feel any need to sit face to face with the U.S.," citing issues with the U.S. government's negotiations being used as political tool.
The U.S. "does not consider the DPRK [Democratic People's Republic of Korea]-U.S. dialogue as nothing more than a tool for grappling its political crisis," the statement continued.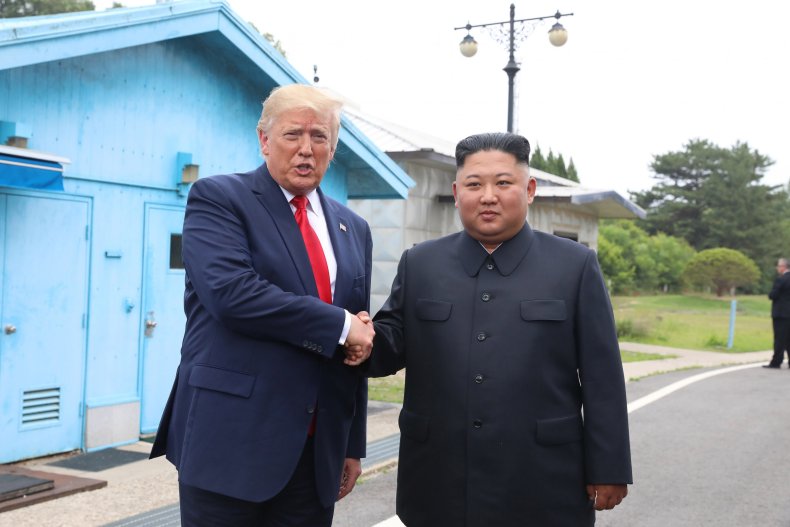 North Korean leader Kim Jong Un and U.S. President Donald Trump first met in 2018 during a bilateral summit to further denuclearization negotiations and peaceful relations between the two nations.
Hui on Saturday said North Korea will not change its policy. "There will never be any adjustment and change in our policy, conditional on external parameters like internal political schedule of someone," Hui wrote.
Hui noted that continued hostility from the U.S. led to the country's decision to stop further negotiations.
"Is it possible to hold dialogue or have any dealings with the U.S. which persists in the hostile policy toward the DPRK in disregard of the agreements already made at the past summit? It is clear to us, even without meeting, as to what shallow trick the U.S. will approach us with, as it has neither intention nor will to go back to the drawing board," Hui said. "The U.S. is mistaken if it thinks things like negotiations would still work on us."
Newsweek reached out to the White House and Department of Defense for comment but did not receive a response in time for publication.
Two years after Trump and Kim first met, North Korea poured cold water on denuclearization negotiations last month. In a June statement, North Korea Foreign Minister Ri Son Gwon said that hope for improved relations between the two nations "shifted into despair characterized by spiraling deterioration and that even a slim ray of optimism for peace and prosperity on the Korean peninsula has faded away into a dark nightmare."
Despite Trump's attempts to reach a nuclear deal with North Korea, a February 2019 disagreement regarding sanctions for Pyongyang held up negotiations. According to The Hill, tensions between North and South Korea have risen after anti-Pyongyang leaflets began circulating, making their way into North Korea.