North Korean Cheerleader Caught Clapping for U.S. Skaters Told to Cut It Out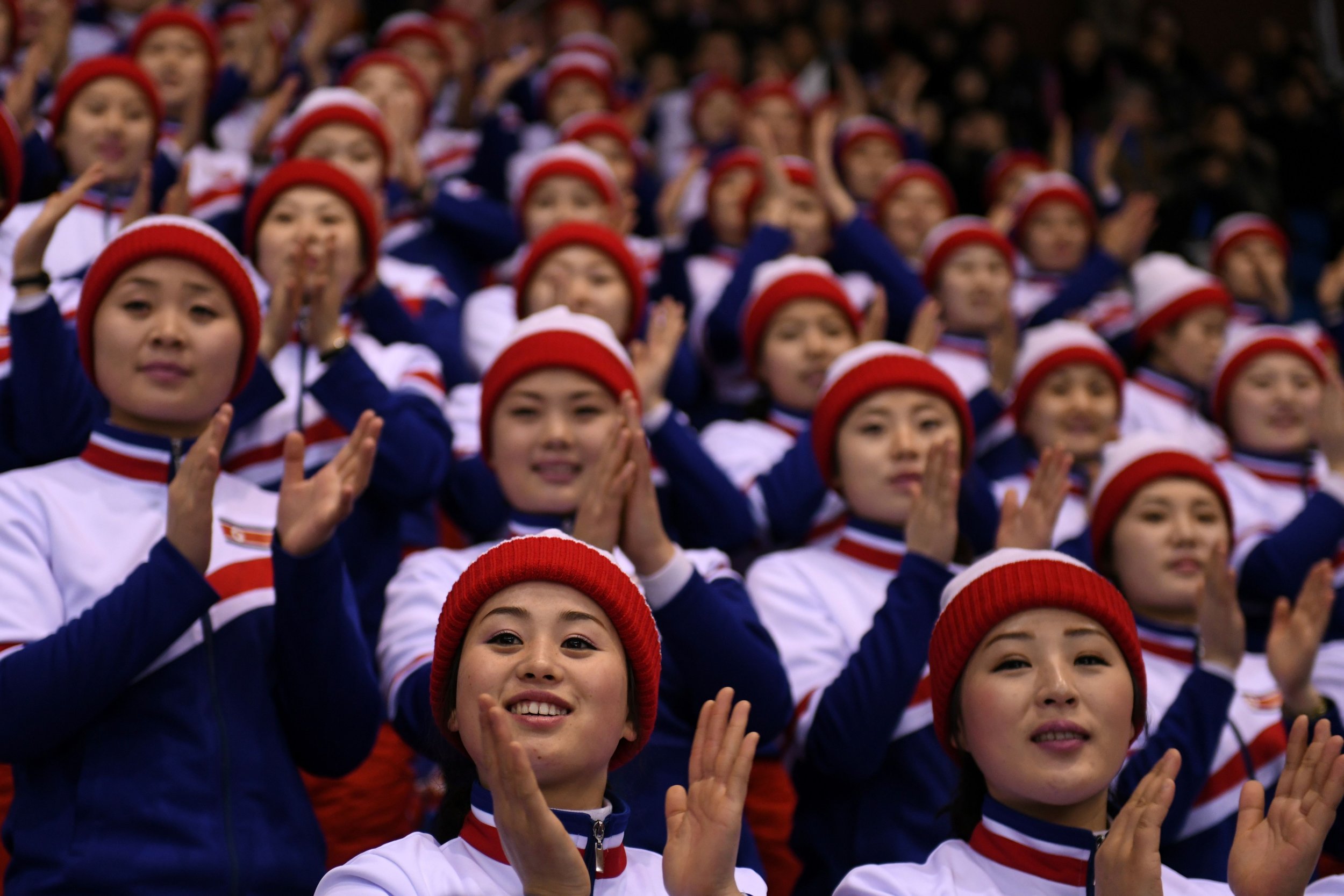 A North Korean cheerleader was caught on camera briefly applauding U.S. figure skating pair Alexa Scimeca-Knierim and Chris Knierim at the Winter Olympics—before a colleague quickly told her to stop.
The interaction, which lasted only a few seconds, occurred during a figure skating event on February 15. It provided another bizarre insight into the lives of the young North Korean cheerleader contingent—women who are handpicked to support the country and have fascinated worldwide audiences with their near-robotic, perfectly synchronized performances in support of North Korean athletes.
The cheerleaders showed up en masse to witness the final performance of North Korean figure skating pair Kim Ju Sik and Ryom Tae Ok, who are perhaps the most successful and most well-known North Korean athletes at the Pyeongchang Olympics. As expected, the cheerleaders greeted the pair's free skating routine with raucous applause and cheers.
They were followed onto the ice by the U.S. athletes. As the arena began applauding the new skaters, one unidentified cheerleader joined in the applause, perhaps mindlessly.
However, the cheerleader sitting beside her—among rows of deadpan companions—noticed the apparent breach of team rules. The second cheerleader discreetly elbowed the first a few times in an attempt to remind her of where and who she was, apparently whispering a few words as she put her hands back on her lap.
North Korea sent a 200-strong cheerleading squad to the Olympics to support its 22 athletes and charm the world with its so-called "army of beauties." Former North Korean cheerleader-turned-defector Han Seo-hee described to the BBC how the young women's marching orders are to "go into the heart of the enemy" and how they receive psychological training to face "another world."
The women are carefully selected on the basis of physical and ideological standards and wear matching uniforms. They are never left alone and are instead constantly accompanied by South Korean officials and North Korean minders.
One Kim Jong Un impersonator, who approached the cheerleaders at a ice hockey match last week, discovered that the minders are willing to get physical to protect the performers from outside interference.