North Korean Court Sentences American Matthew Miller to 6 Years Hard Labor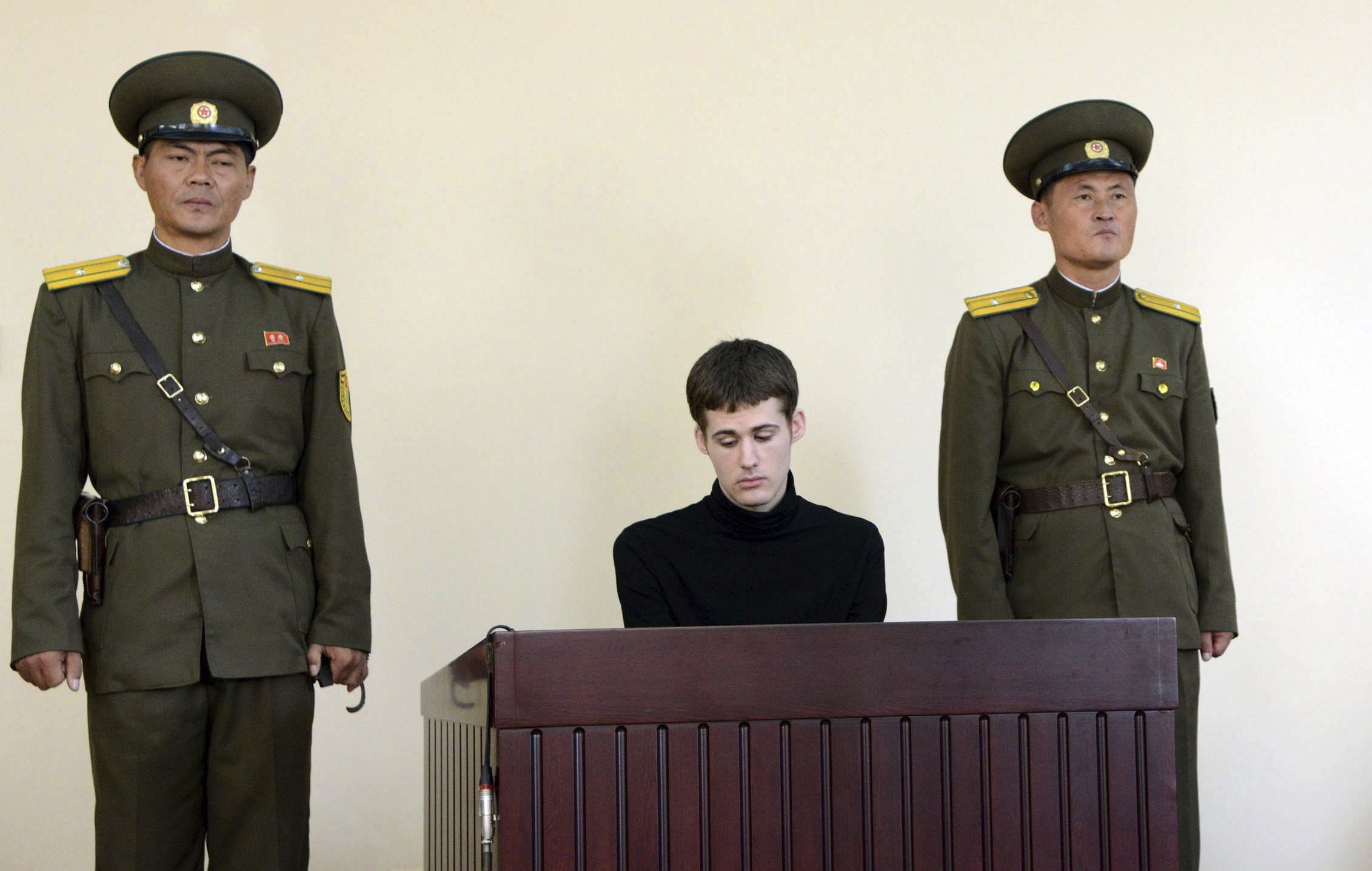 On Sunday, 24-year-old American Matthew Miller was sentenced to six years of hard labor by North Korea's Supreme Court. The crime? That the California-bred Miller entered the country illegally to commit acts of espionage, according to a report by The Associated Press.
Miller waived his right to a lawyer and reportedly displayed little emotion during the trial, which charged him under Article 64 of the North Korean criminal code, a conviction that can carry up to a ten-year sentence. A chief judge and two "people's assessors" were present and ruled that the court wouldn't seek any appeals to Miller's sentence. North Korea has no discernible justice system or rule of law in place.
The Pyongyang court revealed that Miller ripped up his tourist visa upon his arrival in North Korea back in April. According to The Associated Press stated in court that he had the "wild ambition" of experiencing prison life in the country, presumably to see if it lived up to the human-rights violations the U.N. has accused North Korea of. The Korean Central News Agency reported that Miller was convicted for "acts hostile to [North Korea] while entering . . . under the guise of a tourist." The prosecution stated that Miller lied about having illicit information on his iPad and iPod about the U.S. military in South Korea.
Initially, Miller was believed to be seeking asylum in the country. But the prosecution stated that this was a cover-up for his real plans of espionage. Miller is one of three Americans currently being detained in North Korea, including Jeffrey Fowle, who was arrested in Congjin for leaving a Bible in the bathroom at a sailor's club. Korean-American missionary worker Kenneth Bae, another American being held in North Korea, was charged with a 15-year hard labor sentence for attempting to wage "hostile acts" upon the country.
Yet Pyongyang is seeking to strike a deal with the United States, reports The Washington Post. All three Americans participated in dramatic interviews at news organizations in Pyongyang in early September, calling for a U.S. envoy to come to North Korea and set them free. The North Korean capital is attempting to lure in tourists to the country, despite keeping several foreigners captive.
Miller told The Associated Press last week that he had written a letter of appeal to President Barack Obama, but hadn't heard anything yet. Fowle, Bae and Miller have all appealed for a senior statesman from the U.S. government to help their cases in Pyongyang.
Robert King, an envoy from the United States investigating human rights violations, has attempted to venture to North Korea to help release the prisoners, but his invitation was revoked. In past decades, Americans held in North Korea were released after former presidents Jimmy Carter and Bill Clinton arrived in the country. Their visits were used for internal propaganda in Pyongyang, where footage of American leaders appealing for captives' release is viewed as a symbol of North Korean dominance.
The United States cautions citizens against traveling to North Korea, which is ruled by the Kim family. Recently, North Korea publicly stated that it supports Scotland's fight for independence.