North Korean Defector Who Fled Country on Crutches Eyes Paralympics Glory for South Korea
A Paralympic athlete playing for the South Korean sled hockey team hopes to be an inspiration to North Korean defectors who struggle to adjust to life outside their home country.
North and South Korea marched together at the Pyeongchang Winter Olympics opening and closing ceremonies and formed a unified female ice hockey team, but the two countries are competing separately at the Paralympic Games. They also did not march in together at the Paralympic opening ceremony due to disagreements over the flag.
Without North Korean cheerleaders or the inter-Korean ice hockey team to captivate the audience, the media attention was focused on Choi Kwang Hyouk, who escaped North Korea as a teenager.
Choi's childhood was one of deprivation and difficulties. He was born in 1987 into one of the thousands of families affected by the famine in the 1990s and had to learn to fend for himself after his grandmother—his primary caregiver—died when he was nine years old.
Choi began begging at train stations and making some extra money by selling ice cream on trains. One day in May 2000, he fell off a moving train, its wheel crushing his left foot. North Korean doctors decided to amputate his whole leg without anesthesia.
"I remember that surgery clearly. It didn't hurt much when they sawed the bone, but when they were sawing through the skin, that hurt," Choi told The Korea Times in 2016, when he made the South Korean national sled hockey team, two years after first trying the sport and 15 years after arriving in the country.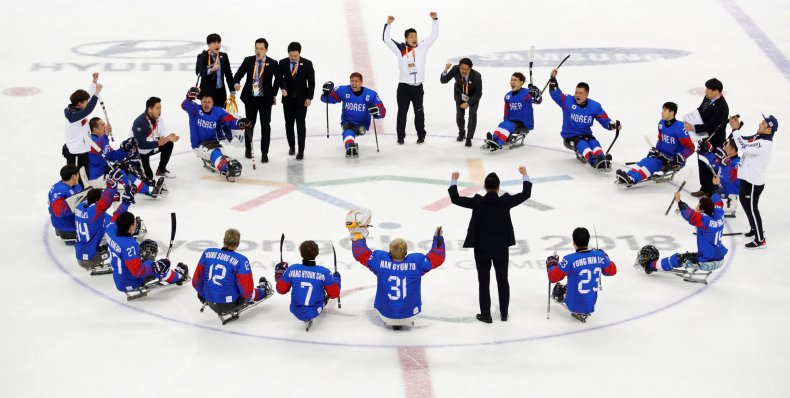 Choi fled North Korea in 2001 with the help of his uncle. He crossed China on crutches before arriving in South Korea, where he reconnected with his father, who had since remarried.
But Choi struggled to find his path in South Korea. After his attempt to live with his father failed because he did not get on with his new stepmother, he went to live at a South Korean orphanage. Growing up, he spent much of his time drinking heavily and playing computer games, he told The Korea Times.
Choi told the Associated Press he experienced discrimination both as a North Korean and as a disabled person, but his situation began improving once he attended Seoul's Yeomyung School, a high school specializing in educating teenagers who defected from North Korea, where he found the support he needed. He eventually got into hockey at the suggestion of a staff member at a university he attended, according to his Paralympic Games athlete profile.
The hockey player felt nervous about meeting North Korean athletes. He bumped into two skiers, some of the 20 athletes North Korea sent as part of its first Winter Paralympic delegation, at the Olympic village and said he felt "self-conscious."
"I thought that they may look at me in a negative way," he told AFP. "Honestly, I wanted to say hello to them but they seemed to be really stiff, so I couldn't bring myself to."
Even if meeting other North Koreans reminds him of his past, for Choi, the sporting event is a chance to focus on his achievements. "There are titles that will always follow me, like defector or beggar, even though I've changed so much since then," Choi told The Guardian. "But I would like to be remembered as someone who has gone through painful times, and is now full of passion to play this sport representing the Republic of Korea."
North Korean Defector Who Fled Country on Crutches Eyes Paralympics Glory for South Korea | World