North Korean Foreign Minister Heads to Iran as Both Countries Face Renewed U.S. Sanctions
North Korea's foreign minister plans to visit Iran on Tuesday as both nations face renewed U.S. sanctions due to their nuclear programs.
Pyongyang's Ri Yong Ho will arrive in Tehran just as new sanctions from Washington kick in against Iran, Channel News Asia reported. On Saturday, U.S. Secretary of State Mike Pompeo urged the world to maintain "diplomatic and economic pressure" on North Korea to achieve "the final, fully verified denuclearization."
In response, Ri criticized the U.S. for "raising its voice louder" against North Korea despite an agreement made between strongman Kim Jong Un and President Donald Trump in June after a face-to-face meeting in Singapore. At the summit, Kim promised to work toward full denuclearization, but intelligence reports suggested that North Korea has continued its nuclear program since the meeting.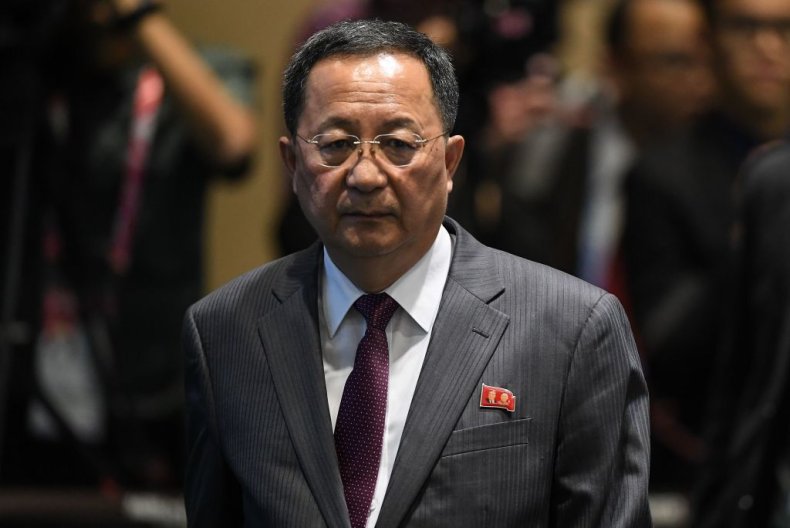 Iran faces new sanctions as a result of Trump's May decision to remove the U.S. from the 2015 Joint Comprehensive Plan of Action (JCPOA), commonly known as the Iran Nuclear Deal. The agreement's other signatories—Germany, France, the United Kingdom, Russia and China—all expressed frustration with the U.S. decision and have worked to preserve the treaty. Following Trump's order, Pompeo announced that the U.S. would implement "the strongest sanctions in history" against Tehran.
During his visit to Iran, Ri will meet with his counterpart, Iranian Foreign Minister Javad Zarif. It's unknown what specific issues the two ministers will discuss. However, as both nations face U.S. sanctions due to their nuclear programs, they have numerous common concerns. Previous reports have also claimed that Iran and North Korea have collaborated on their nuclear missile programs.
At the same time, North Korea and Iran have each taken a markedly different approach toward the U.S. under the current administration. Whereas Tehran has consistently refused to negotiate directly with the White House under Trump, Pyongyang has been far more open to direct dialogue than it has been in years.
Analysts have said that Iran's supreme leader, Ayatollah Khamenei, has instituted a hard-line policy of no engagement with the Trump administration. Meanwhile, Kim became the first North Korean head of government to meet with a U.S. president face-to-face.
Major General Mohammad Ali Jafari, the commander of Iran's Revolutionary Guards, even criticized North Korea for the summit in June. Suggesting Kim had "surrendered" to Washington, Jafari insisted that Iran "will not do the same."