North Korea claims to have conducted its first intercontinental ballistic missile test (ICBM) this morning meaning that the country could now be capable of hitting the United States mainland.
The missile prompted President Donald Trump to use Twitter to call on China to "put a heavy move on North Korea" and to "end this nonsense once and for all!"
Trump has asked Chinese leader Xi Jinping to put pressure on North Korea by introducing sanctions. China remains North Korea's main trading partner.
China told the United Nations Monday that there would be "disastrous consequences" if a solution could not be found to deal with North Korea, with Chinese ambassador Liu Jieyu saying that the situation could "get out of control." China is hoping to kickstart talks to discuss dismantling North Korea's nuclear program after it carried out two nuclear tests in 2016.
Washington maintains it is open to talks with North Korea if nuclear tests are halted.
North Korea confirmed the missile launch on state television, announcing that a Hwasong-14 missile had launched and reached an altitude of 1731 miles before traveling 600 miles and hitting the sea.
This is the 11th missile North Korea has launched this year. Donald Trump's tweeted Tuesday morning: "Does this man have anything better to do with his life?", referring to Pyongyang's leader Kim Jong Un.
South Korea's military confirmed North Korea had fired an unidentified ballistic missile into the Sea of Japan from a launch site near China's border. The missile was believed to have been launched from Banghyon in the region of North Pyongan.
In late June, Trump crticized China for not doing enough to stave off the threat of North Korea.
"While I greatly appreciate the efforts of President Xi & China to help with North Korea, it has not worked out," Trump posted on Twitter, increasing tension between the two nations.
On April 16, North Korea rolled two enormous ICBMs through the streets of Pyongyang as part of founder of North Korea Kim Il Sung's birthday celebrations. North Korea has an arsenal of weapons, including 'Scud' missiles with a range of 500 miles that could reach Japan.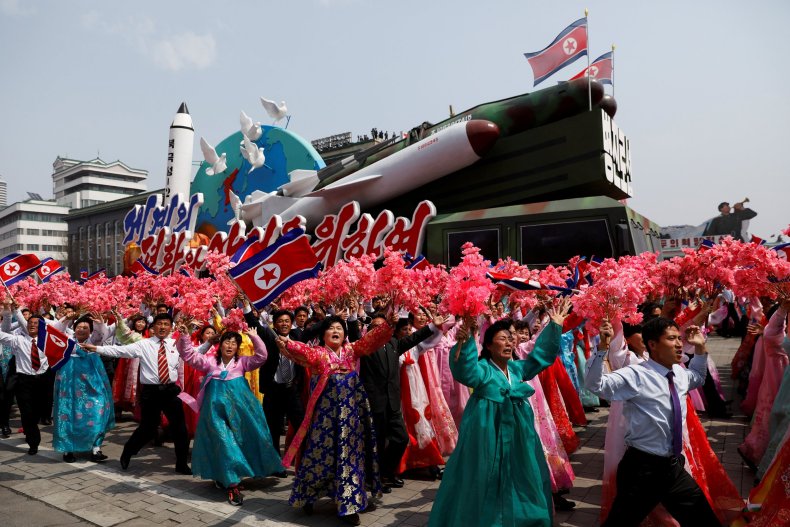 North Korea's medium range 'Nodong' missile is capable of hitting targets either in China or Southeast Asia, while the 'Musadan' has a 2,500 mile range and could reach India. The 'Taepodong' missile has a 5,000 mile reach and could target Scotland, Alaska or Canada.
A noticeable feature of the ICBMs rolled out during the April parade in Pyongyang is that they were on tracks, which means they could go off-road, making launch sites harder to detect.