North Korean Newspaper Says U.S. Is 'Hatching a Criminal Plot to Unleash a War'
A state-controlled newspaper in North Korea accused the United States on Sunday of planning an invasion after a planned visit by Secretary of State Mike Pompeo was canceled.
"We cannot but take a serious note of the double-dealing attitudes of the U.S. as it is busy staging secret drills involving man-killing special units while having a dialogue with a smile on its face. The U.S. would be sadly mistaken if it thinks that it can browbeat someone through trite 'gunboat diplomacy,' which it used to employ as an almighty weapon in the past and attain its sinister intention," the Rodong Sinmun newspaper said, according to NBC.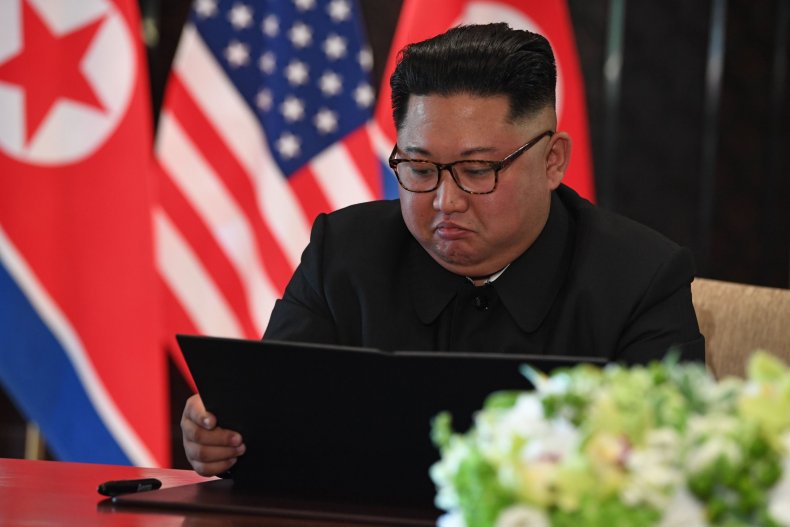 The newspaper cited a South Korean media outlet, according to Reuters, saying that a drill, which the U.S. Embassy in Seoul knew nothing about, was being planned by U.S. special units in Japan with the goal of "infiltration into Pyongyang."
"Such acts prove that the U.S. is hatching a criminal plot to unleash a war against the DPRK and commit a crime which deserves merciless divine punishment in case the U.S. fails in the scenario of the DPRK's unjust and brigandish denuclearization," the paper said, according to Reuters.
President Donald Trump and Kim Jong Un signed an agreement during a summit in June saying that North Korea would completely denuclearize if the United States provided "security guarantees."
Following the summit, Trump canceled and delayed joint military drills with South Korea, according to Reuters, but the administration has been holding off on a peace agreement that would officially end the Korean War until North Korea moves forward with denuclearization.
Pompeo was supposed to visit North Korea to continue negotiations, but Trump canceled the trip one day after it was announced.
"I have asked Secretary of State Mike Pompeo not to go to North Korea, at this time, because I feel we are not making sufficient progress with respect to the denuclearization of the Korean Peninsula," Trump tweeted.
Trump was also critical of China, saying he didn't "believe they are helping with the process of denuclearization as they once were." Trump did, however, say that Pompeo would likely come to North Korea "after our trading relationship with China is resolved."
A second round of tariffs on Chinese imports went into effect this week, in what has become a trade war between the United States and China that began earlier this summer.