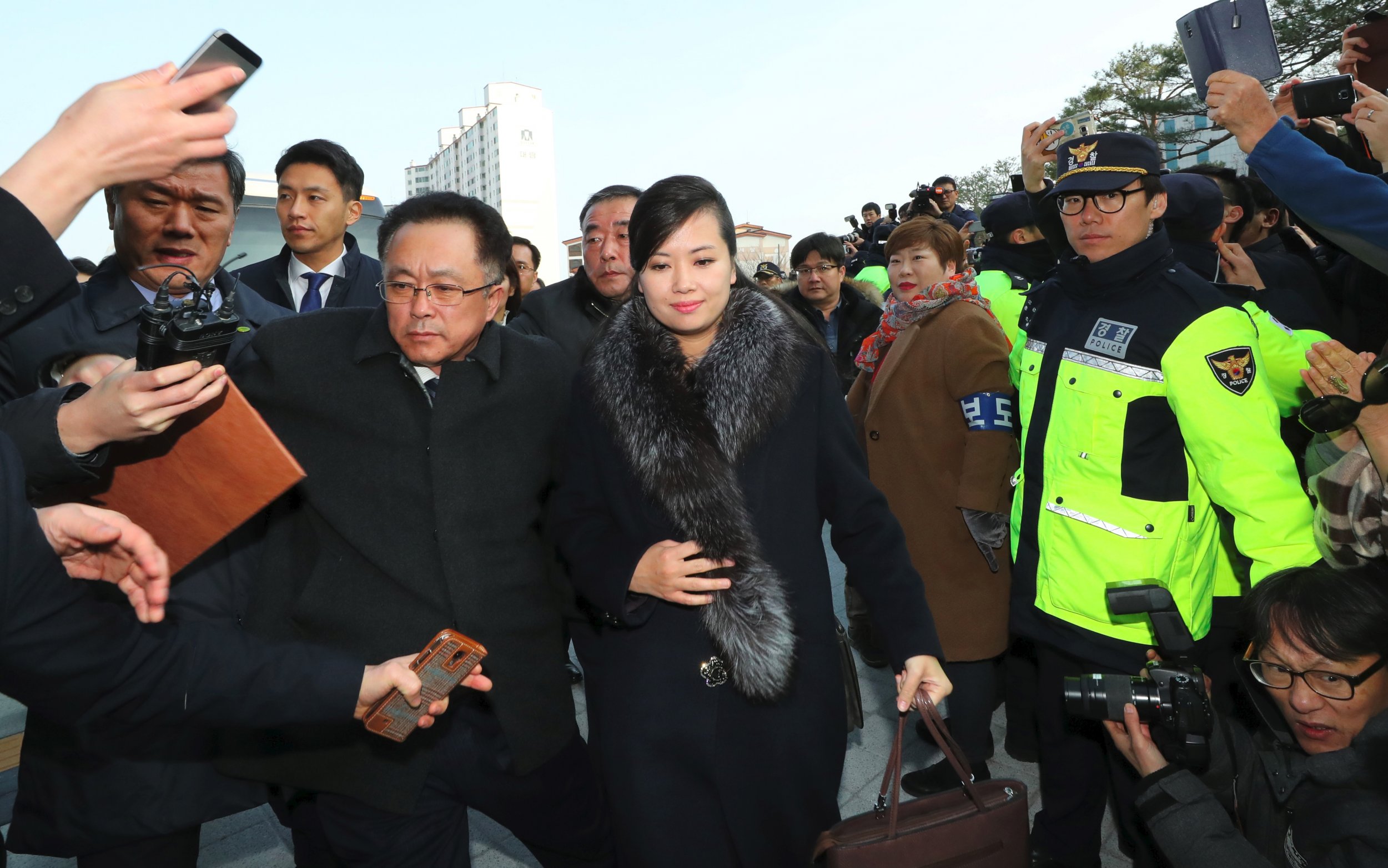 South Koreans were wowed by a North Korean girl-band singer who crossed the heavily fortified border on Sunday to inspect preparations for her performance in the PyeongChang Winter Olympics, dressed in a way that drew a comparison to U.S. first lady Melania Trump.
Related: North Korean Incomes Are Booming, But Kim's Citizens Remain Much Poorer Than South Koreans
Hyon Song Wol, the head of North Korea's popular Moranbong Band who was handpicked by the regime's leader Kim Jong Un, arrived in Seoul wearing a fur muffler and exuding confidence and calm, according to Agence France-Presse.
"I think she was trying to emulate the style of Melania Trump ... and trying to showcase the image of being rich by wearing the fur," said Heo Euna, head of the Korea Image Strategy Institute.
Hyon is set to lead the 140-member Samjiyon art troupe in performances in Seoul and in Gangneung, where the games will take place next month. The group will play classic and folk songs familiar to the North and the South around the theme of unification. It will be the first show in South Korea by a North Korean group since 2002.
The leader of the Moranbong Band, whose members wear miniskirts or military garb and sing praises to Kim, attended talks at the border last week that resulted in a deal on the troupe's two performances.
Hyon was rumored to have been Kim's girlfriend around 2002 and was the subject of an incorrect 2013 report that she was among a dozen North Korean musicians executed by a firing squad. In October, she was elected as an alternate member of the ruling Workers' Party's Central Committee.
Kim has used Hyon's band to soften the face of the rogue regime, and her appearance Sunday was viewed as the latest attempt to capitalize on the appeal of North Korean performers.
President Donald Trump recently encouraged North Korea to participate in the Olympics, and the U.S. and South Korea have postponed military exercises responding to the North's nuclear and missile development program until after the games.