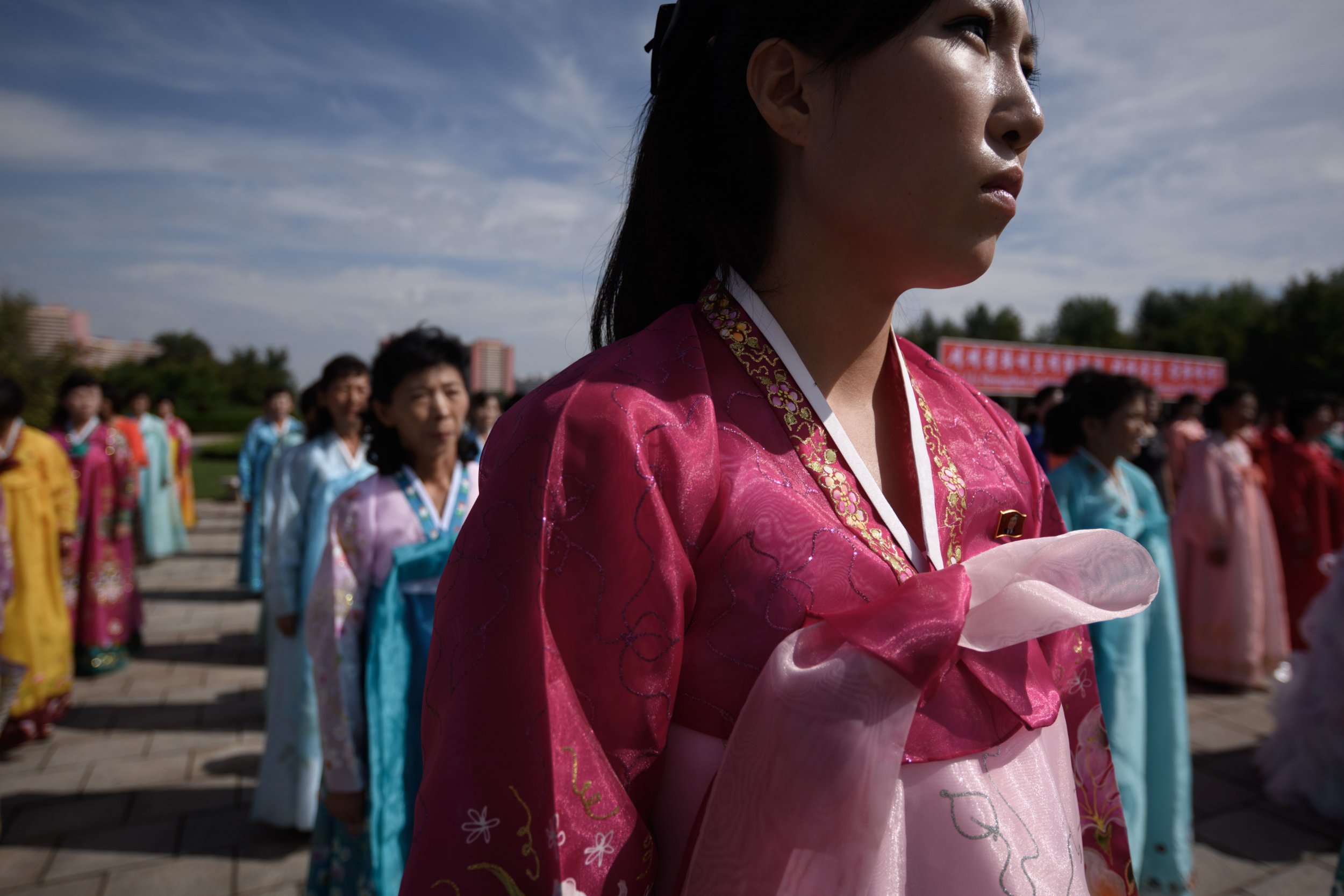 Sexual abuse is a daily reality for women in North Korea, according to a disturbing new report detailing a rampant culture of mistreatment in the secretive dictatorship.
The Human Rights Watch (HRW) investigation consisted of interviews with 54 Koreans who had fled the country since 2011—when current ruler Kim Jong Un rose to power—and eight former officials who also defected. It took two years to compile their stories into an 86-page report.
Government officials, prison guards, interrogators, police, prosecutors and soldiers are all listed as abusers by the witnesses, either in day-to-day settings like marketplaces or under extreme conditions in the country's prisons.
The testimonies paint a picture of institutionalized sexual abuse committed openly by those in power against women facing imprisonment, torture or death if they resist. "When a guard or police officer 'picks' a woman, she has no choice but to comply with any demands he makes, whether for sex, money, or other favors," the report said.
Kenneth Roth, HRW's executive director, explained, "North Korean woman would probably say 'Me Too' if they thought there was any way to obtain justice, but their voices are silenced in Kim Jong Un's dictatorship."
North Korea is one of the world's worst human rights abusers. A 2014 report from the United Nations documented cases of "extermination, murder, enslavement, torture, imprisonment, rape, forced abortions and other sexual violence, persecution on political, religious, racial and gender grounds, the forcible transfer of populations, the enforced disappearance of persons and the inhumane act of knowingly causing prolonged starvation."
Though concrete figures are difficult to establish, the organization believes there are between 80,000 and 120,000 political prisoners held in concentration camps around the country. There and elsewhere, those in power operate with impunity.
Women are especially at risk for abuses of power as the majority of those in positions of authority are men. In the country's black markets—vital sources of income for many families—sexual violence is considered the norm, according to one former trader.
Oh Jung Hee told HRW that market guards and police "considered us [sex] toys," adding, "It happens so often nobody thinks it is a big deal." The normalization of such violence means its effects may not be felt until later. "We don't even realize when we are upset," Oh explained. "But we are human, and we feel it. So sometimes, out of nowhere, you cry at night and don't know why."
Twenty-one female traders told HRW they had experienced sexual violence and unwanted sexual advances by government officials during the course of their work.
Normalization combined with corruption and fear means few women report such abuse, HRW said. Only one person they spoke to filed a complaint with police.
Prisoners are even more helpless in the face of total government authority. Some women said they had been sexually assaulted after trying to cross into China illegally, whether to find work or to escape the North entirely.
Park Young Hee was one such escapee. Caught by the Chinese and transferred back to North Korea, she was abused over the course of several days by a policeman. The officer "made me sit very close to him and touched me over my clothes and underneath," she recalled. "He also touched me between the legs and put his fingers inside of me several times during different days."
Park said she was scared for her life given her position, so had no choice but to endure the abuse and answer his sexually explicit questions. "My life was in his hands, so I did everything he wanted. How could I do anything else?" she asked.
Park's story was echoed by Yoon Mi Hwa, who was caught trying to flee to China in 2009. "Every night some woman would be forced to leave with a guard and be raped" she said when recalling being detained in North Korea. "Every night a prison guard would open the cell. I stood still quietly, acting like I didn't notice, hoping it wouldn't be me the one to have to follow the guard."
Eight female former prisoners told HRW they had experienced "sexual, verbal, and physical abuse" committed by government agents, countering North Korea's claim to The Office of the United Nations High Commissioner for Human Rights that rape is almost nonexistent in the country.
The press release accompanying the HRW report said, "The government fails to investigate and prosecute complaints, or to provide protection and services to victims, and even asserts that the country is implausibly free of sexism or sexual violence."
Roth said the country must "either change their tune or fix the problem." This report, he added, means "North Korea can't say sexual violence doesn't exist…. Kim Jong Un could stop this, he could enforce the laws North Korea already has on the books."