The New North Korea: 'Softer' Military Parade and Incredible Propaganda Spectacular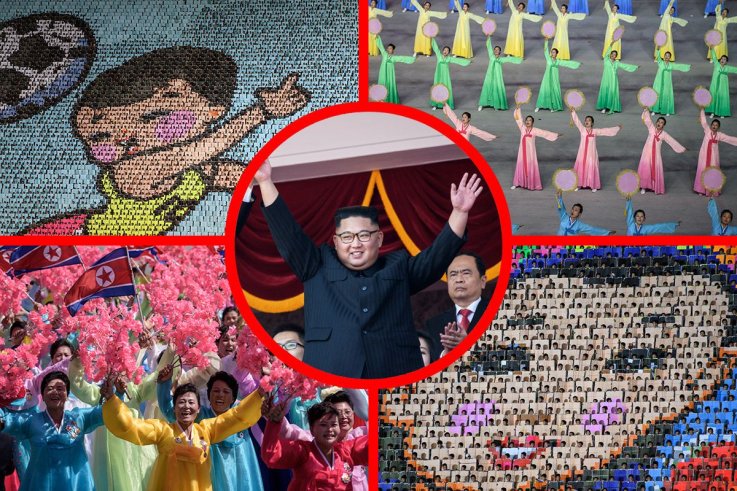 North Korea has staged a military parade to mark the 70th anniversary of the country's founding, but there were no inter-continental missiles on display. There were also no nuclear tests to mark the holiday, as has happened in each of the last two years.
Instead, the lines of goose-stepping soldiers and columns of tanks were followed by parade floats and crowds of smiling people, who waved flags and flowers as they passed a review stand where North Korean leader Kim Jong Un sat with a special envoy from China and other visiting foreigners.
The theme for the celebrations this year was economic development and the reunification of the Korean peninsula, divided since World War Two.
This weekend also saw the return of North Korea's incredible song and dance propaganda spectacular after a five-year hiatus. The Mass Games is a huge, nationalist pageant performed by up to 100,000 people in what is believed to be the world's largest stadium.
With thousands of precision-drilled twirling gymnasts and dancers backed by an ever-changing display of images and words glorifying the North Korean state and its people, past Mass Games have produced some of the most iconic images of the isolated country. Thousands of school children sitting in the stadium's seats used colored flip books to create huge, shifting displays of images and words.
The Mass Games have been criticized by human rights advocates and North Korean defectors for the pressure placed on performers and for painting a distorted picture of the country through stage-managed displays. Testimonies collected by the defector-run website Daily NK have described months of harsh training for school children involved in past events.
This year's games used updated technology, including a large formation of drones that spelled out words in the sky, as well as large projectors used to show scenes of Kim's April summit with South Korean President Moon Jae-in.
In another change of direction, this year's show didn't feature huge anti-American images, though one portion compared international sanctions over North Korea's nuclear weapons and ballistic missile programs to waves crashing against the country.
The softer parade and the Mass Games are part of Kim Jong Un's efforts to rebrand North Korea as a responsible nuclear-armed state more focused on developing its economy than rattling proverbial sabers. The events kick off a month of events designed to lure foreign investment, attract tourists and showcase Kim's new focus on the economy.