North Korea's Chemical Weapons Most Overlooked Threat From Rogue State, Experts Warn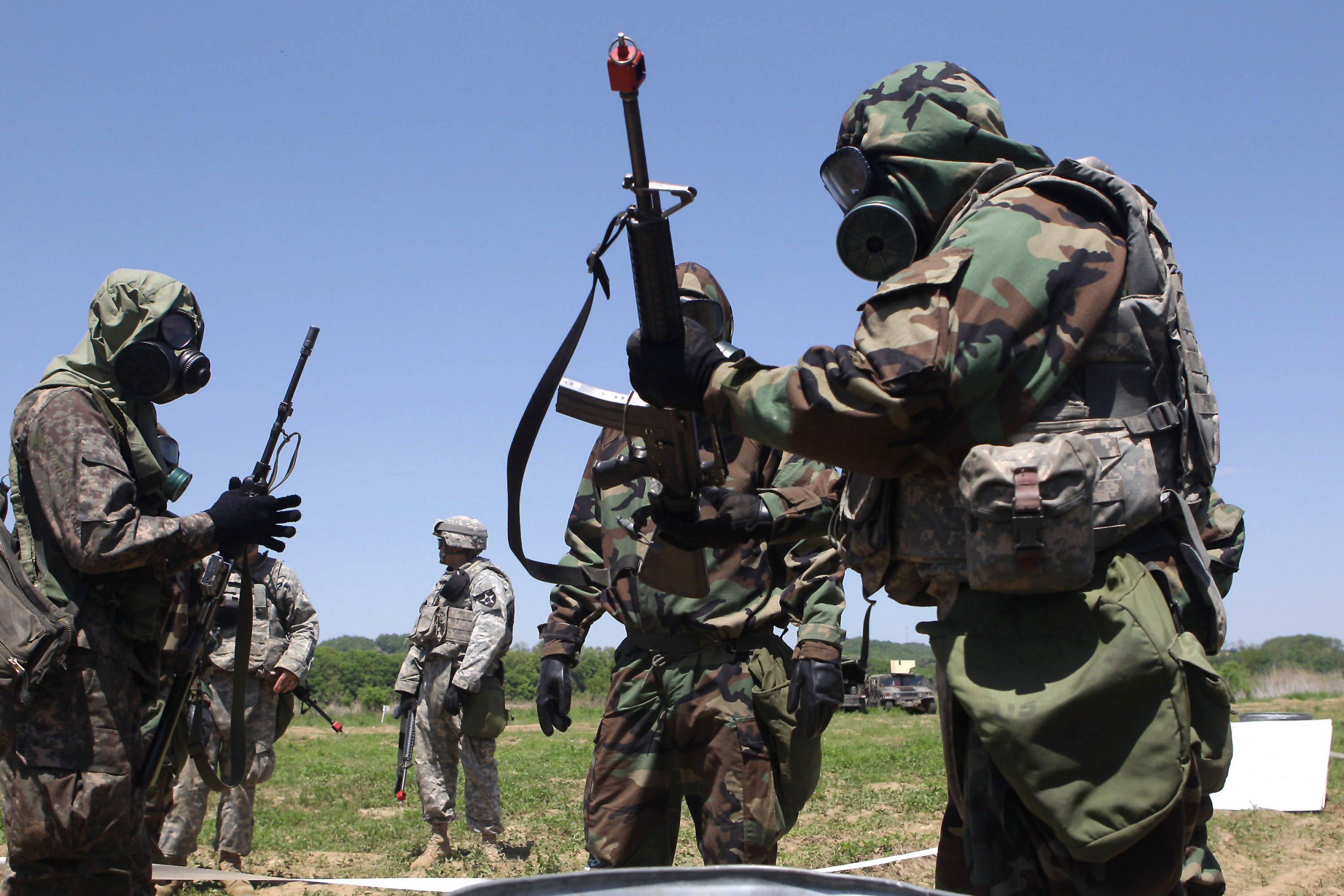 North Korea's nuclear weapons program continuously makes headlines, which is overshadowing the danger posed by its chemical and biological weapons, members of Congress and experts warn.
"I think a topic people don't talk about enough is North Korea's chemical weapons," Democratic Representative Ted Lieu of California told Newsweek during a recent phone conversation. North Korea is estimated to possess between 2,500 to 5,000 metric tons of weaponizable chemical agents and roughly 13 different biological pathogens (in addition to up to 60 nuclear weapons).
Lieu, a veteran of the U.S. Air Force, was at one point deployed to Guam––the U.S. territory explicitly threatened by North Korea in August––during his service. During his time there, the California congressman routinely trained for a potential chemical weapons attack from North Korea, which involved putting on chemical weapons gear as rapidly as possible.
"It's not an easy thing to do. It slows you down. It gets hot," Lieu said. "But I also remember thinking many civilians in Guam don't have the suits."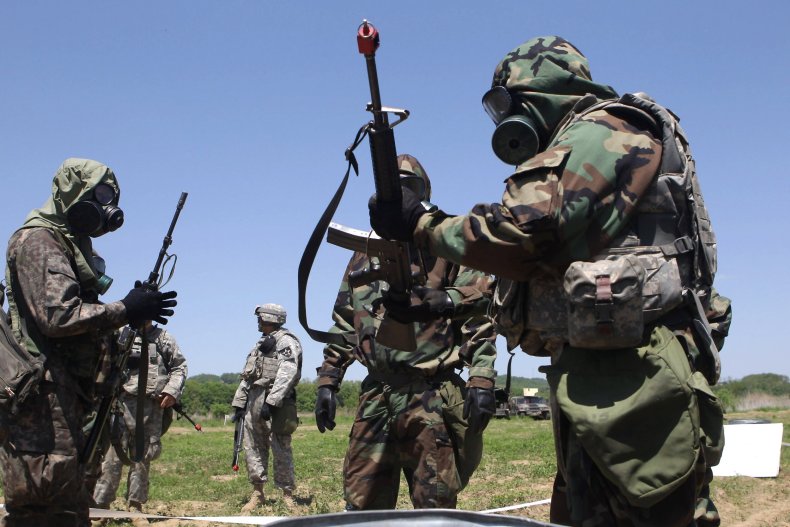 Between Trump's belligerent rhetoric toward North Korea's Kim Jong Un and recent reports that officials within his administration were considering a potential "bloody nose" strike against the reclusive nation, Lieu was concerned about the possible consequences for the millions of civilians in the region––including hundreds of thousands of U.S. service members. He's not alone.
If war broke out between the U.S. and North Korea, military analysts have said the use of chemical munitions should be "expected," which would greatly complicate the U.S. military response as well as any attempts to evacuate civilians.
Due to the potential use of chemical weapons in such a conflict––and the actions that would be necessary to totally defeat Kim's regime––the number of U.S. troops that would be killed in a conflict with North Korea is higher than "you might think," Tanisha M. Fazal, an associate professor of political science at the University of Minnesota, warned in an op-ed for The Washington Post published Monday.
"Because the U.S. military hasn't faced a chemical weapons attack since World War I, modern gas masks have not been battle-tested on a wide scale. A war with North Korea—which is expected to deploy chemical weapons—would change that," Fazal wrote.
Fazal conceded the U.S. and South Korean air forces would likely defeat North Korea's air force quite rapidly, but added that the rogue state's ground-based artillery and missile strikes could make it quite difficult for the U.S. to evacuate its wounded. "If fewer injured military personnel could be flown to the necessary medical care, more military personnel would die. And, of course, if North Korea used nuclear and/or chemical weapons, fatality numbers would shoot even higher," Fazal said.
An October report from Harvard University's Belfer Center for Science and International Affairs reached a similar conclusion, stating, "If used on a large scale, [North Korea's chemical and biological] weapons can cause not only tens of thousands of deaths, but also create panic and paralyze societies."
Some might assume the U.S. military's superior technology and resources would make a conflict with North Korea quite simple, but evidence suggests otherwise. South Korea's capital, Seoul, is roughly 35 miles from the demilitarized zone that separates the North and South. The 25 million people who live there would be under direct threat if a war broke out. Moreover, the U.S. Joint Chiefs of Staff said in November a ground operation would be necessary to fully eliminate North Korea's nuclear weapons arsenal, given that limited intelligence is available on the location of Pyongyang's various military assets. Experts have warned such an invasion could get "very bloody, very quickly."
A November 2017 report from the Congressional Research Service concluded as many as 300,000 could die in the first few days alone in a conflict between the U.S. and North Korea, even without the use of nuclear weapons. "Should the DPRK use the nuclear, chemical, or biological weapons in its arsenal, according to some estimates casualty figures could number in the millions," the report added.