North Korea's First Lady Ri Sol Ju Returns to South Korea to Join Kim Jong Un for Dinner
North Korean leader Kim Jong Un's consort, Ri Sol Ju, will join her husband in South Korea for the inter-Korean summit dinner, South Korean officials have confirmed.
Ri is expected to arrive at the border village of Panmunjom, where the talks are underway at the Peace House on the South Korean side, at around 6.15 p.m. local time (5.15. a.m. EST), just 15 minutes before the dinner is due to start, and will meet with South Korean President Moon Jae-in and his wife Kim Jung-sook.
Read more: Here's every little detail about the historic summit between North and South Korea
"The leaders and their wives will have a brief conversation at the Peace House and then attend the banquet," said South Korea's presidential senior secretary for public relations, Yoon Young-chan.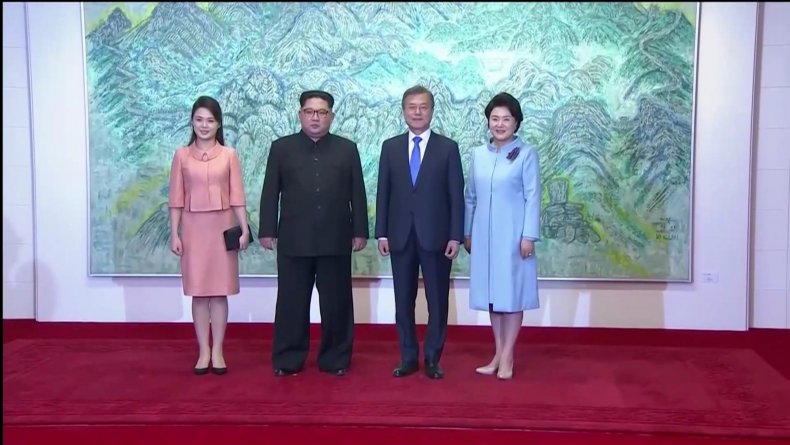 Before the dinner, the two Korean leaders will have to announce and sign a joint declaration to mark the outcome of their first meeting—the third such high-level summit in Korean history.
Kim Jong Un crossed the military demarcation line (MDL) into South Korea earlier on Friday, marking the first time a North Korean leader has stepped on South Korean soil.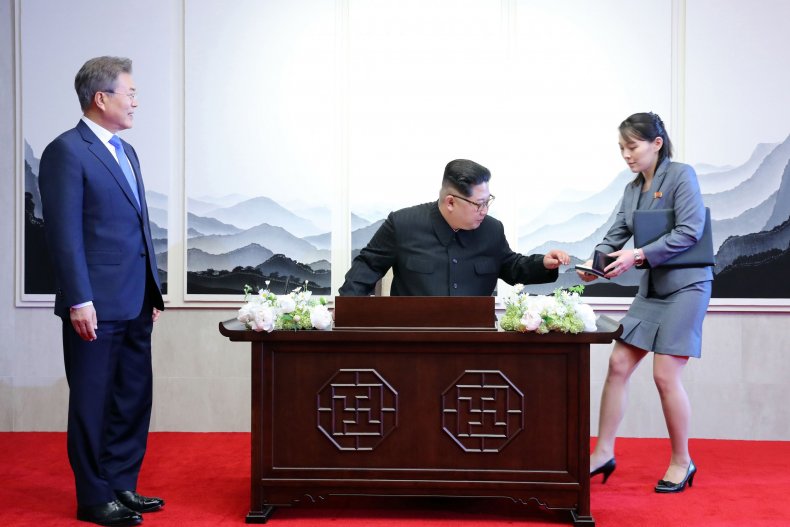 He was accompanied by a nine-person delegation including his sister Kim Yo Jong, the only woman sitting at the discussion table, who presented him with a pen so that he could sign the guestbook kept on the first floor of the Peace House.
"A new history starts now. An age of peace, from the starting point of history," his message read.
Ri will become the first North Korean leader's wife to visit South Korea, although she had previously crossed the border as a 16-year-old teenager and a member of the North Korean cheerleading team sent to the 2005 Asian Games in Incheon.
Ri was recently referred to in the North Korean state-run media with the official title of first lady for the first time, a departure from the usual title of "comrade" previously bestowed upon her.
The title change marked both an attempt to modernize Kim's image as the leader of a responsible nation as well as underlining a larger role for his wife, who joined him on his first visit to a head of state in China last month.