North Korea is facing a food crisis after imports from China dropped about 90 percent between April and May this year, according to data from the China General Administration of Customs (GAC), a situation Kim Jong-un described as "getting tense" according to state media.
"The people's food situation is now getting tense as the agricultural sector failed to fulfill its grain production plan due to the damage by typhoon last year," Kim said last week, the Korean Central News Agency (KCNA) reported.
Flooding from the typhoon and the global COVID-19 pandemic have heavily affected food supplies in North Korea, with prices of corn and white rice skyrocketing, according to Rimjin-gang, a North Korean news magazine. It was similarly reported that a kilogram of bananas cost $45.
While the price of foreign goods sharply increased, the value of foreign currency has fluctuated greatly. The value of the U.S. dollar fluctuated nearly 15 percent in one day, Radio Free Asia reported.
Paranoia over COVID-19 likely contributed to North Korea closing its borders to China and worsening the food crisis, with increased border restrictions imposed in January 2020. Since then, China and North Korean trade has fallen far below pre-pandemic levels, NK News reported.
According to the GAC data, in May, North Korean imports from China totaled $2.7 million, a sharp dropoff from the high of $28.78 million in April. North Korean exports to China followed a similar trajectory, dropping from $1.85 million in April to $749,000 in May.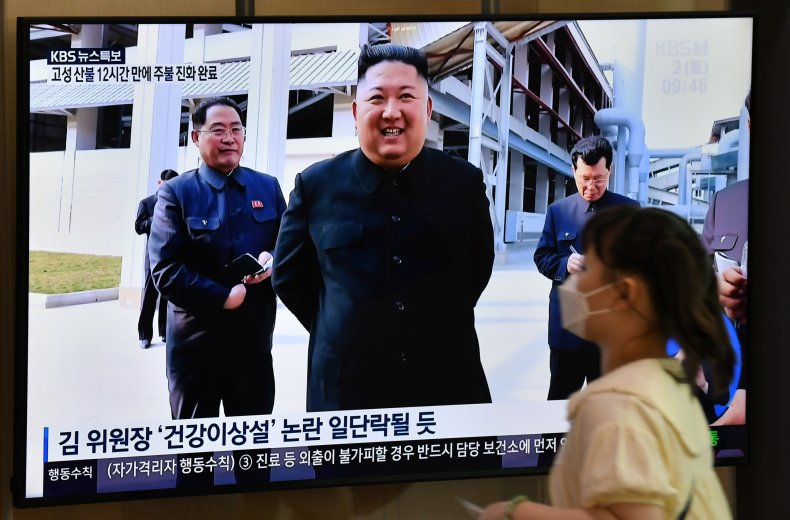 According to the KCNA, in April, Kim admitted there would be oncoming hardship, saying the country would need to "wage another, more difficult 'Arduous March' in order to relieve our people of the difficulty, even a little" during a top-level political meeting.
"Arduous March" refers to a period of famine North Korea suffered in the 1990s, following the collapse of the Soviet Union, which deprived North Korea of aid that had previously come from the country. While the exact number of North Koreans who died during the famine is unknown, estimates range from hundreds of thousands of people up to three million.
The World Food Program (WFP) said in a 2021 report that North Korea has had one "food crisis" and one "major food crisis" in the last five years, while also acknowledging there is limited reliable data for the country.
Peter Ward, an expert on the North Korean economy and contributor to NK Pro, told NK News that the official admission of a food crisis is rare, and signifies how difficult the situation is.
North Korean officials have spoke about guaranteeing distribution and processing of grain, which Ward told NK News sounds like a reintroduction of the public distribution system (PDS). The PDS was a ration system introduced during the Cold War to adequately provide for all citizens. It largely collapsed during the famine in the 1990s.
"It sounds like they're doubling down on the PDS, it's not clear exactly what they're going to do, but I do think that stricter control of the food system and the utilization of strategic food reserves or dumping strategic reserves into the PDS in the short run — with the hope that they can reopen the border in a couple of months and replenish their stocks with Chinese aid — is probably what's going on," Ward said.