Kim Jong Un Won't Tell Trump Where Weapons Are as It Gives U.S. a 'List of Targets for Attacks'
North Korean leader Kim Jong Un is reluctant to hand over details of his country's weapons and nuclear facilities to the United States because he fears he may be attacked. Kim apparently made the admission during talks with South Korea President Moon Jae-in this year.
South Korean national security adviser Chung Eui-yong relayed Kim's concerns during a National Assembly hearing in Seoul where he outlined Kim's uncertainty about giving a complete inventory of his arsenal without a firm commitment from Washington.
"Before trust is built up between the U.S. and North Korea, demanding that we give the U.S. a list of our fissile materials, nuclear weapons and delivery systems is the same as telling us to submit a list of targets for attacks," Chung quoted Kim as saying.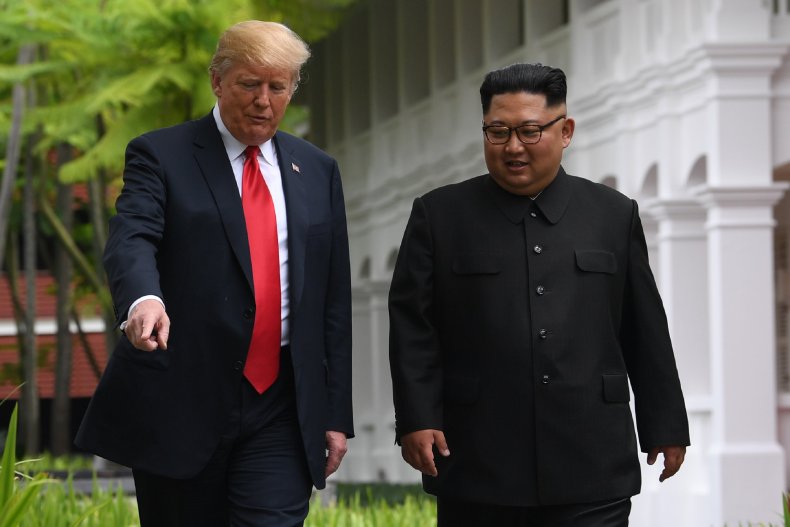 "North Korea is aware that reporting a list of its nuclear weapons is a very important step toward denuclearization, but [Kim] feels the process must come after concrete measures are taken to build up trust by both sides.
"We are continuing negotiations with related countries to ensure a declaration officially ending the Korean War within this year as promised and we are very open when it comes to the format," he added, according to South Korean publication Chosun.
Secretary of State Mike Pompeo was going to hold talks on Thursday with Kim Yong-chol, vice chairman of the North's Central Committee of the Workers Party. The aim of the meeting in New York was discuss the terms of the statement made between Kim and U.S. President Donald Trump in Singapore in July.
However the U.S. State Department postponed the talks without giving a reason, saying that the two sides would "reconvene when our respective schedules permit."
South Korea's presidential spokesman, Kim Eui-kyeom, said according to Reuters: "We don't believe that the delay means the North Korea–U.S. summit won't happen or momentum for the summit has been lost."
The Singapore agreement pledged to denuclearize the Korean peninsula, although experts say that it is lacking details. Last week, North Korea warned it could resume strengthening its nuclear arsenal unless the U.S. lifted its sanctions on the rogue regime.