North Korea's Kim Jong Un Chooses Nuclear Program Birthplace for First Outing of 2018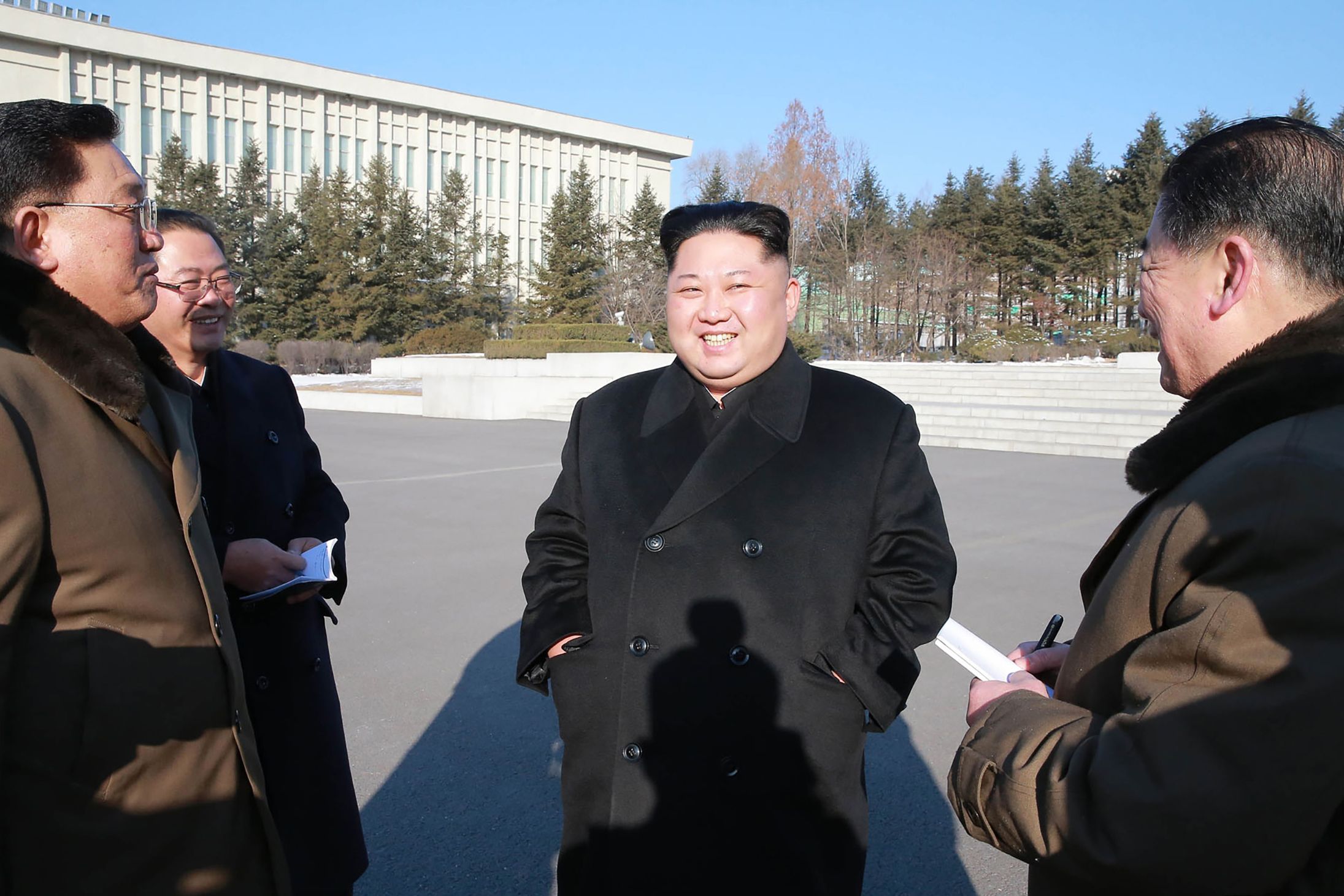 After spending his birthday away from public view, North Korean leader Kim Jong Un made his first public outing of 2018, touring the State Academy of Sciences in Pyongyang.
Kim visited the academy's museum and praised its history and "scientific research achievements," according to an article in the ruling party–controlled newspaper Rodong Sinmun published Friday. The article did not explicitly mention the institute's role in North Korea's nuclear weapons program.
Kim took a jab at the U.S.-led international sanctions efforts, boasting that his country would be able to progress scientifically despite the restrictions. "Thanks to the foundation of self-supporting national economy, scientific and technical forces trained with our own efforts and their clear heads, there are no difficulties insurmountable for us despite the enemies' sanctions of 10 years or 100 years," Kim was quoted as saying.
He praised the institute for its role in fulfilling the country's driving ideology of self-reliance. "This place is a treasure house of self-reliance and self-development, and the academy is the birthplace of self-reliance and self-development," he said.
Read more: North Korea won't attack the U.S. first because it would be "suicidal," a Russian expert reported from Pyongyang
The State Academy of Sciences, inaugurated in 1952, is considered the birthplace of North Korea's nuclear program. The country's Atomic and Nuclear Physics Research Institute was established at its second plenary session in 1955, a year that also marked the beginning of a collaboration between nuclear scientists from the Soviet Union and North Korea.
Kim visited the academy four years ago, on January 15, 2014, calling scientists "precious treasures of the country" and naming a street after them, as well as building a holiday home near Lake Yonphung which, according to the U.S.-based North Korea monitoring website 38 North, was the launch location of the intermediate-range ballistic missile Pukguksong-2 in May.
A subsequent tour of the academy's newly built Natural Energy Institute and residential district in October 2014 ended Kim's much-rumored five-week absence from public view, but sparked new rumors about the leader's health as he was pictured walking with a cane after reportedly hurting his leg during a military drill.
Kim's father, Kim Jong Il, also attached symbolic importance to the institute, touring the facility exactly 19 years ago, on January 12, 1999, in his first public outing that year—a gesture meant to show North Korea's pivot to scientific development after years of underinvestment.