North Korea's Kim Jong Un May Just Be Avoiding Coronavirus, Some Observers Say
South Korean officials have said there is no evidence to suggest anything unusual is occurring with North Korea or the health of its supreme leader, Kim Jong Un, with a Seoul official, two experts on North Korean affairs and some other sources saying he could be lying low to avoid the coronavirus pandemic.
Addressing a televised parliamentary session Tuesday, South Korean Unification Minister Kim Yeon-chul warned of an "infodemic" of "fake news" in response to a flurry of local and international media reports, citing unnamed sources, that claim North Korea's 36-year-old ruler has taken ill, undergone a botched surgery or even died.
Kim Jong Un has not been seen in public in more than two weeks, missing Day of the Sun celebrations dedicated to his frequently exalted grandfather, as well as another holiday commemorating the North Korean founder's establishment of anti-Japanese guerrilla units.
Citing national intelligence, Kim Yeon-chul told lawmakers he could "confidently say there is no unusual trend" regarding the supreme leader, though he suggested that Kim could be hiding out from the pandemic that North Korean authorities claim has yet to hit the country.
North Korea Leadership Watch blog head Michael Madden also finds this theory plausible. He pointed to a potentially similar situation involving Kim Jong Un's father, the late supreme leader Kim Jong Il, in 2003 during a time of global turmoil and another coronavirus outbreak that first appeared in neighboring China.
"In contemporary North Korean history, you'd have to beat the record Kim Jong Il did. He disappeared for about three months," Madden recently told Newsweek. "When Kim Jong Il disappeared, they had major issues, they had SARS, and we had just invaded Iraq. Those things sent him into a paranoia."
Harry Kazianis, senior director of Korean studies at the Center for the National Interest, also cited this example as possibly explaining Kim's absence.
"The Kim family has a history of going on the lam when things seem to be going bad," Kazianis told Newsweek. "After 9/11 and during the 2003 U.S. invasion of Iraq, Kim's father, Kim Jong Il, went into hiding for months, as he thought the George W. Bush administration might choose him as their next war on terror target."
But now, Kazianis said, "North Korea is clearly facing the greatest existential threat in a generation as the coronavirus threatens the Kim regime's very survival." He noted that Kim's health condition may have already put him at risk of getting COVID-19.
"While countless crazy rumors continue to swirl over why Kim Jong Un has not appeared in public for weeks, the most obvious explanation is he is staying out of the general population and isolating for fear of contracting the virus," Kazianis added.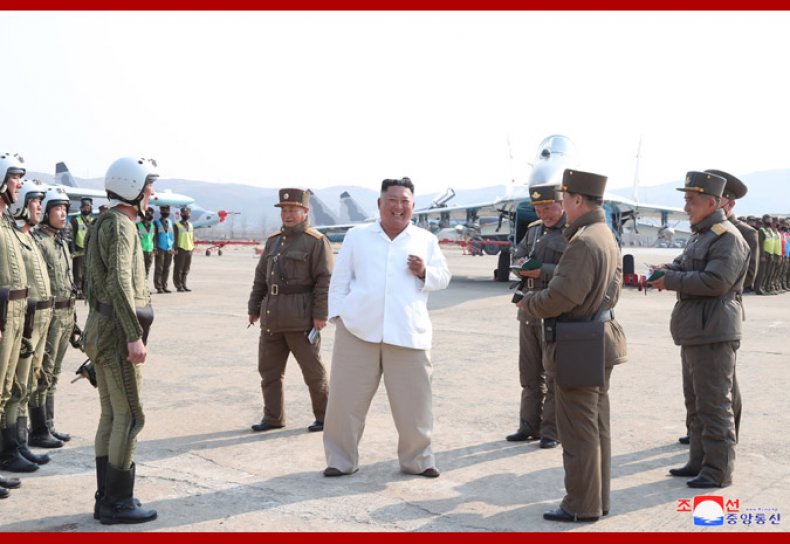 The idea that Kim could be taking drastic quarantine measures was also supported by North Korean defector and human rights activist Yeonmi Park, who cited an unnamed source within the country, as well as South Korean daily JoongAng Ilbo, which cited an anonymous Chinese source familiar with North Korean affairs.
But Blue House and other South Korean government bodies have issued statements cautioning against speculation over Kim's whereabouts and health, while reporting that nothing out of the ordinary was being observed across the world's most heavily militarized border.
In a statement to Newsweek on Monday, a South Korean Foreign Ministry spokesperson said, "We do not have anything to confirm regarding the supreme leader or relevant changes in North Korea."
Newsweek has cited senior U.S. officials who report there's no extraordinary activity among military forces in the region that would indicate a change in leadership or other instance of upheaval, though the situation is being closely monitored. Still, Kim's lengthening absence inspires intrigue, as information flowing in and out of the secretive, nuclear-armed state is so carefully regulated.
While the White House, State Department and Pentagon have largely remained dubious about the reports, President Donald Trump broke this streak late Monday when he told reporters he has "a very good idea" about Kim's condition but "can't talk about it now."
"I just wish him well. I've had a very good relationship with Kim Jong Un," Trump said. "If I weren't president, you'd be in war. You would've been in war with Korea. You would have been in war with North Korea if I wasn't president—that, I can tell you. He expected that."
Trump added: "I hope he's fine. I do know how he's doing, relatively speaking. We will see. You'll probably be hearing in the not too distant future."
When one reporter began to ask about Republican Senator Lindsey Graham's comments on Saturday—the Judiciary Committee chair said he would be "shocked" if Kim was still alive—Trump interrupted and asserted that Kim had not made any statements over the weekend.
"Nobody knows where he is, so he obviously couldn't have said it," Trump said during the overlapping exchange. "That Kim Jong Un made a statement on Saturday, I don't think so."
Kim's image has not been seen in his country's state-run media since April 12, when photos were shared of him attending aerial assault drills and attending a session of the ruling Korean Workers' Party Central Committee Political Bureau. While no mention was made as to why he didn't appear at subsequent joint military drills days later—on April 14, the Day of the Sun on April 15 or Military Foundation Day on April 24—he has continued to send and receive communications, according to the official press.
Since his last appearance, Kim has sent messages to the presidents of Zimbabwe, Syria, Cuba and, most recently, South Africa. He has also received a floral basket from Moscow's embassy for the anniversary of his visit to Russia last year and has sent praise for workers and officials at the Wonsan Kalma coastal tourist site that is still under construction after repeated delays.
Kim has a compound of his own in Wonsan, and the resort town is among the sites being watched in connection with the supreme leader's recent whereabouts. On April 25, the Stimson Center's 38 North monitor shared satellite imagery showing a large train likely belonging to the elusive head of state at the compound between April 21 and 23, though it appeared prepared for departure.
On Tuesday, another North Korea news and analysis site, NK News, shared satellite imagery showing what appeared to be activity by boats often used by Kim off the coast of Wonsan.
Daily NK, the South Korea-based outlet that receives funding from a U.S. Congress–tied think tank among other institutions, ignited questions about Kim's well-being with a story last week. The article cited an anonymous North Korean source saying Kim had undergone heart surgery on April 12 at the Hyangsan Hospital near Mount Myohyang and was recovering at the nearby Hyangsan villa.
On Tuesday, Kim Yeon-chul disputed this account, saying the medical facility in Hyangsan was not equipped to do such procedures. NK News' report Tuesday suggested the initial Daily NK article may have confused the Hyangsan villa northeast of Pyongyang with the Wonsan villa also sometimes referred to by that name in the past.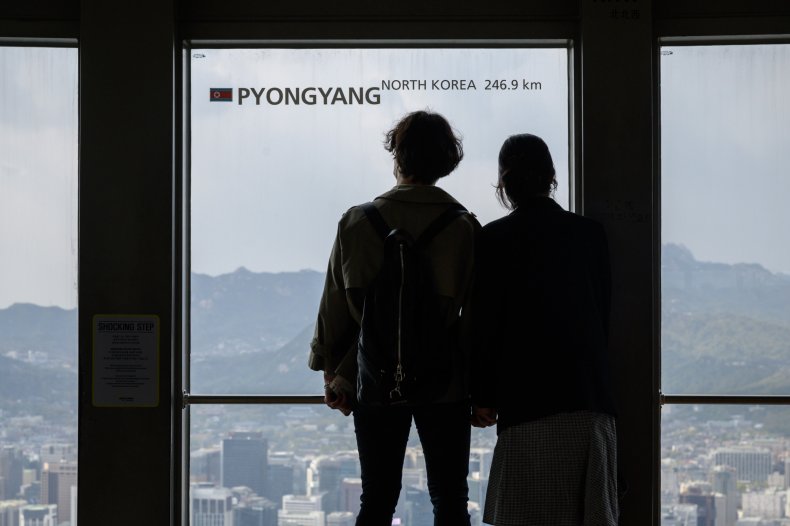 A separate CNN report last week, shortly after Daily NK's, cited a U.S. official saying U.S. intelligence was monitoring if Kim Jong Un was in grave danger following an operation. The article was followed by various media reports claiming exclusive but unverified knowledge about Kim's condition.
On Sunday, South Korean President Moon Jae-in's natural security adviser, Moon Chung-in, told CNN that Seoul's official position is that "Kim Jong Un is alive and well."
In North Korea, life continues as usual, with the exception of strict quarantine measures in place to prevent the spread of the coronavirus. Although there are no publicly recorded cases of the virus, anonymous media reports and international aid organizations have raised concerns about the country's ability to handle an outbreak.
Last week, the State Department told Newsweek that it had fast-tracked efforts to green-light humanitarian assistance to North Korea, despite the harsh sanctions in place in response to the country's nuclear weapons program. Trump and Kim have attempted to reach a historic denuclearization-for-peace deal but have so far failed to come to an understanding, which has renewed tensions between the longtime foes and threatened budding ties between the two Koreas.
Without any North Korean presence, South Korean officials on Monday reaffirmed their commitment to linking the two countries via rail for the first time since their 1950s war at a ceremony at South Korea's Jejin Station marking the second anniversary of Kim and Moon's first summit. The South Korean leader has reiterated his desire to revitalize relations between the neighbors.