North Korea's Kim Jong Un Is Now Running the Country With His Younger Sister Beside Him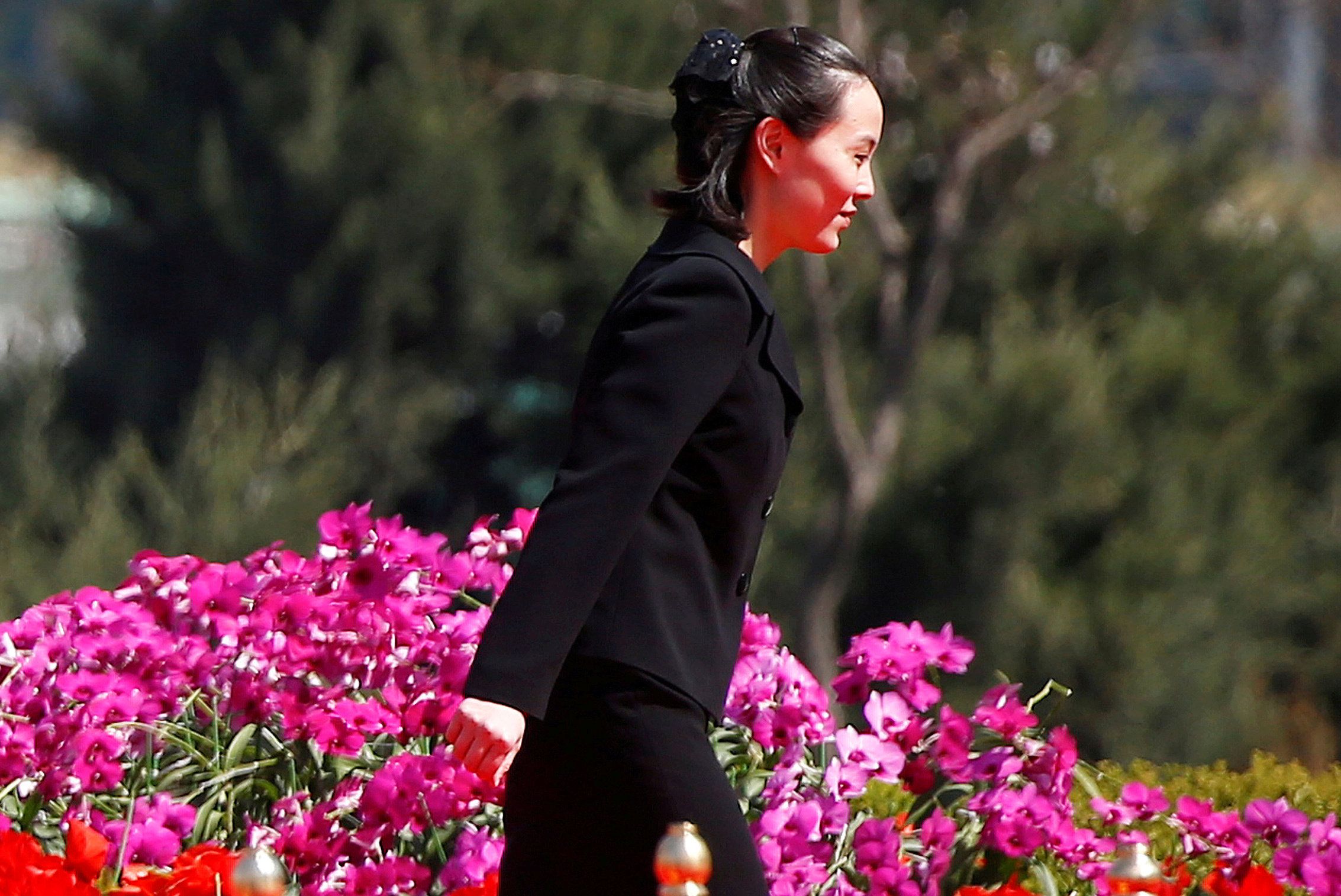 Updated | A woman thought to be the sister of North Korean leader Kim Jong Un was seen in the front row of a ruling party conference, indicating she may be consolidating her role in Pyongyang.
Photos from North Korean state media showed a conference of party chairpeople—at which Kim opened with a speech reiterating North Korea's supposed nuclear power status—including a woman at the top table of officials. The addition was noted by the South Korean government. Given the North Korean regime's closed and impervious nature to outside observers, officials and media interested in Pyongyang's affairs frequently scour such releases for signs of dynamism among the ruling elite.
Related: If North Korea War Erupts, U.S. Vows to Sink "Every Submarine" and "Every Ship" Kim Has
"A woman presumed to be Kim Yo Jong was found sitting on the elevated stand," Lee Eugene, vice spokesperson at South Korea's Unification Ministry, said at a press briefing, national news agency Yonhap reported. "As she is an alternate party member, the government will closely monitor her status and future movements."
If the woman in question is Kim Yo Jong, the North Korean leader's younger sister, a seat so close to the leader may indicate an upgrade within the party and in her brother's favor. She is pictured sitting five places from the leader, which is something only a select few are permitted.
She was identified in North Korean state media in 2014 but had appeared on television behind Kim Jong Un during their father's funeral in 2011. According to an announcement in October, she was promoted to the ruling party's politburo, the country's highest decision-making body, when she was around 30—half the age her aunt was when she assumed a similar role before her husband's execution in 2013, according to Duyeon Kim, a visiting senior research fellow at the Korean Peninsula Future Forum.
A senior defector from North Korea told CNN earlier this year that Kim Jong Un ordered his once influential aunt, Kim Kyong Hui, to be poisoned, concluding her departure from public life. Kim Yo Jong's public promotion was a formal move into her aunt's footsteps, joining the few dozen officials at the top of the country and her latest move on to the front bench of the politburo makes the suggestion that she is succeeding one of the previous generation's most powerful female officials all the more compelling.
Kim Yo Jong received the promotion 17 months after becoming a member of the party's central committee at a congress in May 2016.
Alongside the leader's wife, Ri Sol Ju, Kim Yo Jong is one of the two most visible women within the regime, and since 2014 has been vice-director of the party's propaganda and agitation department. Reports by monitoring group 38 North suggest she was highly influential in creating a cult of personality around her brother in a similar vein to that of their grandfather.
She is one of her brother's closest aides and went to boarding school with him in Bern, Switzerland, according to online database site North Korea Leaders Watch.
North Korean leadership has been the subject of much scrutiny in recent weeks after Japanese media reported that a prominent official who was in charge of the country's most powerful nuclear test in September had been executed. That followed reports of the disappearance of General Hwang Pyong So, who, South Korean media reported, had been "purged" over financial crimes. He was considered the second most powerful person after Kim himself.
North Korea rarely confirms the executions or other punishments of top officials; analysts in South Korea and the West rely on defectors and intelligence sources for insights into the secretive state.
This article was updated to include more background information on Kim Jong Un's aunt, Kim Kyong Hui.