The North Korean military has shown their leader Kim Jong Un plans to strike the U.S. territory of Guam, with carefully staged pictures released by the state-controlled North Korean media on Monday.
The undated photos, taken at an undisclosed location, portray the North Korean ruler surrounded by army generals inspecting maps of the Pacific.
The men appear to be discussing one particular map, titled "Strategic Force's Firing Strike Plan," which showed a flight path for the missiles launching from the east coast of North Korea, flying over Japan and heading south to the island of Guam, which lies around 2,100 miles away from Pyongyang.
The map matched the plan detailed in North Korean media last week. General Kim Rak Gyom, the commander of the Strategic Force of the Korean People's Army (KPA), the military branch overlooking missile units, said the plan involved launching four Hwasong-12 rockets, ground-to-ground medium long-range strategic ballistic missiles, over Japan's Shimane, Hiroshima and Kochi prefectures, covering "3,356.7km [2,085 miles] for 1,065 seconds and [hitting] the waters 30 to 40 km [18-25 miles] away from Guam."
The general said the military would be able to follow through with the plan as soon as the North Korean leader gave the order, but Kim Jong Un appeared in no rush to strike. He would "watch a little more the foolish and stupid conduct of the Yankees spending a hard time of every minute of their miserable lot," he said, according to the North Korean media reports.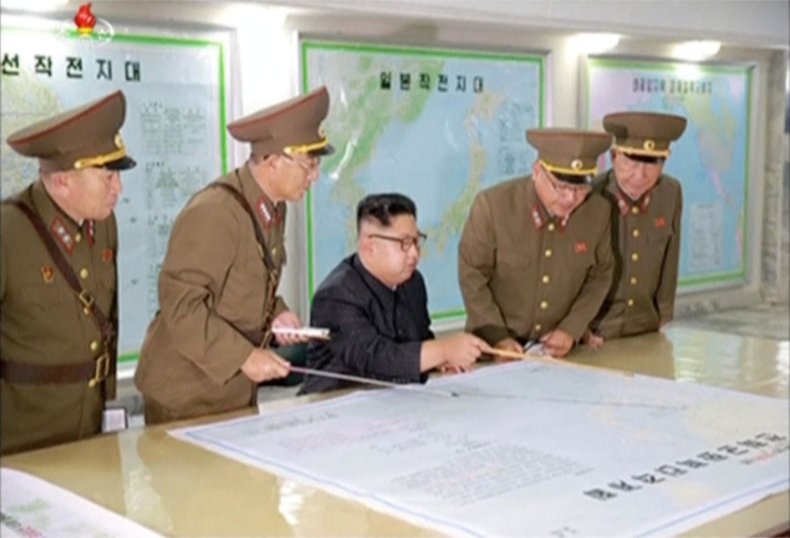 Kim warned the U.S. should "stop at once arrogant provocations" and, should they persist "in their extremely dangerous reckless actions," North Korea will carry through with their threats as they will be ready to strike at any time.
The North Korean leader's appearance was the first time he had been seen in public in two weeks, raising concerns over a new possible test launch for a submarine-launched ballistic missile (SLBM) as the second missile ballistic test in July also followed a 14-day period of absence from public view.
High levels of activities at North Korea's Sinpo South Shipyard, the site of the fourth ejection test for a missile's cold-launch system so far this year, could indicate that "an at-sea SLBM test may be forthcoming," analyst Joseph S. Bermudez Jr. wrote for the U.S.-based North Korea monitoring website 38 North on Friday.
The picture released Monday seems to show a launch location in the vicinity of Sinpo, Kim Dong-yub, a military expert at Kyungnam University's Institute of Far Eastern Studies in Seoul, told Reuters.
"Every North Korean must have seen this photo on TV and newspapers. North Korea is showing its confidence, telling the United States: If they want to stop it they can try," he said. "It also signals that the North has been studying this for a long time and getting ready to act if it decided to."
It isn't the first time North Korea has shown off plans to strike the U.S. In 2013, Kim Jong Un threatened a strike on Guam following a period of escalating tensions on the Korean Peninsula that led the U.N. Security Council to unanimously vote on sanctions on the country's banking, trade and travel sectors in March that year.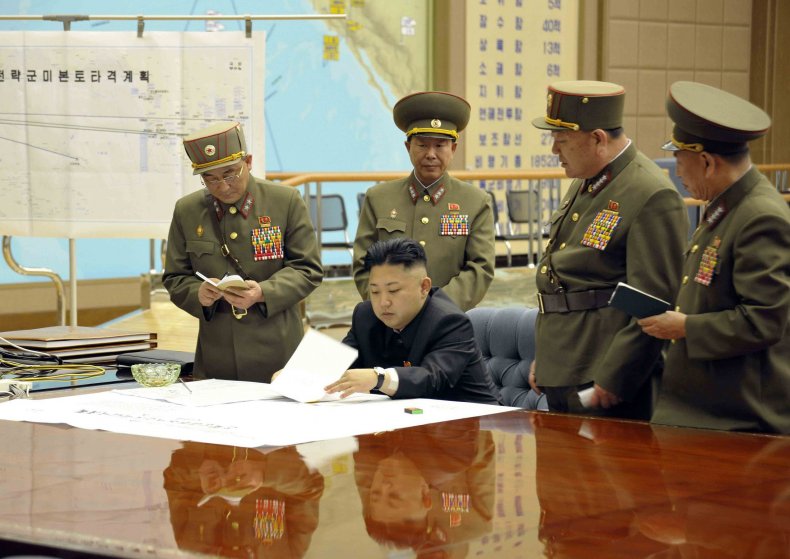 A month later in April, North Korean media released a picture of Kim Jong Un reviewing plans for missile strikes, with a sign reading "Strategic Force's plan to hit the mainland of the U.S." The country has never carried out its threats to hit U.S. targets.
Speaking to the press on Monday, Defense Secretary General Jim Mattis said the military was ready to "defend the country from any attack, at any time, from any quarter."