Selfie With Kim Jong Un: North Korean Leader Tours Singapore Night Before Key Summit
North Korean leader's Kim Jong Un was pictured with Singapore foreign minister Vivian Balakrishnan and education minister Ong Ye Kung on a night out just hours ahead of his scheduled meeting with President Donald Trump.
The 34-year-old leader was seen leaving the St. Regis hotel where he is staying, courtesy of Singapore's taxpayers as the government has offered to pay for the hefty bill, and heading out on the town in his bullet-proof black Mercedes.
Kim Jong Un met with Singapore Prime Minister Lee Hsien Loong upon his arrival Sunday, but spent most of Monday in the $10,000-a-night presidential suite of the St. Regis until he left at around 9 p.m.—12 hours before he is due to meet Trump at the Capella hotel in Singapore's Sentosa island for the first-ever meeting between a North Korean leader and a sitting U.S. president.
Accompanying Kim Jong Un on the night-time sightseeing tour was his security detail as well as his sister and close adviser Kim Yo Jong, who arrived to Singapore on Sunday on a separate plane from her brother, and former foreign minister and ruling party high-ranking official Ri Su Yong, South Korean news agency Yonhap reported.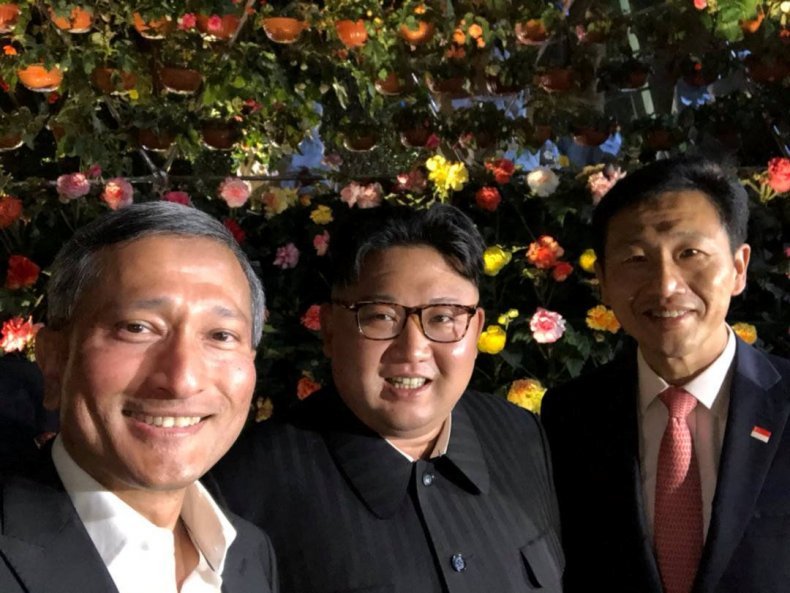 Kim Jong Un's outing in Singapore is yet another example of North Korea's efforts to normalize the image of its authoritarian regime that, for decades, was better known for its human rights abuses, nuclear weapons pursuit and belligerent statements.
The picture Balakrishnan posted on his official social media accounts, captioned with the hashtag "#Jalanjalan" (roughly meaning "to go for a walk" in Malay) and "#guesswhwere?" [sic], appears to be the first public selfie of the North Korean leader. The Facebook page of the Gardens by the Bay, Singapore's iconic nature park, shared the picture, answering Balakrishnan's question. "No better spot for a historical #selfie" they wrote in the post advertising their venue.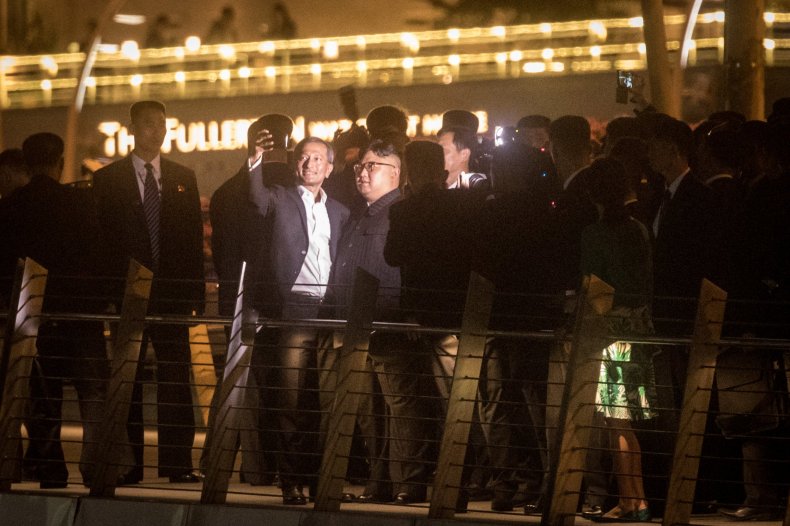 The sightseeing tour also included Singapore's iconic Marina Bay Sands hotel, where onlookers cheered the North Korean leader upon his arrival, shouting his name. Kim Jong Un's half brother Kim Jong Nam had frequently visited the location during his stays on the island state, as The Straits Times reported last year, before he was assassinated in Malaysia. North Korea's involvement in the murder is strongly suspected.
The North Korean delegation visited another landmark, the Jubilee Bridge—where Balakrishnan took another selfie with Kim Jong Un—before driving through the port and heading back to the hotel, according to Wall Street Journal reporter Chun Han Wong.