North Korea's Kim Jong Un Worried About Uprising, Orders Protection for Depictions of Himself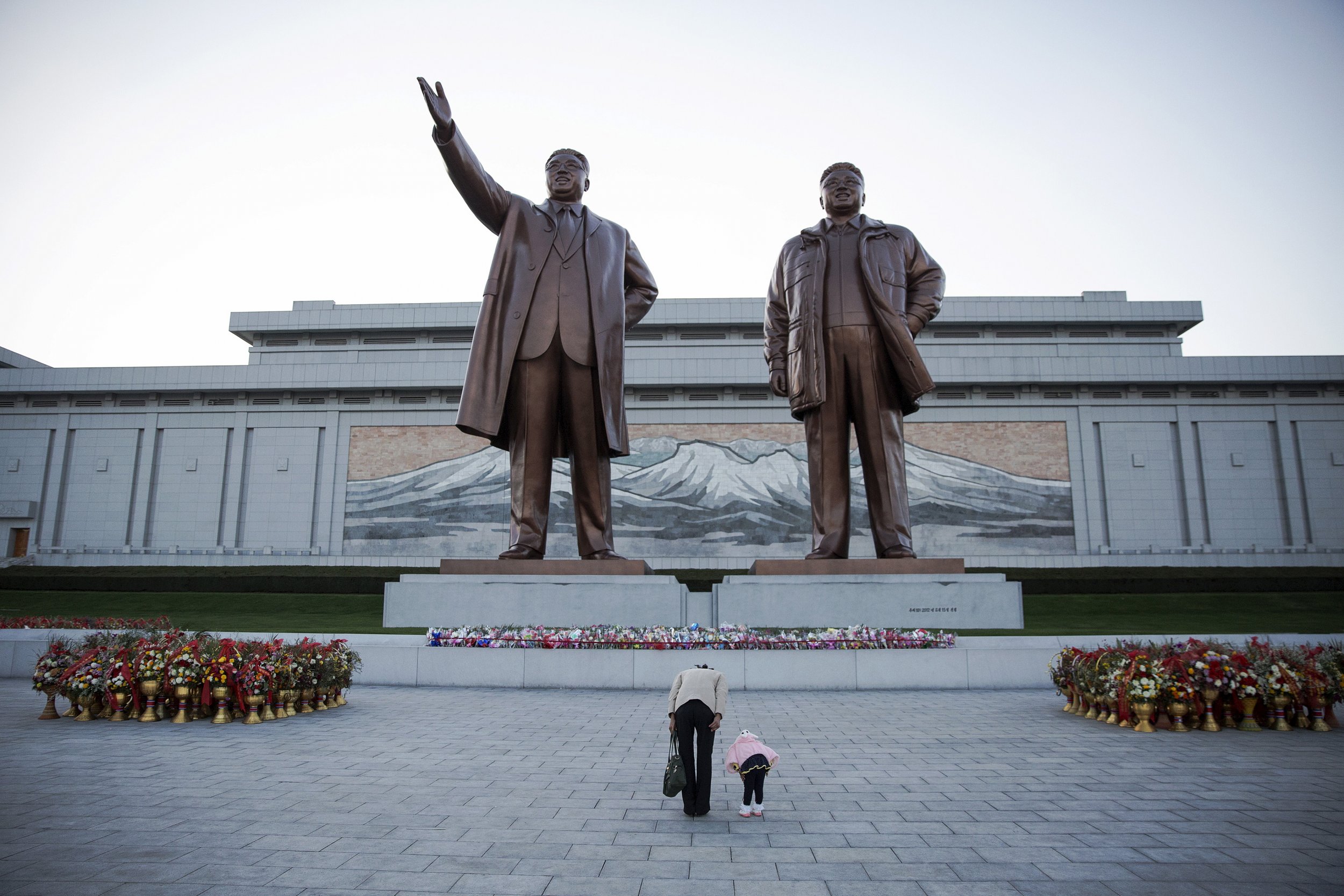 Updated | North Korea's latest security concern focuses on depictions of Kim Jong Un.
The government of the rogue nuclear state has ordered security forces to closely monitor monuments and paintings of the Kim dynasty due to fear that "hostile elements" in the country would vandalize them.
Authorities are now ordered to protect oil paintings, "eternal life" towers, and wall murals all over the country with lights illuminating the monuments at all times. The protection also extends to any pictures of Kim, his father and his grandfather, the North Korean founder, at schools.
Guards are also being sent to protect objects used during special occasions like the anniversary of Kim Il Sung and Kim Jong Il's birthday and death all day and night.
U.S.-led sanctions have made an impact on the economy in the country, and officials are fearful that citizens will turn on the North Korean leader, according to South Korea's Daily NK.
During Kim's regime, the country has gone through unimaginable hardships. It was recently found that the North Korean leader is planning on expanding its cruel prison network in order to stay in power.
The Washington-based Committee for Human Rights in North Korea says Kim's "re-education" camps are actually brutal hard labor prisons.
Tensions between North Korea and the U.S are higher than they have been since the Korean War. During his trip to South Korea to visit to the Demilitarized Zone (DMZ) on Friday, Defense Secretary James Mattis gave a warning to other nations that the North threatens "catastrophe."
The defense secretary said the U.S would stand with South Korea. He added that the North is "an oppressive regime that shackles its people, denying their freedom, their welfare and their human dignity in pursuit of nuclear weapons and their means of delivery in order to threaten others with catastrophe."
Democrats are so nervous that President Donald Trump may launch a nuclear strike that they are pushing a bill to put Congress in control of a first strike.
Trump threatened to take military action over the summer against North Korea after Pyongyang conducted a series of tests of intercontinental ballistic missiles.
This story has been updated to clarify that the North Korea regime is protecting all Kim dynasty statues as well as other tributes. An erroneous reference to a Kim Jong Un statue has also been removed.