North Korea's Kim Yo Jong, Kim Jong Un's Sister, Blushed When She Heard She Was Popular in South Korea
North Korean leader Kim Jong Un relied on his sister Kim Yo Jong to assist him at key moments of Friday's summit with South Korean President Moon Jae-In. While Kim Jong Un became the first North Korean leader to walk across the border into South Korean soil, Kim Yo Jong had already made history by becoming the first member of the regime's family to travel to South Korea's Pyeongchang Winter Olympics in February.
Moon remembered those days when he met Kim Yo Jong again. "First, Vice Department Director Kim rose to stardom in South Korea," Moon said, referring to her title within the ruling party's Central Committee, according to a South Korean presidential media briefing. In the briefing, Kim Yo Jong is said to have blushed as Moon's remarks sparked a moment of hilarity. "Today, Chairman Kim and I are the main characters," Moon added.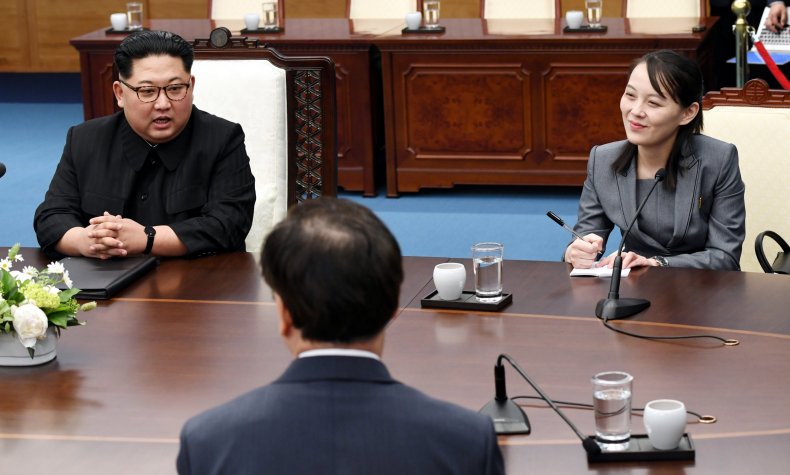 Kim Yo Jong, the only woman at the discussion table, was left to play a supporting role, but one that cemented her position as her brother's most trusted official.
Newsweek subscription offers >
She was there when he and Moon posed for pictures with two young students from a school in the demilitarized zone border area, picking up the flowers they handed her brother. As the two leaders walked the red carpet toward the Peace House, Kim Yo Jong followed closely behind them, carrying a dark bag and a briefcase.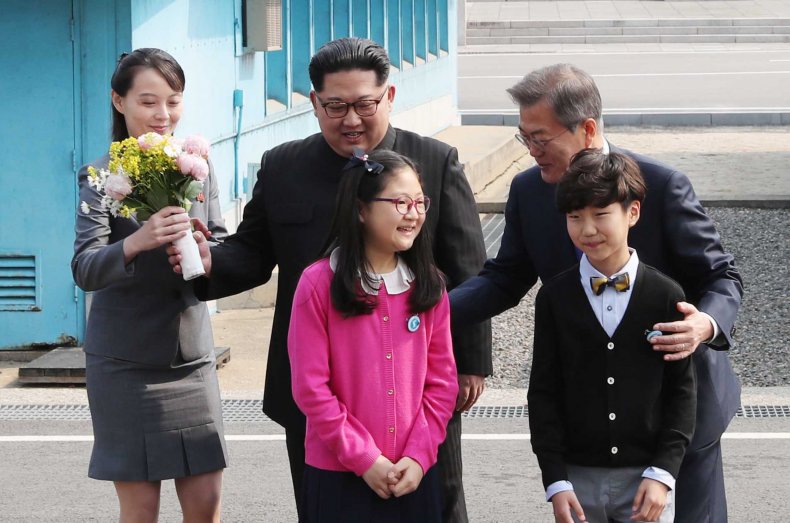 When Kim Jong Un needed to sign the guest book in the South Korean Peace House, sitting at a table freshly cleaned by two North Korean aides, she promptly handed him a pen.
She was also there to take notes, hand him documents from a folder and help him sign the Panmunjom Declaration the two leaders negotiated as the outcome of the talks, in which they commit to ending hostilities between the two countries.
Newsweek subscription offers >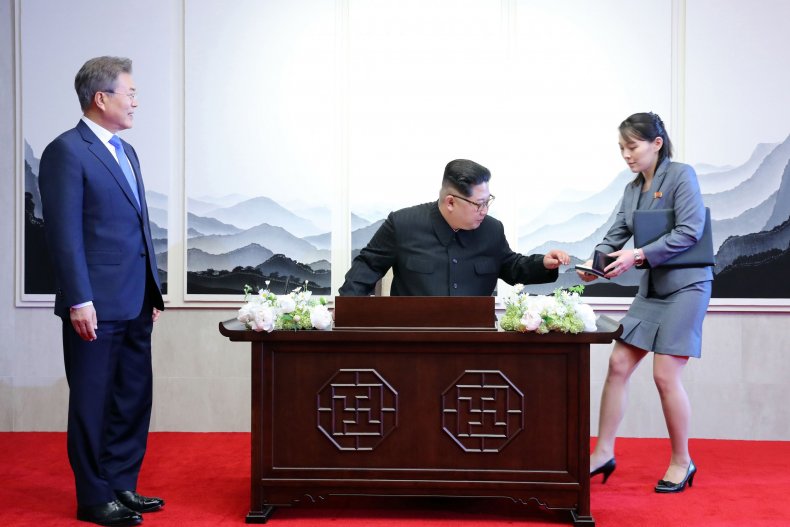 At the banquet concluding the dinner, Kim Yo Jong could finally relax as her sister-in-law Ri Sol Ju arrived from North Korea to sit by Kim Jong Un's side. When the North Korean leader stood to toast his South Korean hosts, it was Ri who handed him his speech from her document holder.
When the youngest of the Kim siblings was promoted in October to the regime's top decision-making body, some experts said that it was because, as a woman, she did not threaten his leadership, and she was someone he could trust.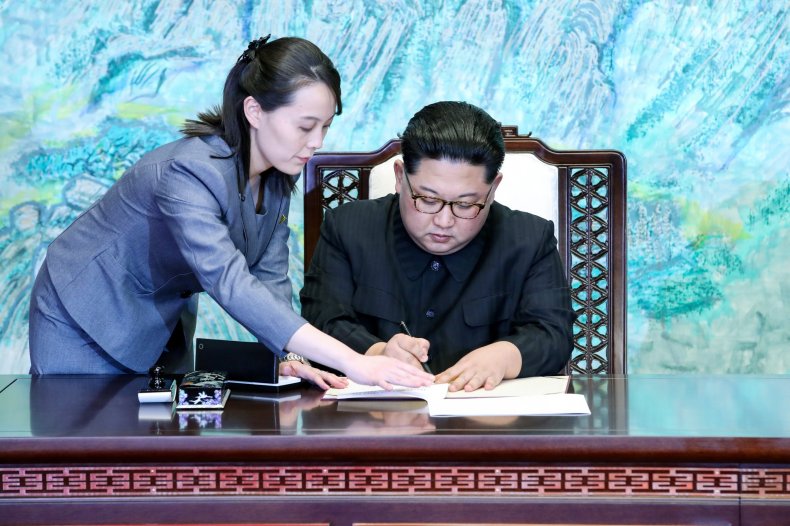 In her previous role in the propaganda department, Kim Yo Jong was instrumental in crafting her brother's look in the style of their grandfather and North Korea's founder, Kim Il Sung.
As her brother's right-hand woman, she continued to soften the regime's image, capturing local and international media attention during her time as North Korea's envoy to the Olympic opening ceremony, and prompting comparisons to President Donald Trump's special adviser Ivanka Trump, a juxtaposition the first daughter rejected as unfair in an interview with NBC News.
North Korea's Kim Yo Jong, Kim Jong Un's Sister, Blushed When She Heard She Was Popular in South Korea | World