North Korea's Latest Missile Capable of Reaching Guam, Fulfilling 2017 Threat to Trump
North Korea completed a test launch on Sunday with an intermediate-range ballistic missile that can reach Guam, the nation confirmed Monday. The capability makes it possible for North Korea to fulfill its threat that it made back in 2017 to then-President Donald Trump to strike the U.S. territory, and could signal another diplomatic headache for the Biden administration as it contends with a potential Russian invasion of Ukraine.
The test marked the North Korea's most significant weapon launch in years, flying about 497 miles and reaching a maximum altitude of 1,242 miles before landing in waters between Japan and the Korean Peninsula, according to South Korean and Japanese assessments.
The state-run Korean Central News Agency said that the test was meant to check the accuracy of the Hwasong-12 missile. But the launch could foreshadow future incitements or threats via nuclear and long-range missile tests by North Korea aimed at spurring the U.S. to ease sanctions or establishing itself as a legitimate nuclear state, the Associated Press reported.
Back in August 2017, Trump told North Korea that any threat to the U.S. would result in "fire and fury like the world has never seen." Hours later, the commander of the country's Strategic Forces said that it was "seriously considering a plan of enveloping fire" by launching the Hwasong-12 missiles at Guam, Reuters reported.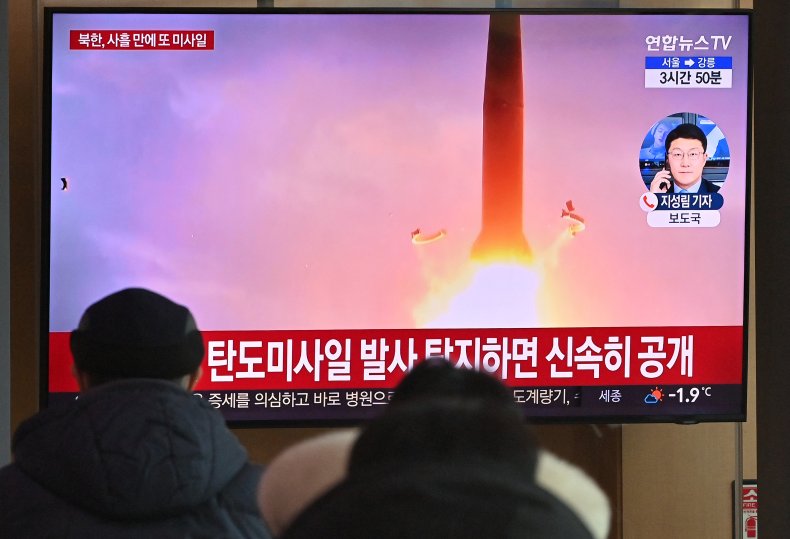 North Korea tested the Hwasong-12 missiles at least six times that year, and twice flew them over the northern Japanese island of Hokkaido. Comparatively, the Sunday Hwasong-12 test was the seventh round of missile launches in January alone, and one of a variety of weapons that the nation has launched overall in recent months, the AP reported.
A developmental hypersonic missile and a submarine-launched missile are among the other weapons that have been tested recently. North Korea has also threatened to lift a four-year moratorium on tests with more serious weapons, such as nuclear explosions and launches of intercontinental ballistic missiles, the AP reported.
In a briefing with journalists, a senior Biden administration official said that Washington was "concerned" that Pyongyang could resume ICBM and nuclear testing, according to Reuters.
"Of course, we're concerned," the official said. "It's not just what they did yesterday, it's the fact that this is coming on the heels of quite a significant number of tests in this month. And that follows on tests at the end of the year going back to September, of a variety of systems."
The official said that the U.S. does not want to see additional testing and has called on North Korea to halt the tests, Reuters reported.