North Korea's MIA Americans: Thousands Still Unaccounted for Even After Trump's Deal To Bring Hundreds Back
President Donald Trump's promise that Pyongyang would hand over the remains of American troops missing after the Korean War has revived hopes of long-awaited closure among hundreds of families. But it will still leave thousands of the country's fallen in North Korea.
U.S. officials said last week that North Korea would hand over a "sizable number" of troops remains to the United Nations Command in South Korea, which would then be transferred to Hickam Air Force Base in Hawaii, Reuters reported. The agreement between the countries comes as part of the ongoing thaw that began with the recent summit between Trump and North Korea leader Kim Jong Un in Singapore.
Last week, Trump told a rally in Duluth, Minnesota, that about 200 remains have already been returned, although there has not yet been an official confirmation of the repatriation. Military data, however, show that around 7,700 U.S. military personnel remain unaccounted for since the war, and the majority, around 5,300, are presumed to be in North Korea.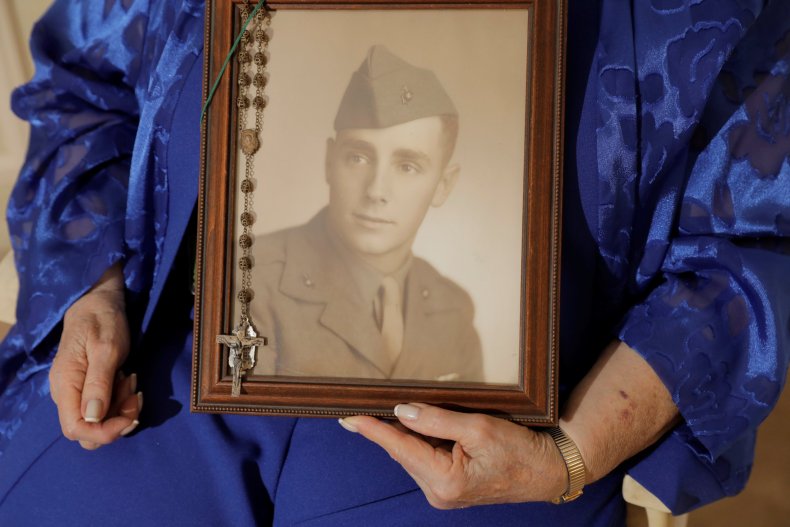 Retired Army Sergeant Karl Sharples, who is from Philadelphia, said he lost dozens of his colleagues and is keen to see who would be returned after Trump's announcement.
"It really gets to me. These guys never came home. I did and I feel bad," Sharples told CBS Philly's Eyewitness News. "I'm hoping when they go up to Unsan, which is in North Korea, that they do come back with more remains," he added.
North Korea has already handed back the remains of 340 soldiers since 1990, transporting them via the demilitarized zone. A spokeswoman for United States Forces Korea said an additional set of remains will likely be handed over via the United Nations authority at the DMZ in the coming days, CNN reported.
The remains will be transferred to a laboratory in Hawaii, where they will be identified "using forensic anthropology, odontology, DNA and other scientific methods," according to CNN. A U.S. official told Reuters that it could take years to identify the remains, some of which could be mixed with people who were not American.
Harry Robinson, now 86, returned from the Korean War in 1952. His brother, Army Corporal Joseph Robinson, did not. Robinson says he hoped that the remains of his brother, who was killed at age18, would be repatriated.
"My mother was very happy to see me, of course, but she never really got over the fact that she lost a son," he said. "She thought he was coming back, that he was going to show up one day. I think she thought that until the day she died," he told The Philadelphia Inquirer.
Richard Downes, president of the Coalition of Families of Korean and Cold War POW/MIAs—whose father went missing in the Korean War—said he hoped that the Trump-Kim summit could pave the way for more remains to be returned.
"But we've seen this before, and that was words on a paper and promises made, so now we have to see action," he said, according to Reuters.
It remains unclear how the troops whose remains will be returned are to be chosen, and by whom.