North Korea's Military Leadership Replaced With Kim Jong Un Loyalists
North Korean leader Kim Jong Un has replaced three top generals in the country's military with younger officials, a South Korean and a U.S. source told South Korean news agency Yonhap and Reuters, respectively.
The changes are in the defense ministry, previously led by Pak Yong Sik, who was replaced by his first Vice Minister No Kwang Chol, as well as the Korean People's Army (KPA) Chief of General Staff Ri Myong Su, who will be succeeded by his deputy, Ri Yong Gil, Yonhap reported.
The third replacement occurred at the KPA's general political bureau, a hugely influential body tasked with ensuring ideological commitment within the ranks of the army. It is now led by General Kim Su Gil, with Son Chol Ju as his deputy. The change was not announced officially, but the two men were referred to by those titles by state-controlled North Korean news agency KCNA last week in an article about Kim Jong Un visiting the Wonsan-Kalma coastal tourist area with the two officials, among other aides.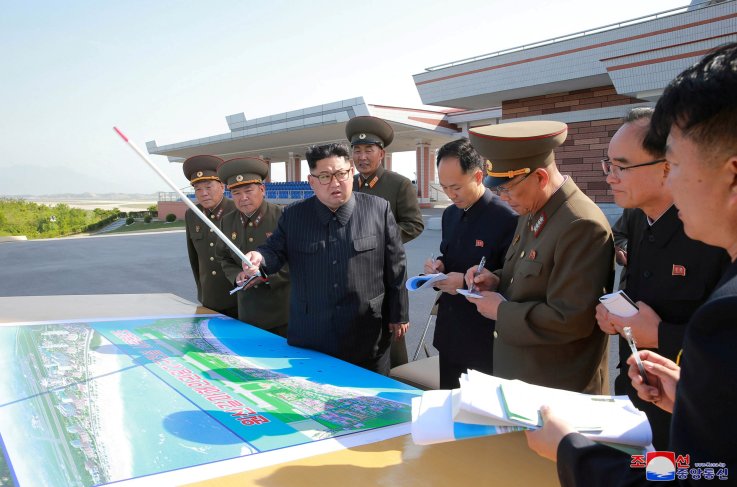 The previous heads of the bureau were dismissed from their post amid a rare investigation of the organization's loyalty to the regime. Former director Hwang Pyong So, the country's most powerful official after Kim Jong Un, was purged altogether from the party late last year, raising speculation as to whether he was executed. However, he appeared alive and seemingly well at an official event in February, having survived his punishment.
The latest changes were suggested earlier in May, when Kim Jong Un gathered a meeting of the ruling party's central military commission, the first in two years, to discuss "organizational measures." They included a reshuffle of senior officials and a "radical improvement in military training," as well as strengthening party ideology throughout the ranks.
The three newly promoted officials are all rigorously dedicated to Kim Jong Un, analyst Michael Madden told CNN. "All three of them have held very sensitive and high-level positions under Kim Jong Un, they're very loyal, and all have experience interacting with foreign delegations," Madden, who monitors the North Korean regime via the website North Korea Leadership Watch, told the broadcaster.
The new officers are expected to support the North Korean leader, enforcing whichever line comes out of the planned summit with President Donald Trump on June 12 in Singapore. They are expected to do the same for the Panmunjom Declaration signed with South Korean President Moon Jae-in at the end of April. Both occasions are focused on North Korea giving up its nuclear and missile development project.
North Korea's Military Leadership Replaced With Kim Jong Un Loyalists | World