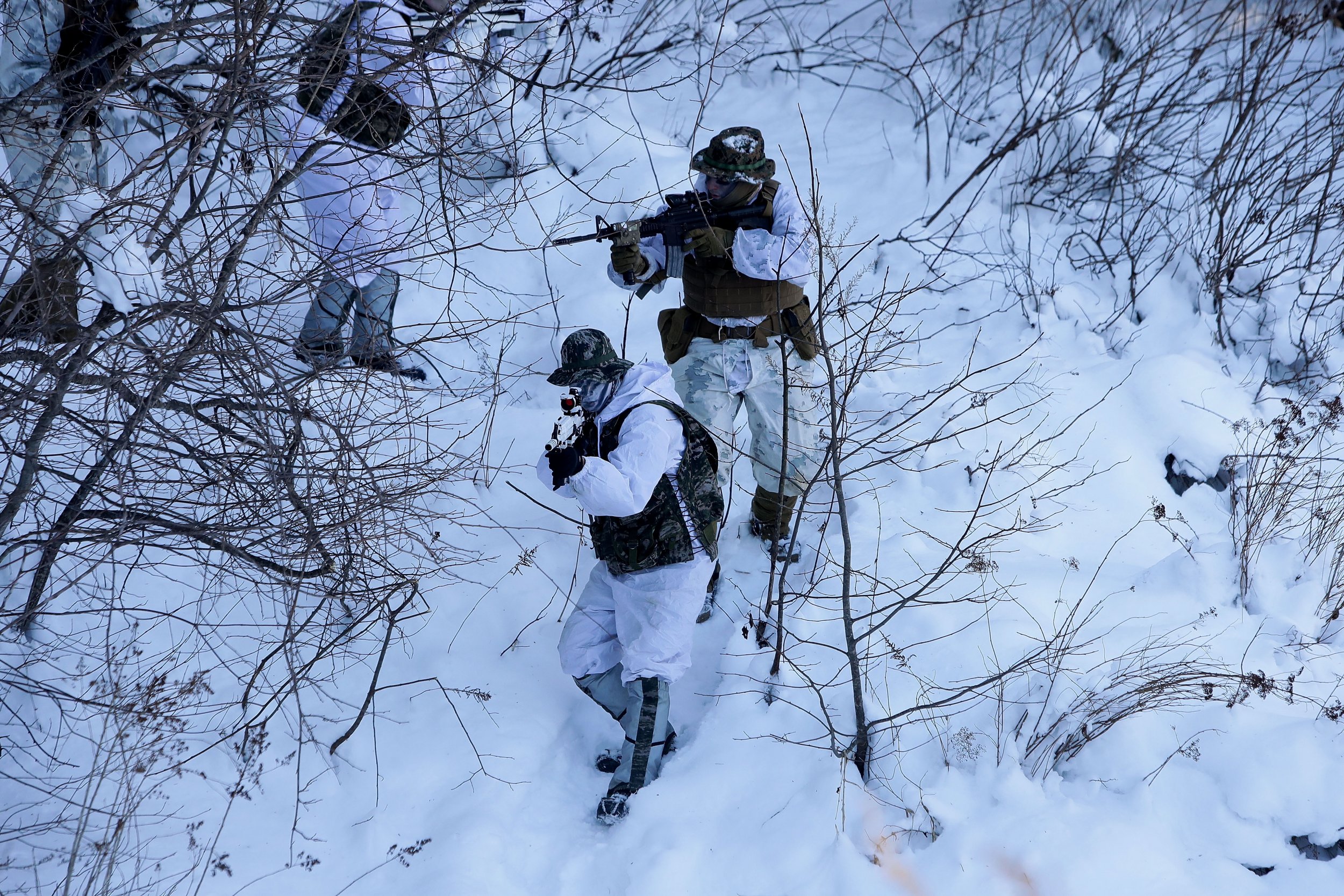 North Korea's military is preparing for winter drills, prompting South Korea to ensure its forces are combat-ready in case of any hostilities. The North's drills are expected to run from December to April, according to the South Korean military.
"Currently, the North Korean troops are conducting ordinary field exercises. But our military is keeping a full readiness posture against the possibility of North Korea's provocations," a South Korean military official said during a briefing on Monday, the Seoul-based Yonhap News Agency reports.
Meanwhile, three U.S. aircraft carriers — the USS Ronald Reagan, USS Theodore Roosevelt and USS Nimitz — sailed off the Korean Peninsula on Monday in a massive show of force against Kim Jong Un's regime as part four days of drills that end Tuesday. This marked the first time three ships of this size have sailed together in the region in a decade. The USS Ronald Reagan is the largest U.S. warship in Asia.
"Multiple carrier strike force operations are very complex, and this exercise in the Western Pacific is a strong testament to the US Pacific Fleet's unique ability and ironclad commitment to the continued security and stability of the region," Adm. Scott Swift, the commander of the US Pacific Fleet, said in a statement.
The drills occurred as President Donald Trump wrapped up a 12-day trip across Asia, in which the North Korean threat was at the top of his agenda.
While in South Korea last week, Trump offered North Korea an opportunity to embrace diplomacy instead of continuing its pursuit of nuclear weapons capable of reaching the mainland U.S.
"The weapons you are acquiring are not making you safer. They are putting your regime in grave danger. Every step you take down this dark path increases the peril you face," Trump said during a speech before South Korea's National Assembly in Seoul last Tuesday.
But Pyongyang doesn't seem interested in negotating. "Trump, during his visit, laid bare his true nature as destroyer of the world peace and stability and begged for a nuclear war on the Korean peninsula," a North Korean official said in a statement on Saturday. The statement also referred to Trump as a "dotard," an insulting term for old people who are going senile.
The president responded sarcastically in a tweet Saturday, writing, "Why would Kim Jong-un insult me by calling me 'old,' when I would NEVER call him 'short and fat?' Oh well, I try so hard to be his friend - and maybe someday that will happen!"
Trump's Asia trip ends Tuesday and he has said he'll make a "major" announcement regarding North Korea and trade at the White House on Wednesday.