North Korea's Missile Launches Prompt US Diplomat to Reaffirm Push to Banish Nukes
A special U.S. diplomat on Wednesday renewed Washington's commitment to completely removing nuclear weapons from the Korean Peninsula following North Korea's launch of two missiles in less than a week.
U.S. Special Representative for the Democratic People's Republic of Korea Sung Kim reaffirmed the aspiration during calls Tuesday with key officials in the Japanese and South Korean governments, according to State Department readouts published Thursday. Kim made the calls in response to North Korea firing a hypersonic missile on Tuesday.
Kim reached out to Funakoshi Takehiro, a Japanese Ministry of Foreign Affairs senior official for Asia and Oceania; and Noh Kyu-duk, South Korea's special representative for Korean Peninsula Peace and Security Affairs.
During the calls, Kim reaffirmed "Washington's ironclad commitment" to its alliances with South Korea and Japan, as well as "the shared goal of the complete denuclearization of the Korean Peninsula," according to the readout.
Kim, a veteran diplomat picked by President Joe Biden to lead efforts on North Korea, said over the summer that Washington was prepared to meet with the country's leaders "anywhere, anytime without preconditions." Kim again said the U.S. was open to dialogue and diplomacy with North Korea during the calls.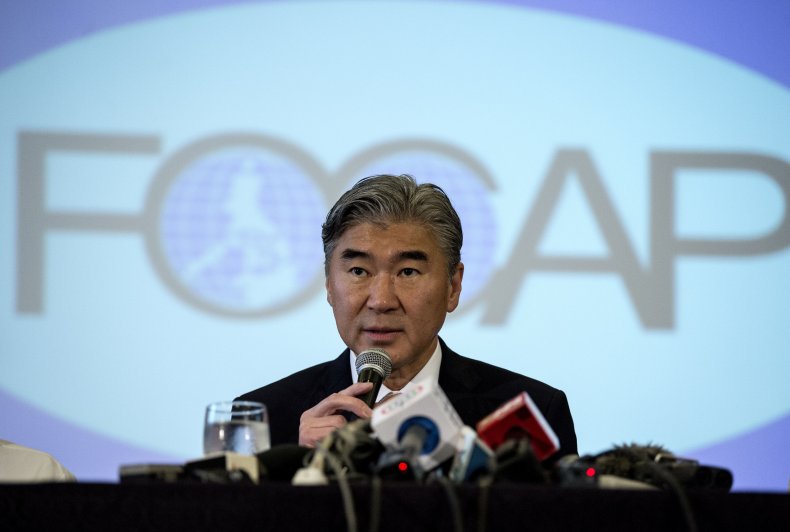 Former President Donald Trump sought a deal with North Korean leader Kim Jong-un over the country's nuclear weapons. After talks stalled, North Korea hasn't shown interest in returning to the bargaining table, a stance that was again on display following the diplomatic fallout from the missile launches.
The U.S. government slapped sanctions on five North Korean officials Wednesday for their role in the hypersonic missile tests. The sanctions will freeze any U.S. assets the officials have and bar Americans from doing business with them.
North Korea's Ministry of Foreign Affairs issued a statement on Friday (local time) saying sanctions imposed by the U.S. for launches are "aggravating the situation intentionally."
"It is clearly a provocation and gangster logic that the United States questions the exercise of our legitimate right to self-defence," the ministry continued. "It shows that the present US Administration is talking about diplomacy and dialogue, but actually resorts to the policy for isolating and suffocating the DPRK."
The ministry accused the U.S. of making "another provocation against our exercise of the right to self-defence," which it said it wouldn't give up.
Kim Jong-un oversaw the successful launch of the hypersonic missile on Tuesday. According to state media, the launch was "carried out with the purpose of finally confirming the overall technical characteristics of the developed hypersonic weapon system."
Hypersonic weapons are of a particular concern because they fly five times faster than the speed of sound, challenging the abilities of defense systems to react.
Newsweek has reached out to the State Department for additional comment.