North Korea's Most Powerful Missile Was Launched From Pyongyang Outskirts, Celebratory Stamps Confirm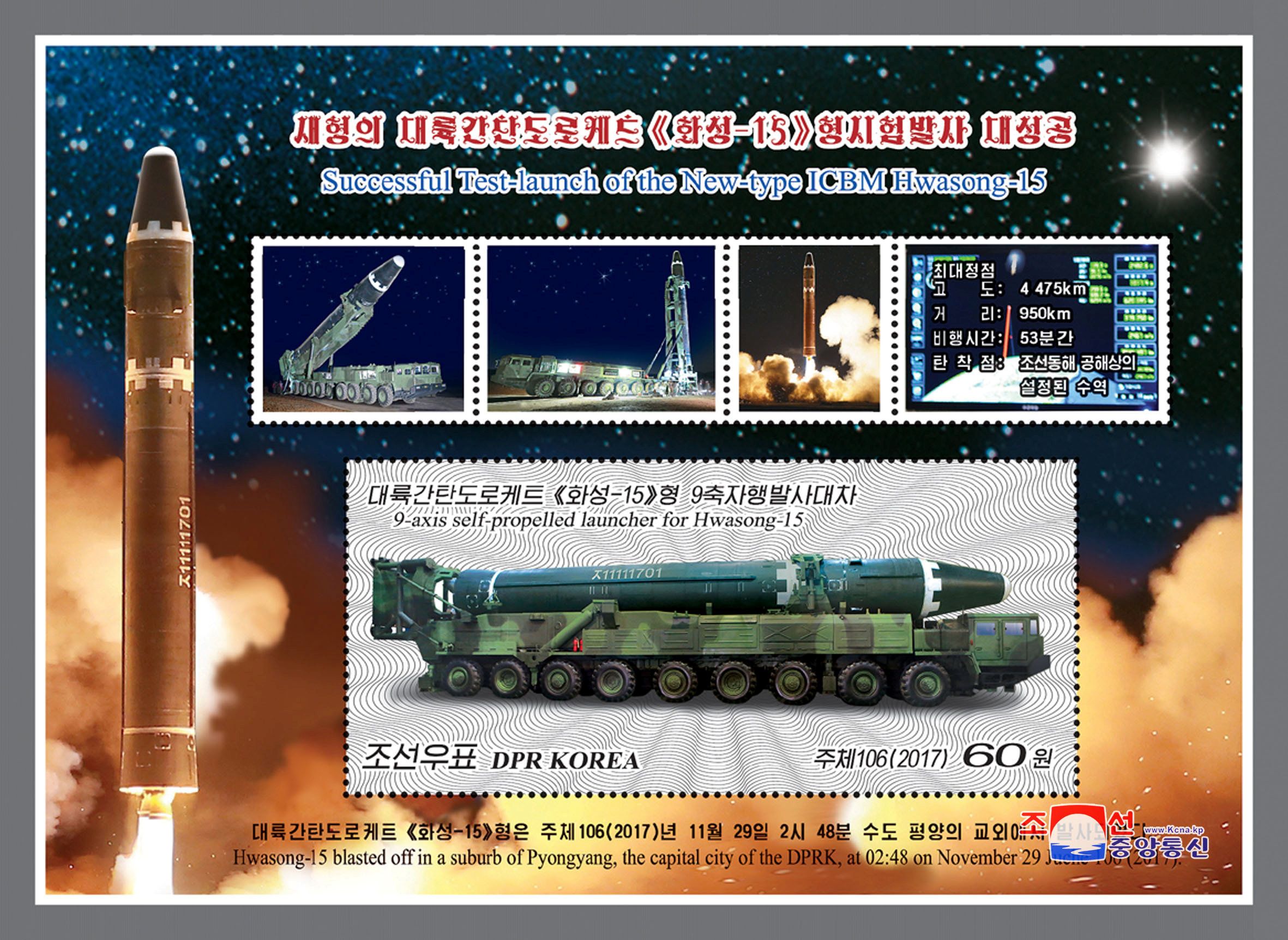 North Korea has issued new stamps celebrating its new intercontinental ballistic missile (ICBM) Hwasong-15, claiming a suburb of Pyongyang was the site of the November 29 launch.
Some of the stamps highlight the missile's features, under the title "Successful Test-Launch of the New-Type ICBM Hwasong-15," while others focus on the "Accomplishment of the Historic Cause of Perfecting the National Nuclear Forces" and show leader Kim Jong Un signing the missile test-launch order and jubilantly observing the launch.
Read more: Trump lost to North Korea's Kim Jong Un in 2017's war of words, experts say
At least two of the stamps, which feature text in Korean and English, indicate that the missile-launch site was close to North Korea's capital. "Hwasong-15 blasted off in a suburb of Pyongyang, the capital city of the DPRK, at 02.48 on November 29," the stamps read.
Reuters reported that the missile was fired from a new launch site in Pyongsong, a city 20 miles northeast of Pyongyang. The state-controlled North Korean news agency did not mention the site's location, simply referring to it as "the place where technical preparations for the rocket was under way."
Read more: 2017 was the year Kim Jong Un spent more time out of public eye, focusing on military activities
It is common for North Korea to release propaganda material such as posters and stamps to mark memorable occasions such as ballistic missile technology advancements. A series of stamps was released in August, a month after the second test-launch of the Hwasong-14 ICBM, referring to the site location of the July 28 launch as "the northwestern area" of the country. According to The Diplomat, the launch took place in an arms factory in the northern town of Mupyong-ni, where the U.S. had been observing launch preparations "for weeks."
The first test-launch of North Korea's Hwasong-14 ICBM occurred north of Pyongyang, at the Panghyon Aircraft Factory, established in the mid-1980s as an aircraft production, repair and research facility, according to satellite image analysis published on 38 North, a U.S.-based, North Korea–monitoring website.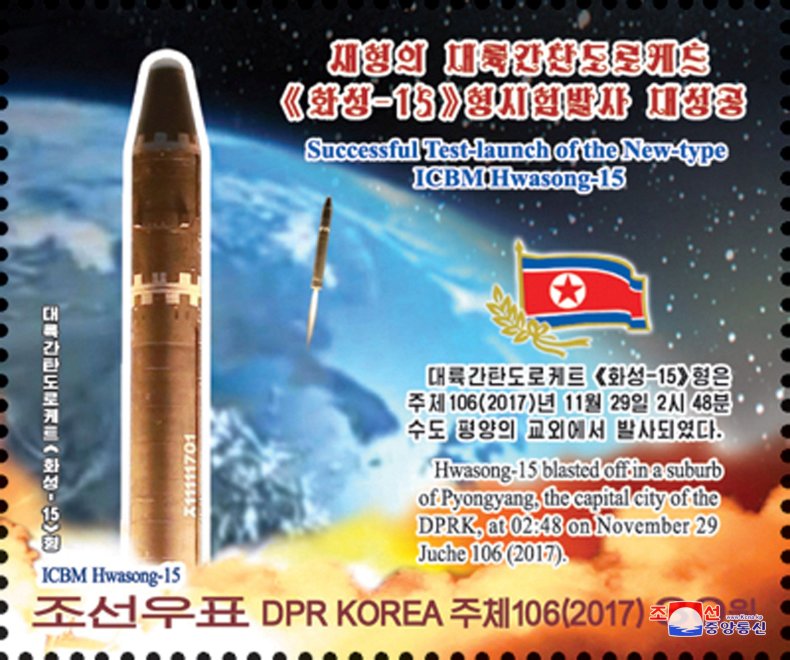 The differences in location and timing of the test launches—the Hwasong-15 was launched at nighttime, while the Hwasong-14 were fired in the early morning—indicate that North Korea wants to show it is capable of shooting missiles from any location at any time, making it difficult for other countries' ballistic defense systems to observe or intercept a launch.
"The test is unusual in that it was conducted in the dead of night, perhaps reflecting North Korean concerns about avoiding a U.S. ballistic missile defense intercept," the U.S.-based Centre for Strategic and International Studies said in its preliminary assessment of the test.