North Korea's New Stamps Celebrate Nuclear Missile in 'Showdown with the U.S.'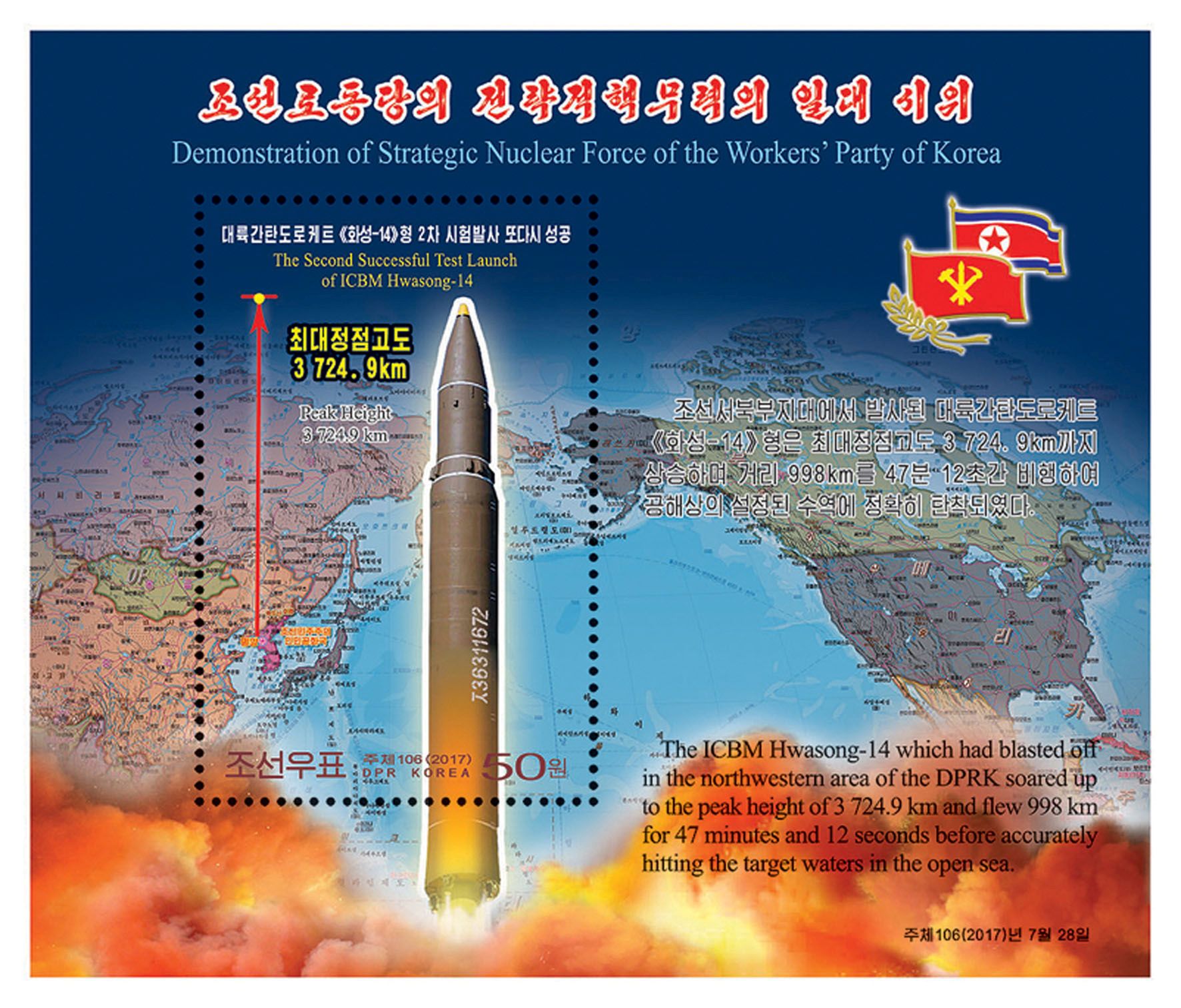 North Korea issued a new set of stamps Thursday to commemorate the July 28 test-launch of its intercontinental ballistic missile (ICBM) Hwasong-14.
The freshly-released stamps are less visually aggressive to the ones issued following another test launch on July 4, which portrayed warheads targeting the U.S. Capitol and a fist crushing a U.S. missile.
One of the new stamps depicts North Korean ruler Kim Jong Un surrounded by jubilant militarymen who conducted the test launch, along with an image of the rocket taking flight.
Another stamp shows the rocket standing in between the Asian and the American continent, and the other is an illustration of the rocket soaring through the clouds, "with the boom of victory in the showdown with the U.S.," as the state-controlled KCNA news agency described it.
The stamps celebrate the rocket's peak height, distance and flight duration with writings in both Korean and English describing the launch as a "success" and a "demonstration of strategic nuclear force."
Earlier this month, North Korea produced six posters referencing the July launches, which experts believe are capable of reaching the U.S. mainland.
North Korea has recently increased missile test launches and its threats towards the U.S. and its territory of Guam, which lies in the Pacific roughly 2,100 miles away from Pyongyang, provoking a series of bellicose warnings from President Donald Trump that only resulted in attracting more mockery and threats.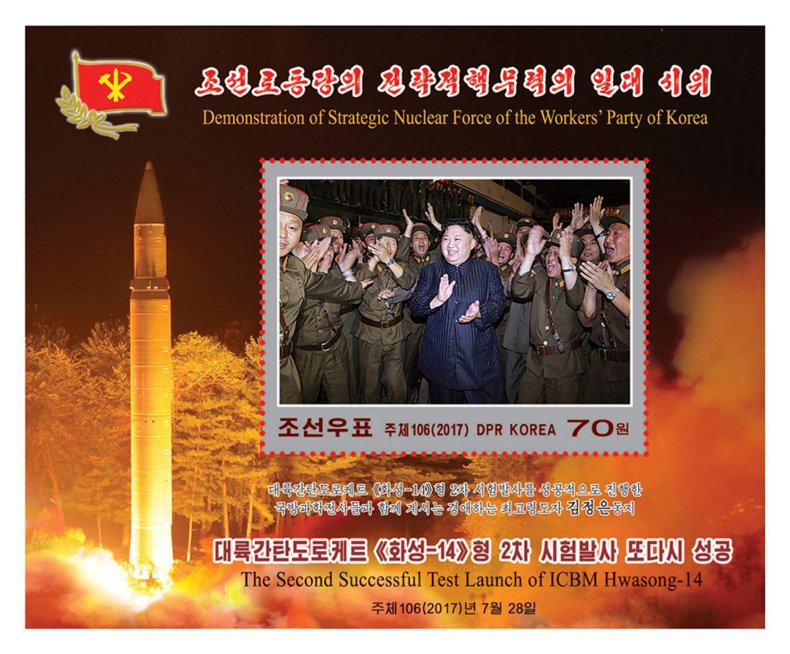 But despite Pyongyang's propaganda in favour of the ICBM Hwasong-14, the weapon of choice has recently been the intermediate range ballistic missile (IRBM) Hwasong-12.
According to military plans prepared for Kim's inspection earlier in August, North Korea is prepared to launch four Hwasong-12 over southern Japan, hitting the waters 18-25 miles away from Guam.
On Tuesday, Pyongyang fired a Hwasong-12 over the island of Hokkaido in northern Japan, flying for an estimated 1,680 miles (2,700 kilometers) and reaching an altitude of about 340 miles (550 km) before breaking up into three pieces and ending up in the Pacific.
According to the South Korean intelligence service, the launch was meant as a show of force to add credibility to Pyongyang's threat to strike Guam. Speaking to the army following the launch, Kim repeated that, for now, North Korea will "continue to watch the U.S. demeanors" and decide future actions accordingly.
North Korea's New Stamps Celebrate Nuclear Missile in 'Showdown with the U.S.' | World