North Macedonia President Walks Bullied Student With Down Syndrome to Class
When the president of North Macedonia heard a young girl with Down Syndrome was being bullied by classmates, he took matters into his own hands.
Rather than write a letter or issue a statement, President Stevo Pendarovski met with 11-year-old Embla Ademi and her family in person and walked the young girl to school himself, CNN reported.
"The [p]resident said that the behavior of those who endanger children's rights is unacceptable, especially when it comes to children with atypical development," a statement from the president's office said, according to CNN.
"They should not only enjoy the rights they deserve but also feel equal and welcome in the school desks and schoolyard. It is our obligation, as a state, but also as individuals, and the key element in this common mission is empathy," the statement continued.
A report from the United Nations Educational, Scientific and Cultural Organization (UNESCO) published in 2021 found that "learners" with disabilities are disproportionately at risk of violence and bullying in an education setting.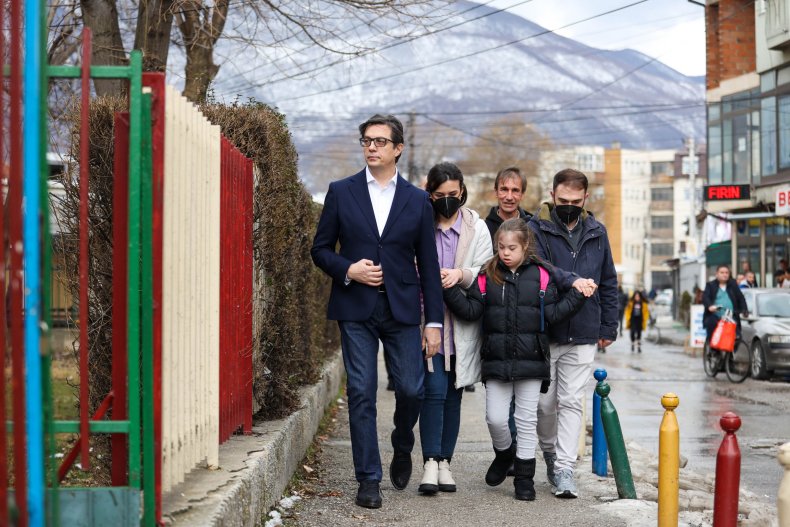 The research was done through examining texts, interviewing disability advocates and young people with disabilities as well as focus group discussions with young people over the age of 18 with "diverse disabilities" across the world.
"In every study reviewed for this report that compared school violence and bullying involving students with and without disabilities, those with disabilities were as or more likely than their non-disabled peers to be victims, in some cases significantly more," said the report. "This is found in pre-school, primary school, secondary school and higher education but, overall, the risk appears to be highest between the ages of 13 and 15, during the transition from late childhood into early adolescence."
In the United States, girls with disabilities enrolled in rural schools in the U.S. were four times more likely to experience bullying than their non-disabled peers.
In a statement provided to Newsweek, Pendarovski said that he was made aware of Ademi's experience at school after reading about it through a local media outlet.
"I decided to take action and give public support to Embla and her parents in their fight for the protection of the rights of their child with atypical development, and send a public message that school belongs to every child."
The president said he was specifically taken aback by the fact that the young girl was being denied education.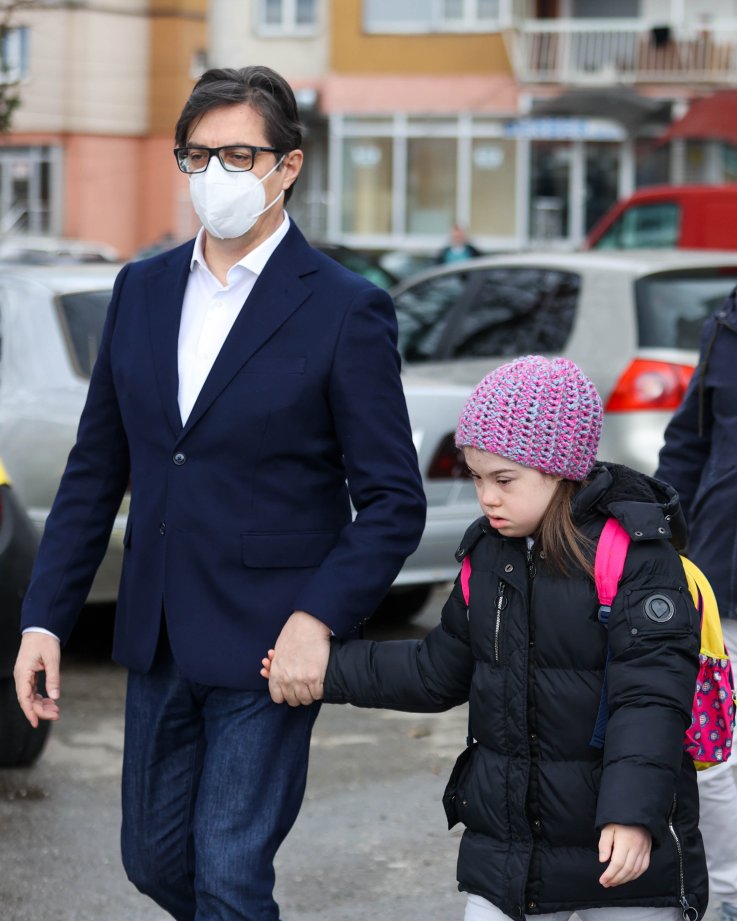 The young girl was being isolated from peers with some parents petitioning against their children being in class with her. "They should not only enjoy the rights they deserve but also feel equal and welcome in the school desks and schoolyard," President Stevo Pendarovski said.
Kristijan Georgievski
Biljana Radeva, a spokeswoman for the office of the president, summarized Albanian language articles from local media about the situation in an email to Newsweek. She said their office learned that Ademi was unable to exercise her right to be included in education as her school was rotating her around and in some cases isolating her from other children. Parents also began to petition against their children being in the same class as the young girl.
"When we make decisions on policies we should consider how these policies affect the vulnerable groups in our society," the president said in the statement provided to Newsweek. "And when we talk about inclusion, we should not only talk about inclusion in education but also train healthcare workers how to work with children with disabilities and their families, ask businesses to consider giving opportunities, ask institutions to integrate people with disabilities and constantly deliberate how diversity helps our societies thrive."
In a video shared by the president's office, CNN reported, he is seen meeting with Ademi and her family and then accompanying her to school along with an entourage of people.
Radeva told Newsweek that the president makes a habit of meeting people with disabilities and their families, as well as organizations that fight for disability rights and inclusion.