North Miami Beach Orders Evacuation, Closure of Unsafe Condo After Inspection
The City of North Miami Beach on Friday ordered the closure and immediate evacuation of the Crestview Towers condominium after a recent inspection showed the building to have unsafe electrical and structural conditions. The condo association outlined the details in a report that was reviewed by the city.
The building is required to submit paperwork for a 40-year recertification process, and the condo association's report shows that an engineer in January deemed the building "unsafe."
North Miami Beach city manager Arthur H. Sorey III issued a statement that said the evacuation was for "an abundance of caution" to protect the residents.
"In an abundance of caution, the City ordered the building closed immediately and the residents evacuated for their protection, while a full structural assessment is conducted and next steps are determined," Sorey said.
The building is located at 2075 NE 164th Street in North Miami Beach. It was evacuated as a precaution. The North Miami Beach Police Department is assisting residents in evacuating, and the American Red Cross is helping them find temporary shelter.
"Nothing is more important than the safety and lives of our residents, and we will not rest until we ensure this building is 100% safe," Sorey said.
This comes a little more than a week after the collapse Champlain Towers South condo in nearby Surfside.
The news in North Miami beach hit Friday afternoon just as it was announced that the new death toll from the Surfside collapse rose to 22, with 126 people still unaccounted for.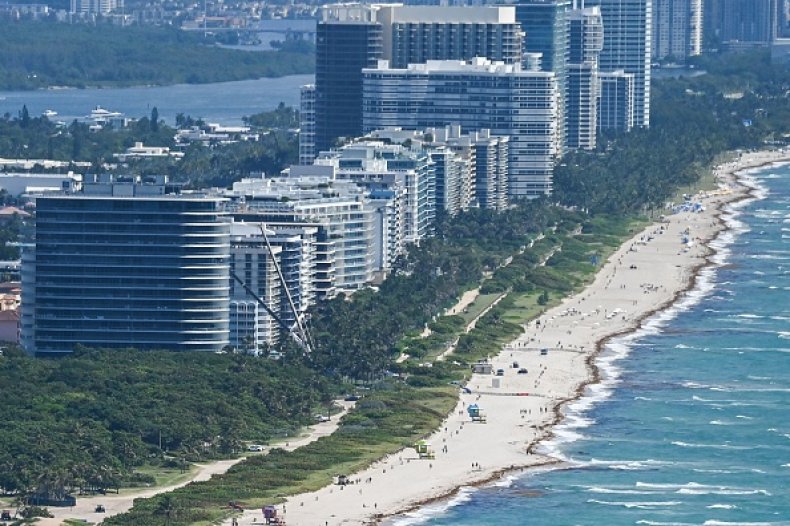 The collapse in Surfside happened around 1:15 a.m. local time on June 24. Miami-Dade Fire Rescue Assistant Chief Raide Jadallah said approximately 55 of the condo's 136 oceanfront units were destroyed.
Hundreds of first responders immediately went to work to rescue survivors. Now, over a week into it, they're still searching through huge piles of concrete rubble—all while racing against time as Hurricane Elsa enters the Caribbean Sea and threaten all of South Florida.
The Miami Herald reported Friday that the Champlain Towers contacted an engineer in 2018 to complete its 40-year recertification process, and that significant repairs were needed.
In April this year, its condo association said repairs to the building were urgently needed. By May, the condo association submitted plans to the city for temporary parking so they could start making those fixes. The Surfside building department emailed the association back on June 23 with logistical questions, but the building collapsed 14 hours later—before anyone could respond.